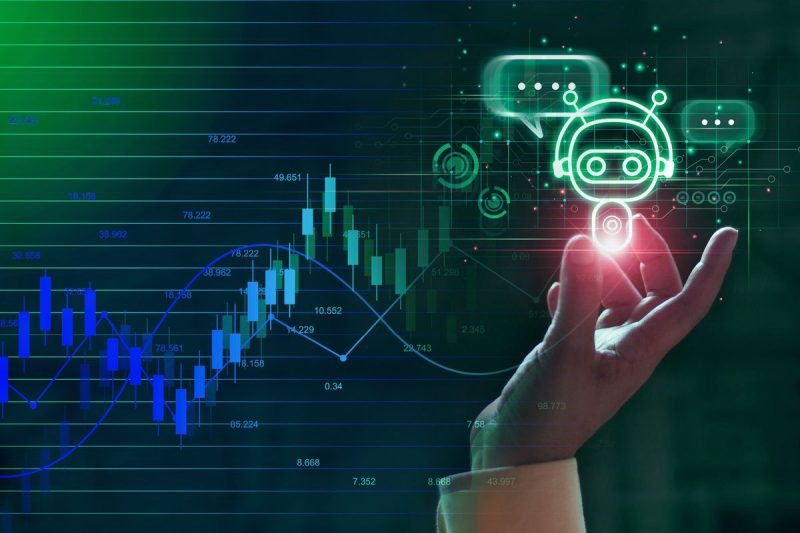 10 Generative AI Stocks to Watch as ChatGPT Soars (Updated 2023)
The launch of OpenAI's ChatGPT has created major buzz around artificial intelligence (AI) stocks.
ChatGPT is an AI chatbot software application that uses machine learning techniques to emulate human-written conversations. A hitherto niche subsector in the AI industry, this technology is called generative AI, and it's set to disrupt myriad industries, including marketing, security, healthcare, gaming, communication, customer service and software development.
While generative AI technology is in its early stages, Reid Menge, co-portfolio manager for the BlackRock Technology Opportunities Fund, sees immense potential. "ChatGPT is nearly as smart as the human brain today," he said, "and with the computational horsepower being used to train these AI models, imagine the capabilities of these generative AI services by 2025."
According to Grand View Research, the generative AI market is expected to grow at a compound annual growth rate of 34.6 percent between 2022 and 2030 to reach an impressive US$109.37 billion.
All market cap and share price data was current as of August 28, 2023.
1. Microsoft (NASDAQ:MSFT)
Press ReleasesCompany Profile
Market cap: US$2.41 trillion; current share price: US$323.70
After having initially invested at least US$3 billion in OpenAI a few years ago, the technology behemoth Microsoft reportedly committed to investing up to another US$10 billion in the chatbot creator in the years ahead.
Microsoft has its own chatbot, Bing AI, which is based on OpenAI's technology. An update to Windows 11 earlier this year integrated the chatbot into the operating system's search bar, allowing users to query the Bing chatbot directly. As of early August, Bing AI is available in specific browsers as well; in addition to Microsoft's own Edge browser, users of Chrome in Windows and Safari on MacOS now have access to the chatbot. Microsoft plans to bring the product to third-party browsers on desktop and mobile as well.
Microsoft's Office 365 is also getting the AI treatment in its latest iteration, Microsoft 365 Copilot. Currently under testing by a select group of the company's large enterprise clients, Copilot doesn't yet have an official release date for the wider market but market insiders are predicting by early 2024.
2. Alphabet (NASDAQ:GOOGL)
Market cap: US$1.66 trillion; current share price: US$131.01
Alphabet's AI chatbot Bard, touted as a rival to ChatGPT and Bing, launched this year. The chatbot has been in development for two years and entered testing in early February; it was built around via Alphabet subsidiary Google's Language Model for Dialogue Applications. Much like Bing, the company has incorporated Bard into its Google Search tool.
Alphabet's foray into the AI chatbot space hit a road bump at launch when Bard made headlines by fumbling a question about new discoveries from the James Webb Space Telescope. While Alphabet's market cap dropped by US$100 billion in one day, according to Forbes, the company made a quick recovery — and, as Forbes staff writer Jonathan Ponciano pointed out, there is still plenty of bullish sentiment that Google is well positioned to "capture a significant part of the market."
3. Amazon (NASDAQ:AMZN)
Market cap: US$1.37 trillion; current share price: US$133.14
Amazon subsidiary and cloud-computing platform Amazon Web Services (AWS) evolved out of Amazon's transition from an online retailer to one of the world's largest technology companies. AWS's wide range of services includes computing, storage, databases, networking, analytics, machine learning and AI.
AWS has a number of AI business tools on offer across four verticals: AI services, AI platforms, AI frameworks and AI infrastructure. Generative AI is nothing new to Amazon, as the technology forms the basis of conversational experiences with Amazon's all-too-familiar Alexa. In April, AWS introduced Bedrock, a service that enhances software with generative AI capabilities such as turning text into images, or creating text for blog posts, emails and documents.
4. NVIDIA (NASDAQ:NVDA)
Market cap: US$1.16 trillion; current share price: US$468.35
NVIDIA is a pioneer and global leader in graphics processing unit (GPU) technology for laptops, workstations, mobile devices, notebooks, PCs and more. Its business model primarily focuses on gaming, automotive electronics, mobile devices and AI. The company also offers supercomputing processing capabilities to scientific researchers around the world.
NVIDIA supported Meta Platforms (NASDAQ:META) in putting together its own AI supercomputer, whose second buildout phase was completed in May. Called the Research SuperCluster, it reportedly uses 2,000 NVIDIA DGX A100 systems — each of which contain eight of its A100 GPUs — for a total of 16,000 GPUs. NVIDIA is also working with Dell Technologies (NYSE:DELL) on AI applications for enterprises, ranging from language-based services to speech recognition and cybersecurity.
In May, the tech giant launched its latest AI supercomputer, the high-powered DGX GH200, as well as NVIDIA ACE, a generative AI platform for video game development.
5. Cisco Systems (NASDAQ:CSCO)
Market cap: US$229.02 billion; current share price: US$56.20
Multinational digital communications firm Cisco Systems is a leader in IT and communications networks. The company has a large portfolio of multi-cloud products and applications, alongside strong relationships with Azure, AWS and Google Cloud.
Cisco's AI and machine learning offerings encompass a wide range of computing solutions for enterprises, including a focus on cybersecurity. Earlier this year, Jeetu Patel, executive vice president and general manager of security and collaboration at Cisco Systems, spoke about the potential security threats posed by generative AI technology like ChatGPT.
"Over time, what you will see is attacks will get more bespoke and more sophisticated," Patel explained. "You will need to have better mechanisms to know that this was not a human being writing that to you, but a machine pretending to be a human being writing something to you."
Cisco has also brought to market new generative AI tools for IT professionals, including the AI Policy Assistant.
6. Intel (NASDAQ:INTC)
Market cap: US$140.8 billion; current share price: US$33.62
As the world's largest semiconductor chip manufacturer by revenue, Intel produces microprocessors that power many of the world's PCs and mobile devices. A household name, Intel continues to advance semiconductor design.
Intel says its Trusted Media team is building generative AI "that improves people's lives, limits harm and builds tools to make other technologies more natural." According to intel, its website FakeCatcher can detect deepfake videos with 96 percent accuracy to help users quickly distinguish between real and fake content. Intel's ARLA open-source urban driving simulator employs generative AI to create a more realistic 3D experience for "the development, training and validation of autonomous driving systems."
Intel's Meteor Lake is the company's first consumer chip with a built-in neural processor for machine learning tasks. In its Q2 2023 earnings call, Intel CEO Pat Gelsinger told shareholders that his company plans to "build AI into every product that we build."
7. IBM (NYSE:IBM)
Market cap: US$133.03 billion; current share price: US$146.02
IBM reportedly has one of the world's largest AI research programs. The multinational tech company offers various AI solutions for cloud computing, IT operations, healthcare, customer service, business automation, natural language processing and more.
Given the potential for factual and prejudicial errors inherent in the current generative AI models, an AI team at IBM Research is working on developing new generative AI systems that will lead to more trustworthy downstream applications.
But it's not all about chatbots for IBM — headed by Dr. Payel Das, the team has used generative AI technology to develop antimicrobial drugs targeting deadly antibiotic-resistant bacteria. In August, IBM began heavily marketing WatsonX, its enterprise-focused AI and data platform.
8. Micron Technology (NASDAQ:MU)
Market cap: US$72.53 billion; current share price: US$65.31
Computer memory and data storage company Micron Technology produces dynamic random-access memory (RAM), flash memory and USB flash drives. The company is a global leader in the semiconductor industry and is the only US manufacturer of memory, dynamic RAM and NAND flash memory. This is important for the US AI technology sector because, as Forbes reports, generative AI technology depends heavily on semiconductors, and about 85 percent of semiconductors are manufactured in Asia.
Following US President Joe Biden's signing of the CHIPS and Science Act, Micron Technology announced plans to invest US$100 billion in building memory manufacturing capacity in the country. "With the anticipated grants and credits made possible by the CHIPS and Science Act, this investment will enable the world's most advanced memory manufacturing in America," the company commented at the time. In August 2023, the company announced it has applied for federal CHIPS Act aid to build its planned semiconductor fabrication facility in Central New York.
9. Marvell Technology Group (NASDAQ:MRVL)
Market cap: US$47.45 billion; current share price: US$55.17
Another semiconductor producer, Marvell Technology Group is focused on delivering data infrastructure technology and semiconductor solutions for enterprises, cloud, automotive and carrier architectures.
In early March, the company announced the launch of its Marvell Nova 1.6 Tbps PAM4 electro-optics platform. "Delivering a breakthrough in optical connectivity, Nova enables the highest speed of data movement in cloud artificial intelligence / machine learning and data center networks," a press release states.
10. Juniper Networks (NYSE:JNPR)
Market cap: US$9.07 billion; current share price: US$28.21
Multinational networking products provider Juniper Networks develops and markets routers, switches, network management software, network security products and software-defined networking technology. In 2021, the company introduced AI services to its networking technology, enabling its customers and partners to use Ethernet VPN or EVPN-VXLAN campus fabric management through Juniper's cloud-based AI engine Mist Cloud. Mist Cloud combines AI, machine learning and data science techniques.
Juniper Networks is further leveraging this technology as a "foundational element behind Marvis, the industry's first AI-driven Virtual Network Assistant, which provides extensive insight and guidance to IT staff via a natural language conversational interface."
As of August, investment firms The Vanguard Group and BlackRock (NYSE:BLK) held stakes in Juniper Networks of 12.22 percent and 7.6 percent, respectively.
FAQs for generative AI
What is generative AI?
Generative AI is an emerging AI technology based on deep learning models and algorithms that can generate text, images or sounds in response to prompts given by users.
What are generative AI examples?
Some of the most notable examples of generative AI are ChatGPT, DALL-E 2, Midjourney, Stable Diffusion, Bard and Bing AI.
OpenAI's DALL-E 2 is an AI system that can create realistic images and art from a description in natural language. Similar to DALL-E 2, Midjourney generates images from prompts. Stable Diffusion is a latent text-to-image diffusion model capable of generating photo-realistic images given any text input. Microsoft's Bing AI is a feature of the Bing search engine that leverages the same technology as ChatGPT.
What are the hottest generative AI startups?
According to technology and business magazine e-Week, in addition to ChatGPT creator OpenAI, some of the other leading generative AI startups include Hugging Face, Synthesis AI, Jasper and Cohere.
Securities Disclosure: I, Melissa Pistilli, hold no direct investment interest in any company mentioned in this article.
This post appeared first on investingnews.com