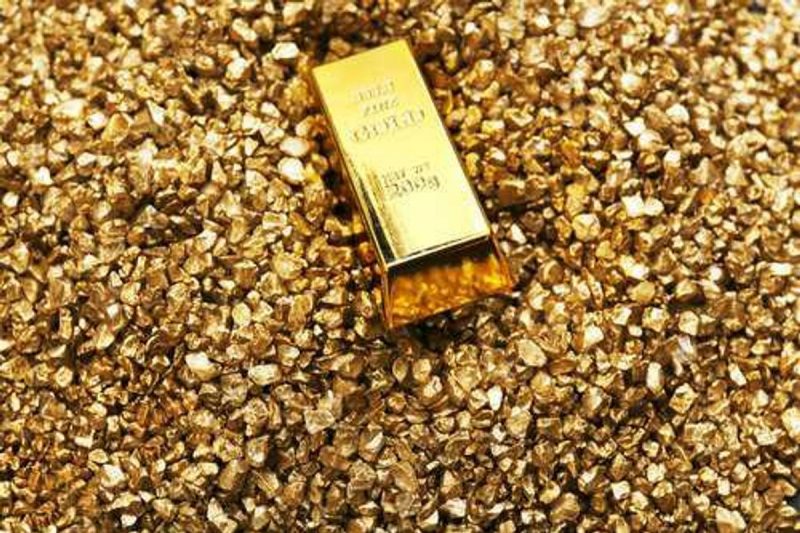 5 Top Weekly TSX Stocks: Freegold Ventures Rises on Positive Drill Results
The S&P/TSX Composite Index (INDEXTSI:OSPTX) opened up last Friday (July 21) at 20,436.87.
The index was on track for a weekly gain after hitting a two month high earlier in the week, spurred on by investors' growing optimism about the outlook for the economy. Gold jumped up to US$1,986 per ounce last week, but was hovering around US$1,962 on Friday. Meanwhile, silver fell sharply was set to end the five day trading period at US$24.76 per ounce.
Against that backdrop, some resource juniors listed on the TSX saw their share prices go up last week. Here's a look at the five biggest gainers and the factors that moved their share prices during the period.
1. Mega Uranium
Leading this week's top TSX stocks list is Mega Uranium, which saw its share price increase 17.14 percent to end at C$0.20.
Headquartered in Toronto, Mega Uranium is focused on uranium properties in Canada and Australia. Mega Uranium also has a portfolio of equity investments in uranium-focused public and private companies.
2. Condor Energies
Condor Energies is an internationally focused energy company with producing gas assets, an ongoing initiative to construct and operate Central Asia's first liquefied natural gas facility and another initiative focused on gas field redevelopment.
The company didn't release any news last week, but its share price increased 16.07 percent to end at C$1.30.
3. Pieridae Energy
Pieridae Energy is a Calgary-based upstream and midstream producer with assets concentrated in the Canadian Foothills, where it produces conventional natural gas and natural gas liquids, as well as condensate and sulfur.
Despite not releasing any news last week, shares of Pieridae Energy increased 15.52 percent to end at C$0.67.
4. Freegold Ventures
Press ReleasesCompany Profile
Freegold Ventures is exploring for copper and gold near Fairbanks, Alaska, where it holds the Golden Summit project and the Shorty Creek project. Last Thursday (July 20), the company posted positive results from drilling at Golden Summit. The program, which began in March, is ongoing with three rigs currently operating.
Freegold's share price jumped 13.64 percent last week to trade at C$0.50 by the end of the period.
5. Questerre Energy
Last but not least this week is Questerre Energy, a company focused on the acquisition, exploration and development of oil and gas projects, specifically non-conventional projects such as tight oil, oil shale, shale oil and shale gas. Questerre holds Canadian assets in Alberta, Saskatchewan, Manitoba and Quebec, and also has properties in Jordan.
Last week, shares of Questerre Energy increased 13.16 percent to end the five day period at C$0.21.
FAQs for TSX stocks
How big is the TSX?
The TSX is Canada's biggest stock exchange, and as of June 16, 2023, it had 1,789 listed stocks for a total market value of more than C$3.792 trillion. The TSX is often ranked as one of the 10 largest stock exchanges in the world.
Why do companies list on the TSX?
Listing on one of the world's largest stock exchanges provides companies with greater market exposure, the ability to raise capital and an opportunity to build a strong financial reputation. In its technical guide to listing, the TSX states the exchange "offers companies a dynamic market to raise capital, enhanced liquidity, specialized indices, visibility and analyst coverage.'
What sectors are included in the S&P/TSX Composite Index?
The S&P/TSX Composite Index tracks more than 230 constituents across a wide range of sectors, of which the top five by weight are: financials (30.1 percent), energy (16.6 percent), industrials (14 percent), information technology (7.7 percent) and materials (11.9 percent).
What was the highest point for the TSX?
The TSX hit a record high of 22,213.07 points in April 2022. While the exchange was at 19,970 points as of June 16, 2023, there are high expectations that the TSX could move past the 22,000 level by the end of 2023 to set new record highs.
Data for 5 Top Weekly TSX Performers articles is retrieved each Friday after market close using TradingView's stock screener. Only companies with market capitalizations greater than C$50 million prior to the week's gains are included. Companies within the non-energy minerals and energy minerals are considered.
Article by Priscila Barrera; FAQs by Melissa Pistilli.
Securities Disclosure: I, Priscila Barrera, hold no direct investment interest in any company mentioned in this article.
Securities Disclosure: I, Melissa Pistilli, hold no direct investment interest in any company mentioned in this article.
This post appeared first on investingnews.com