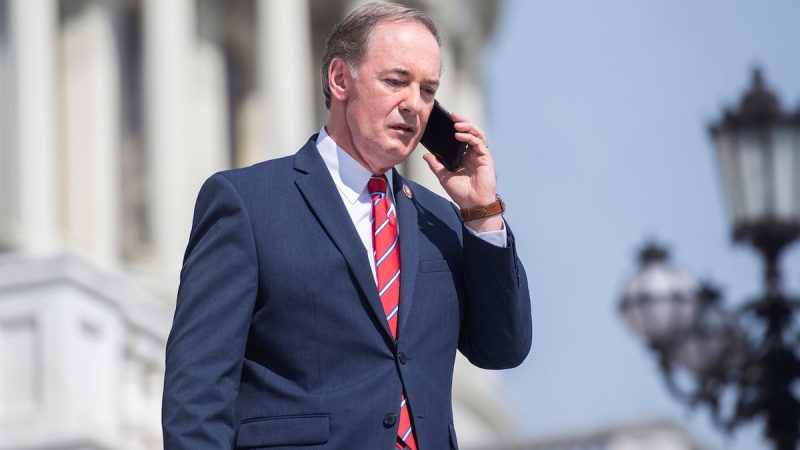 8 House Democrats join Republicans in voting to strike down California's electric vehicle mandate
The House voted Thursday afternoon in favor of legislation striking down environmental regulations in California mandating electric vehicle (EV) purchases.
In a 222-190 vote, the House approved the Preserving Choice in Vehicle Purchases Act with 214 Republicans and eight Democrats voting in favor. A group several Republican lawmakers led by Rep. John Joyce, R-Pa., first introduced the bill, which has been endorsed by the energy industry, in March, arguing EV mandates would hurt the economy and violate consumer choice.
'The simple fact is that electric vehicles cannot meet the demands of my constituents,' Joyce told Fox News Digital in an interview earlier this week. 'Coupling the mountains with the harsh winters and the intense heat of summers makes driving an electric vehicle both unreliable and ultimately unrealistic for many of my constituents.'
'This legislation, H.R. 1435, is an option. It is not an anti-electric vehicle legislation,' he added. 'For those who would like an electric vehicle, they should have the option of buying one. But it doesn't help my constituents — it doesn't help in any district to require an individual to buy an EV regardless of what they want and regardless of the demands of the market.'
The Preserving Choice in Vehicle Purchases Act, if enacted, would block the Environmental Protection Agency (EPA) from issuing waivers to states seeking to ban or limit internal combustion engine vehicles. Under the Clean Air Act, the EPA is currently empowered to grant California a waiver to implement stricter emissions standards than the federal government.
In March 2022, the EPA reinstated California's authority under the Clean Air Act to implement its own emission standards and EV sales mandates, and allowed other states to adopt California's rules. The move came after the Trump administration revoked the state's authority to pursue standards that run counter to federal rules.
Months later, on Aug. 25, 2022, the California Air Resources Board, a state environmental agency, announced new regulations banning gas-powered cars, and mandating electric cars, by 2035. California Gov. Gavin Newsom celebrated the regulations, saying the state would continue to 'lead the revolution towards our zero-emission transportation future.'
In addition, another 17 states have laws in place that tether their vehicle emissions standards to those set in California, meaning the electric vehicle mandate would impact tens of millions of Americans nationwide. Overall, it is estimated that the states adopting California's 2035 rule represent more than 40% of total U.S. car purchases.
'This legislation is about ensuring Americans can continue choosing the vehicles that best suit their lives. It's about making sure people have the option of driving practical, functional, and affordable cars,' House Energy and Commerce Chair Cathy McMorris Rodgers, R-Wash., said in support of the bill. 'And it's about embracing the legacy of the American auto industry.'
'The answer is not through restrictive government mandates,' she continued. 'Yet that is exactly what President Biden's EPA, California, and others allies are trying to do.'
However, several Democratic lawmakers blasted the legislation ahead of the vote Thursday. The Democrats lauded California's EV mandate, saying it would reduce pollution and help combat climate change.
'The transportation sector is the single-largest contributor of greenhouse gas emissions and other dangerous air pollution,' Energy and Commerce Committee Ranking Member Frank Pallone, D-N.J., said in a floor speech. 'But once again, Republicans want to bury their heads in the sand and ignore reality, even while more than 100 million Americans are right now living in counties with unhealthy levels of air pollution.'
'We should focus on supporting these policies, not weakening them. Sadly, H.R. 1435 would toss aside decades of legal precedent, upending the California waiver process and threatening innovation already underway,' Rep. Paul Tonko, D-N.Y., the top Democrat on the Energy and Commerce Committee's environment subcommittee, added in separate remarks.
The legislation was ultimately passed out of the Energy and Commerce Committee in late July, teeing up the floor vote Thursday. Companion legislation in the Senate was introduced by Sen. Markwayne Mullin, R-Okla., a month prior and is still making its way through the chamber.
In a statement of administration policy issued this week, though, the White House hinted that President Biden would veto the legislation if it made it to his desk.
'The Administration strongly opposes passage of H.R. 1435, which would amend the Clean Air Act to preclude EPA from issuing federal preemption waivers for California pollution standards that directly or indirectly limit the sale or use of new motor vehicles with internal combustion engines,' the White House said.
This post appeared first on FOX NEWS