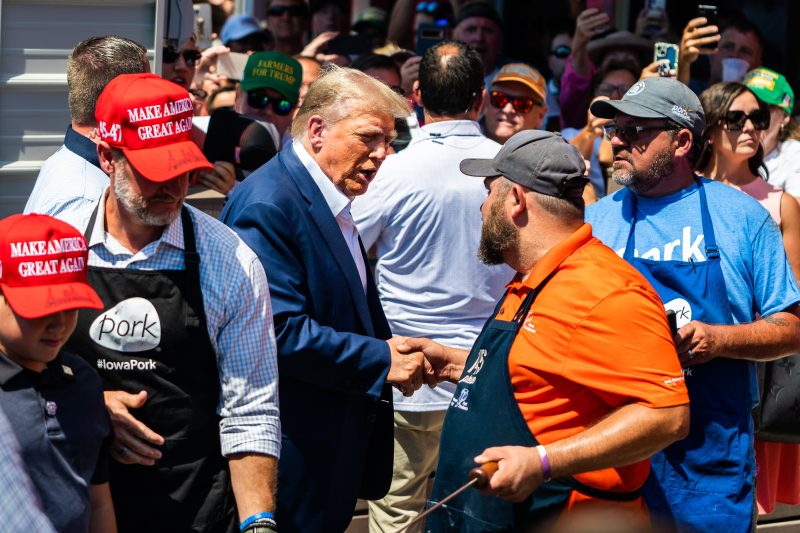 A new poll of Iowa Republicans reinforces Trump's 2024 strength
If you really squint — if you hold the results of the new Iowa poll at arm's length, perhaps in low light — you can maybe identify some bad news for Donald Trump's bid for the 2024 Republican nomination. But considered objectively in broad daylight, the new numbers simply reinforce the reality that's been driving the nominating contest since Trump was first indicted earlier this year: He has a big lead that seems to be susceptible only to the sort of imagined deus ex machina that Trump has avoided for eight years.
The Iowa poll is not just another poll, mind you. Conducted by J. Ann Selzer for the Des Moines Register, NBC News and Mediacom, the poll is considered the state's gold standard. Selzer is renowned for her assessments of Iowa's electorate. So when her poll has Trump leading Florida Gov. Ron DeSantis for the nomination by a more than 2-to-1 margin, that's significant.
The poll finds that 42 percent of likely Republican caucusgoers say that the former president is their top pick, compared with 19 percent for DeSantis. (No other candidate breaks into double digits.) More than half of caucusgoers have Trump as their first or second pick, compared with about 40 percent who say the same of DeSantis. Many of those who have DeSantis as their second choice, of course, have Trump as their first one.
It is true that likely caucusgoers view a number of the candidates positively. Both Trump and DeSantis are viewed favorably by at least half the poll's respondents, as are Sen. Tim Scott (R-S.C.) and former South Carolina governor Nikki Haley. This is one of those looks-good-if-you-squint metrics: Maybe caucusgoers will shift to one of the other candidates they also view positively.
Notice, though, who is viewed most unfavorably: former vice president Mike Pence and former New Jersey governor Chris Christie — two of the candidates most obviously positioned (willingly or not) in opposition to Trump. The latter is running directly against the former president; the former has become a pariah on much of the right thanks to Trump's false insistences that he is essentially responsible for Joe Biden's presidency.
The idea that Trump supporters might transfer their support to other candidates also depends on the idea that support for Trump isn't fixed. Overall, about 4 in 10 likely caucusgoers told Selzer that their minds were made up about their preferred candidates. Among those who selected Trump as their first choice, though, two-thirds said their minds were made up.
Remember: 4 in 10 respondents said Trump was their first choice, meaning that something like a quarter of the likely caucus crowd supports and is committed to Trump. And they're part of the 40 percent of likely caucusgoers who said their minds were made up, meaning that only something like 2 in 10 supporters of other candidates are similarly committed.
Trump's lead in Iowa is already disproportionate to his favorability. Scott and DeSantis are his closest rivals (to use "close" fairly loosely) and are viewed more positively on net than other candidates. But Trump is way ahead, despite matching DeSantis's net favorability numbers and trailing Scott's.
It's worth pointing out an obvious counterpoint to the idea that other candidates are also viewed positively and therefore threaten Trump: They aren't threatening him very much now.
Sure, something could change. Perhaps there will be some event that suddenly spurs a big chunk of Trump's supporters to look elsewhere. We've heard versions of this idea since 2015 without it occurring, but maybe it will now. Maybe, for example, the various indictments will prompt reflection within Trump's base.
Probably not. Two-thirds of likely caucusgoers say they don't think Trump committed serious crimes. In fact, Selzer found that the margin of support between Trump and DeSantis grew after the announcement of new charges in Georgia, though there's a healthy margin of error on this.
What is undeniable is that early Iowa polling often ends up at some distance from the actual results. NBC's Steve Kornacki offered a graphic making this point on Monday morning.
Here's how Trump's 23-point lead compares to other leaders in the Des Moines Register poll at this same point: pic.twitter.com/g2BaZUC7gV
— Steve Kornacki (@SteveKornacki) August 21, 2023
Leads a few months before the caucus tend to evaporate by the time the caucuses are held, particularly in recent years. In 2008, 2012 and 2016, the candidates leading at this point in Des Moines Register polling ended up coming in second in the caucus itself.
It's noteworthy, though, that two of those three candidates — Mitt Romney in 2012 and Trump in 2016 — went on to win the nomination anyway. In the three most recent contested caucuses, the winner in Iowa didn't secure the party's nomination. The Republican winners in Iowa used to end up as the party's nominee, making the state's position at the front of the process an important indicator of the will of the electorate. But that hasn't been the case in contested nominating fights for two decades.
Trump could still lose Iowa, as he did seven years ago. He could also then go on to win the nomination anyway … as he did seven years ago. What this new poll suggests, though, is that he's likely to win in Iowa — and that his support is more resistant to erosion than that of his competitors.
This post appeared first on The Washington Post