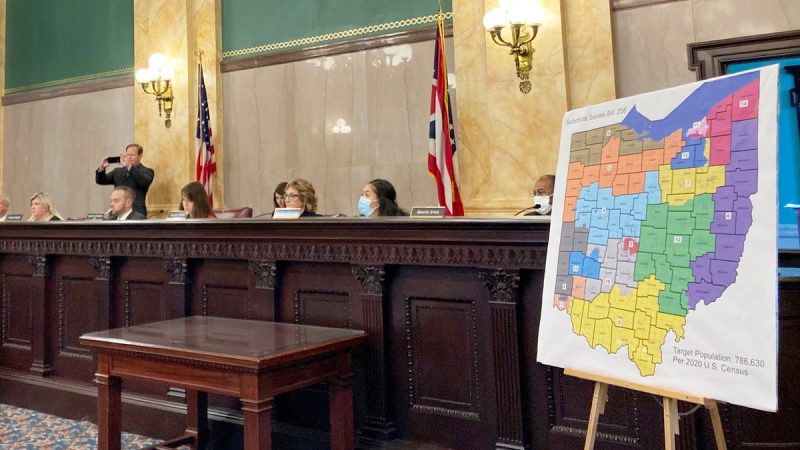 Activists move to dismiss legal challenge to Ohio's congressional map
Plaintiffs suing Ohio over its congressional map have moved to dismiss the case.The ACLU of Ohio told the state Supreme Court that it is willing to let the current map stand '(i)n lieu of the continued turmoil brought about by cycles of redrawn maps and ensuing litigation.'Despite the map largely favoring Republicans, Democrats held onto all four of their Ohio House seats last year, and gained another with then-Cincinnati Councilman Greg Landsman's defeat of longtime Rep. Steve Chabot.
Ohio voting-rights groups moved to dismiss their lawsuit against Ohio's unconstitutional congressional map on Tuesday, arguing that prolonging the legal wrangling over where to draw district boundaries isn't in the best interests of Ohio voters.
The ACLU of Ohio, on behalf of the League of Women Voters of Ohio and others, told the Ohio Supreme Court that they are willing to live with the U.S. House map approved March 2, 2022, and used in last year's elections, '(i)n lieu of the continued turmoil brought about by cycles of redrawn maps and ensuing litigation.'
Democrats netted wins under that map — securing five of 15 U.S. House seats, compared to the four of 16 they had held previously. Ohio had lost one seat under the 2020 Census because of lagging population growth.
'Petitioners have no desire to launch another round of maps and challenges, given the recent history of map-drawing in Ohio,' the Tuesday filing said.
That history included the court's rejection of two separate congressional maps and five sets of Statehouse maps — describing districts for Ohio House and Ohio Senate in Columbus — as gerrymandered in favor of the ruling Republicans. Nonetheless, those maps had to be used to elect candidates in 2022 as the disagreements ended in legal limbo.
Since the voting advocates' lawsuit was first filed early last year, the political landscape has grown only more conservative. GOP supermajorities at the Statehouse grew, and the state's high court, which would decide their case, saw the retirement of a Republican chief justice who had provided a swing vote against GOP-leaning maps.
The dismissal request also comes as advocates prepare a redistricting reform amendment for Ohio's 2024 ballot.
Before Tuesday's filing, the Ohio Supreme Court had asked both sides in the lawsuit to file briefs explaining how a U.S. Supreme Court ruling in June involving the Ohio map would impact the state case. The nation's high court set aside ruling in the case and ordered further consideration in light of its rejection days earlier in a North Carolina case of the so-called independent state legislature theory, which holds that legislatures have absolute power in setting the rules of federal elections and cannot be overruled by state courts.
<!–>
This post appeared first on FOX NEWS
–>