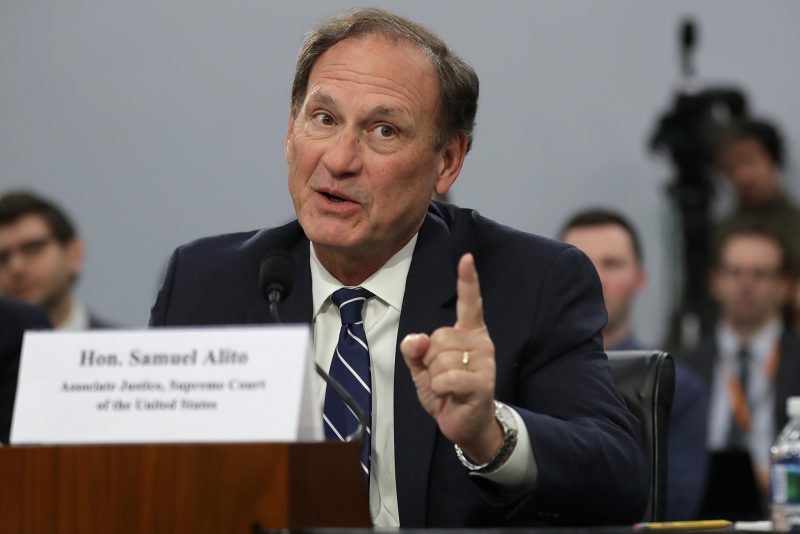 Alito says Congress has no authority to police Supreme Court ethics
Justice Samuel A. Alito Jr. said in an interview published Friday that Congress has no authority to impose an ethics policy on the Supreme Court, and he hinted that other justices share his view.
In a piece that appeared in the Wall Street Journal opinions section, Alito noted that he and other justices voluntarily comply with disclosure statutes, but he said mandating an ethics code would be beyond Congress's powers.
"I know this is a controversial view, but I'm willing to say it," Alito said. "No provision in the Constitution gives them the authority to regulate the Supreme Court — period."
Asked if other justices agree, Alito replied: "I don't know that any of my colleagues have spoken about it publicly, so I don't think I should say. But I think it is something we have all thought about."
Allegations of ethics breaches among the justices and reports of luxurious vacations paid for by private benefactors — including a fishing trip to Alaska for Alito — have put the court in the spotlight recently. Last week the Senate Judiciary Committee voted along party lines to advance the Supreme Court Ethics, Recusal and Transparency Act, which seeks to impose on the court disclosure rules as strict as those governing members of the House and the Senate.
It is unusual for a justice to comment so definitively on the constitutionality of legislation, especially when bills are under consideration, and any law that is passed could come before the court.
The Journal article, headlined "Samuel Alito, the Supreme Court's Plain-Spoken Defender," was notable for another reason: It was written in part by David B. Rivkin Jr., a Washington lawyer well-known in conservative legal circles, who has an upcoming case before the court. Rivkin parenthetically disclosed that in the piece, writing that he and his law partner Andrew Grossman represent a couple in Moore v. U.S., a tax dispute the Supreme Court will hear in the coming term.
Rivkin and Journal editorial features editor James Taranto noted that Alito has now spoken with them "on the record for four hours in two wide-ranging sessions," one in April in Alito's chambers and the other in early July in the Journal's New York offices.
The court granted Rivkin's petition to hear Moore v. U.S. at the end of June.
As the subject of Supreme Court ethics has taken a more urgent tone, it has also acquired a partisan sheen, with Republicans saying the call for stronger ethics and disclosure rules is a ploy to delegitimize an increasingly conservative court because liberals disagree with its decisions. That division seems to doom the ethics bill's chances in the Senate, and there is no interest among Republican leaders of the House in pushing such legislation.
Constitutional scholars who testified before the Senate committee split on the role Congress may play in prescribing the ethical responsibilities of a separate branch of government, although there is no dispute about Congress's authority regarding federal courts below the Supreme Court.
Two prominent constitutional experts — conservative former federal judge J. Michael Luttig and liberal Harvard legal scholar Laurence Tribe — said Congress has the power to impose a code of conduct for Supreme Court justices, but it cannot order the high court to come up with rules on its own.
Others similarly point out that Congress does affect aspects of the Supreme Court: It controls the budget, and has required the high court to hear certain classes of disputes and allowed the court's discretion about others.
But Michael Mukasey, who served as attorney general under President George W. Bush and also served as a federal judge, disagreed with Luttig and Tribe. "A law compelling the court to adopt such a code, or purporting to impose one legislatively, would violate the principle of separation of powers, and would also be unworkable inasmuch as there is no authority other than the justices themselves to apply such a code," he testified.
Chief Justice John G. Roberts Jr. declined the committee's request to appear to talk about the bill, saying that in most instances it was inappropriate for the head of one branch of government to testify before another. He said in May that he was "committed to making certain that we as a court adhere to the highest standards of conduct. … And I am confident that there are ways to do that consistent with our status as an independent branch of government and the Constitution's separation of powers."
He has not publicly mentioned the topic since then.
Alito, one of the most conservative justices on the court, has increasingly turned to the Wall Street Journal editorial page this year to explain himself to the public.
In between his two interviews with Rivkin and Taranto, the justice published a preemptive op-ed defending himself against a ProPublica report that detailed his relationship with billionaire hedge fund manager Paul Singer, including their trip on a private jet to an Alaskan fishing resort in 2008. Singer's hedge fund came before the court 10 times in cases involving business disputes after that trip, ProPublica said.
Alito did not answer questions from the ProPublica reporters, instead writing in that op-ed that he did not know that Singer was involved in the cases before him and did not disclose the trip because he considered it personal hospitality exempt from reporting requirements.
In Friday's piece, Alito said, "I marvel at all the nonsense that has been written about me in the last year."
He said he expected the organized legal community to defend him and other justices. "But that's just not happening. And so at a certain point I've said to myself, nobody else is going to do this, so I have to defend myself."
This post appeared first on The Washington Post