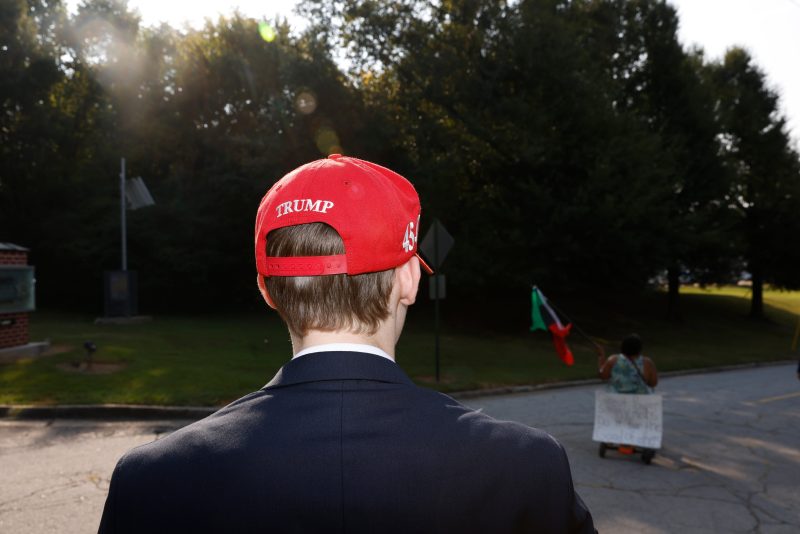 Americans don't view all of Trump's indictments equally
One of the odder aspects of the publication of Donald Trump's mug shot has been that partisans on both sides have embraced it.
This is an unquestionably historic and unquestionably unusual occurrence, having a former president booked at an Atlanta jail on criminal charges stemming from his efforts to retain power. But thanks to Trump's assiduous, effective, extended efforts to cast the investigations into his actions as partisan, the photo documenting his status as a criminal defendant has become a bipartisan totem.
Democrats love it because it shows how the system is trying to hold Trump to account. Republicans love it because it shows how the system is trying to stand in Trump's way.
The image is specific to the charges handed down by a Fulton County, Ga., grand jury last week, but it stands as a proxy for all of Trump's other indictments, too, ones for which no such photo was taken. When it became public on Thursday, it wasn't just a marker of Trump's legal problems in that state but, instead, became an emblem of all of his indictments.
Which made me wonder: How much do Americans differentiate among them?
As you are probably aware, Trump has been indicted four times and faces 91 criminal charges in four jurisdictions. There are the charges in Manhattan, related to a payment made before the 2016 election to a former adult-film actress. There are the charges in Florida, centered on Trump's retention of national security material, some apparently classified, after he left office. In D.C., a federal grand jury indicted Trump over his efforts to block Joe Biden's ascension to the presidency. And in Georgia, the indictment has a similar focus, albeit centered on the specific ways in which that effort unfolded in that state.
As it turns out, not all of these indictments are seen as equally valid in the eyes of the country.
The Associated Press and NORC have polled Americans three times this year, asking respondents how they viewed the legality of Trump's actions. In April, June and August, people were asked whether they viewed four actions of Trump's as illegal or merely unethical: the retention of classified documents, his efforts in Georgia after the 2020 election, his role in the Capitol riot — meant as a proxy for the eventual D.C. charges — and his alleged efforts to hide the hush money payment.
In the most recent poll, most Americans saw the first two as involving illegal actions on Trump's part, with that view increasing since April in the Florida documents case. Less than half the country views the other actions as illegal, with only a third of Americans thinking the hush money payment was illegally covered up.
Unsurprisingly, there are wide partisan gaps in these views. In most cases, a majority of Democrats say laws were broken and a plurality of Republicans say he did nothing wrong. The hush money payment is an interesting outlier: Democrats are less likely to see this alleged coverup as illegal and Republicans are more likely to describe it as immoral.
There's partisan uniformity in at least one sense. Few Democrats say Trump did nothing wrong in any of the four situations. Less than a quarter of Republicans say that Trump violated the law in each of the four.
These views may shift once trials begin. The presentation of evidence could prove to be compelling in influencing public opinion. Of course, that often hasn't proved to be the case in recent years, particularly in questions involving Trump.
This data also examines views only in the abstract. It may be the case that Americans who think Trump's actions in Georgia crossed legal lines aren't convinced that the specific charges brought in Fulton County are an appropriate response.
Overall, though, the polling does make clear that people are differentiating between the well-supported charges against Trump in Florida and the much iffier ones that emerged in New York. It also makes clear that most people think that, in at least one of the four cases, Trump broke the law.
This post appeared first on The Washington Post