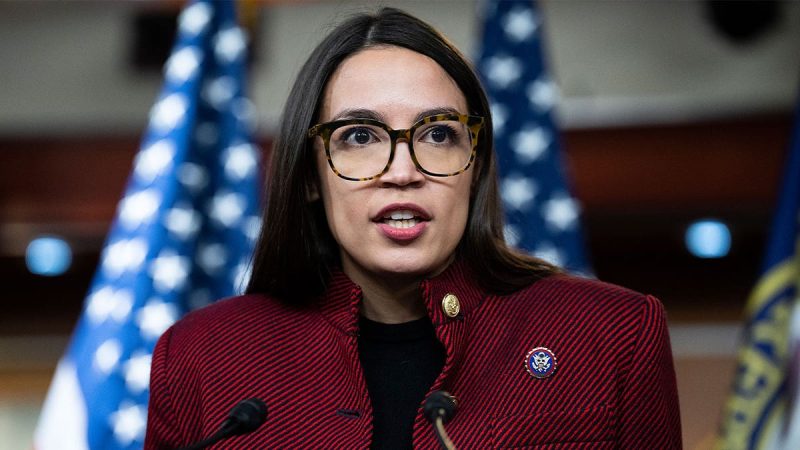 AOC dodges question on lack of border visits under Biden, touts tours of 'New York-area facilities'
Rep. Alexandria Ocasio-Cortez, D-N.Y., dodged a question on why she has not visited the southern border in crisis while President Biden has been in office.
During an interview with the New York Times last week, the 'Squad' member was asked why she has nOt traveled to the border under Biden like she did while former President Trump was in office.
Ocasio-Cortez sidestepped the question about why she has nOt yet visited the southern border under Biden, but said she has visited migrant facilities recently — in the New York area.
'Well, this is something that we're actively planning on,' Ocasio-Cortez told the Times. 'What I have done is tours of our New York-area facilities.'
'Right now, this crisis is in our own backyard, and we have toured the Roosevelt Hotel, and I think it's been very important for us to — especially to my constituents, who are demanding accountability on this — to look at that front line that is right here in New York City.'
The New York Democrat made several high-profile trips to the border during the Trump administration, visiting federal migrant detention facilities.
Since Biden took office, the New York Democrat has yet to visit the southern border.
Ocasio-Cortez was famously dogpiled online in 2019 after the Democrat socialist congresswoman posted a picture of herself crying outside a Texas migrant facility. 
The photos, taken during the Trump administration, appeared to be a far cry from Ocasio-Cortez's attention under the current Democratic president.
Ocasio-Cortez has frequently pushed Democratic narratives about the border and border officials, such as the debunked claim that Border Patrol agents in Texas 'whipped' Haitian migrants crossing the border illegally.
Republicans say the southern border under Biden has become a disaster area with 2.3 million illegal migrants crossing the border illegally this fiscal year alone.
New York City has seen buses full of illegal migrants come to the city from border states like Texas, which has born a substantial brunt of the influx of migrants.
Tensions are rising between President Biden and blue state Democrats trying to stem the tide of migrants flowing from Republican-led border states.
New York City Mayor Eric Adams has criticized the Biden administration in no uncertain terms, and New York Gov. Kathy Hochul has leaned on the president to do more for months. Other deep blue cities like Chicago and Boston are also buckling under the weight of Texas Gov. Greg Abbott's bussing program.
Sen. Dick Durbin, D-Ill., said he reached out to Biden and urged him to do more to respond to the crisis.
'I wrote to him in May, so it's been like four months. But I hope to find out,' Durbin told Axios on Tuesday.
Business leaders in NYC also wrote an open letter to Biden and Congress urging them to provide more federal funding for migrant care.
'We write to support the request made by New York Governor Hochul for federal funding for educational, housing, security, and health care services to offset the costs that local and state governments are incurring with limited federal aid,' the group wrote.
The signees included top executives from JPMorgan, BlackRock, Wells Fargo, Goldman Sachs and dozens of other major companies.
Fox News Digital's Anders Hagstrom contributed reporting.
This post appeared first on FOX NEWS