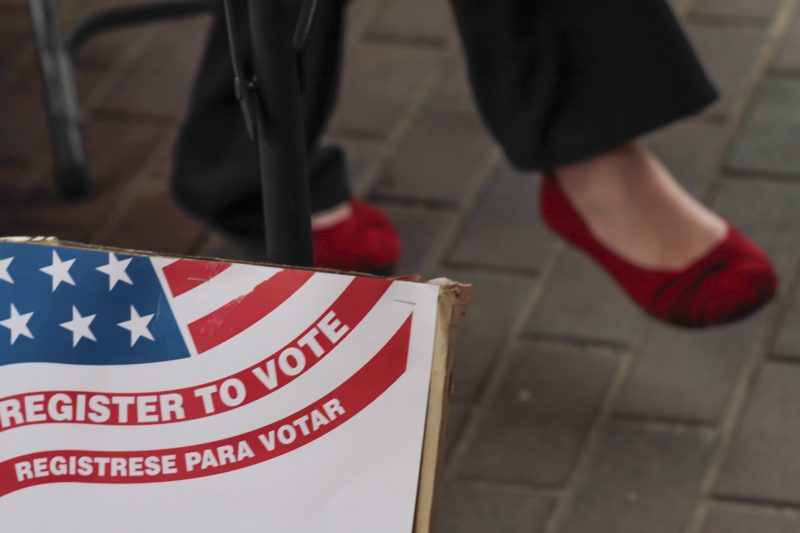 Arlington reverses use of ranked-choice voting system for fall elections
correction
A previous version of this article incorrectly reported that the Arlington County Board had initially offered $50,000 for an outreach and education campaign around ranked-choice voting. In fact, the board had estimated that such a campaign would cost $50,000. A previous correction on this article inaccurately described the error. In addition, the article incorrectly reported that just one person in the last 30 years has won a seat on the board without the party's endorsement. It should have said that that was the case in a general election contest. The article has been corrected.
The Arlington County Board declined to move forward Saturday with ranked-choice voting for November's general election, halting the Northern Virginia suburb's experiment with the increasingly popular voting system, for now.
Local lawmakers had voted last fall to institute ranked-choice voting in the Democratic primary for two open seats on the board this spring. It was the first publicly-run ranked-choice election in Virginia, offering a highly visible test for a voting system that's been used in a growing number of races around the country.
But after critics across the political spectrum raised concerns and expressed confusion about the system — and in particular, on how votes were tabulated in this two-seat race — the board decided Saturday to revert to the traditional "first-past-the-post" voting system in the fall. No legislative action was needed to keep the upcoming election as is.
While all the board members Saturday praised the effort of county election officials to implement ranked-choice voting earlier this year, each member also had concerns that the voters had yet to fully grasp the concept. The board also expressed the wish to continue discussing the method for future elections.
"It's pretty clear that we didn't necessarily get all pockets of our community to view this in the same way," said County Board Chair Christian Dorsey (D). "While I don't really see it as proper and appropriate for the general election, I do hope everyone will agree for later this year or as soon as possible to this again for next primary season."
Lawmakers at the meeting also voted unanimously to appoint Tannia Talento, an aide to Sen. Mark R. Warner (D-Va.) and a former Arlington school board member, to fill an unexpired term on the five-person county board.
The highest-profile ranked-choice races in recent years — including an Alaska congressional race last summer and the New York City mayoral primary in 2021 — have used the system to pick just one winner.
Arlington's primary, however, utilized it to select two party nominees. State regulations mandate that any locality running a ranked-choice election for multiple seats must rely on a vote tabulation method known as "single transferrable vote." Voters could rank up to three choices on their ballots but each effectively has one vote that counts.
Proponents of ranked-choice voting say this tabulation method — which has been used municipalities such as Minneapolis and Cambridge, Mass. — is the gold standard for counting votes in multi-winner ranked-choice races.
They have stressed that it better reflects the will of a divided electorate, giving more of a voice to sizable political factions that are not large enough to win a seat otherwise. And that's exactly what happened in the Arlington primary, they say.
"We ended up with a split result that seems more representative of what voters were asking for," Deb Otis, policy and research director at the advocacy nonprofit FairVote, said earlier this week. "Everyone gets a seat at a the table."
In a crowded race that largely hinged on questions of housing density, primary voters using "single transferrable vote" selected two candidates — Maureen Coffey and Susan R. Cunningham — who were split on the county's push to end single-family-only zoning in Arlington.
Much like many county residents themselves, candidates had taken divergent stances on whether this "missing middle" housing effort was a positive or negative development for the county. Cunningham and third-place finisher Natalie Roy had criticized the zoning change, while Coffey and the other three primary candidates spoke up in its favor.
Otis said a traditional "first-past-the-post" election could have resulted in two critics or two proponents of "missing middle" winning the primary. That would have given more weight to the view of a narrow majority, she said, but resulted in a less proportional result.
Yet the system was not as well received by some voters. County board members and other civic leaders said the complexities of the tabulation method left many in Arlington — one of the most highly-educated counties in the country — with plenty of questions about how things worked on the back end.
Some expressed confusion as to why Roy, who came in second among first-choice votes, did not win the election. Others questioned why voters did not get two votes in a race for two seats. And others still said outreach to voters was lacking more generally.
Otis, of FairVote, acknowledged that part of the issue was Arlington's outdated voting machines, which only allowed voters to rank their first three choices. (Such an issue could be resolved with new voting machines that allow more candidates to be ranked in a single race, she said.)
County board members noted that few voters seemed to have trouble with the act of ranking candidates on their ballot. Yet more needed to be done to educate voters on the "single transferrable vote" system, they said.
"I have heard a lot from voters who belong to minority groups that they really didn't understand the process," County Board member Takis Karantonis said.
Others called out a lack of resources to educate voters on the process. Although county lawmakers had initially estimated spending $50,000 on outreach and education efforts, the local elections office said the state would handle the effort instead. Most of the state's materials did not go into detail about single transferrable vote.
The voting method used in November is not expected to affect the outcome in Arlington, where the Democratic primary is often tantamount to the general election. Just one person in the last 30 years has won a seat on the board without the party's endorsement in a general-election contest.
But some critics said the switch back to traditional voting is an attempt to stifle the voices of those who disagree with the local Democratic Party. In November, Coffey and Cunningham will face Republican Juan Carlos Fierro and independent Audrey Clement, who has unsuccessfully sought a spot on the board 11 times.
Also on Saturday, board members appointed Talento to fill the seat vacated by Katie Cristol, who resigned earlier this month to lead a Tysons nonprofit focused on promoting and developing that area.
There are six months left in Cristol's term. Her departure was timed to avoid triggering a special election and instead allow sitting board members to select an interim replacement.
Talento, who works as Warner's regional director for Northern Virginia, served on the Arlington school board from 2017 through 2020. As the co-founder of a group for Latino parents, she pushed for a slower approach to reopening schools and more aggressive county oversight of a nonprofit that manages some of Arlington's affordable housing.
This post appeared first on The Washington Post