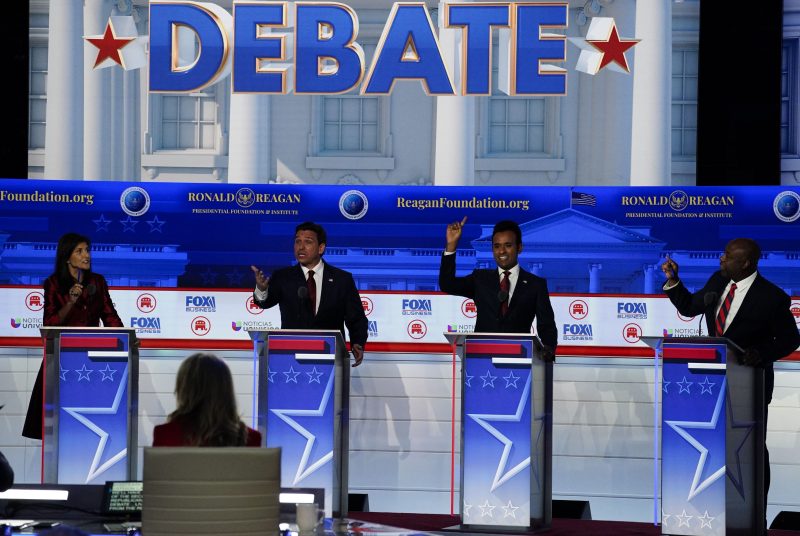 Asked whom they'd vote off the island, Republican candidates stage a mutiny
Republican presidential candidates participating in Wednesday night's debate broadly refused to name a fellow competitor onstage to "vote off the island" and leave the race — a small act of solidarity within a group that spent the evening sparring over its members' political platforms and, at times, getting personal.
Fox Business Network debate moderator Dana Perino said to the candidates, who were presented with notepads and markers, "It's now obvious that if you all stay in the race, former president Donald Trump wins the nomination. None of you have indicated that you're dropping out. So which one of you onstage tonight should be voted off the island?"
Given 15 seconds near the end of the debate inside the Ronald Reagan Presidential Library to come up with their response, some candidates quickly began to reach for their markers.
But then they were shaking their heads.
"Are you serious?" former South Carolina governor Nikki Haley asked.
Florida Gov. Ron DeSantis also flatly declined to participate.
"With all due respect … we're happy to debate. I think that that's disrespectful to my fellow competitors," added DeSantis, who is running a distant second in the polls behind Trump.
"I'm not doing it," subsequently said former New Jersey governor Chris Christie, who at first was seen grabbing his marker.
With candidates refusing to step out of the GOP primary race, there are concerns that voting power could be siphoned away from a candidate who could be a viable alternative to Trump. But taken together, the seven candidates on the debate stage are still far behind the front-runner.
They have the support of 36 percent of Republican primary voters, according to the RealClearPolitics national polling average. Trump, who did not participate in the debate, is polling nationally at more than 56 percent.
When moderator Stuart Varney claimed during the debate that he saw Christie begin to write down a name to kick off the island, Christie pivoted to his repeated critiques of Trump.
"I'd vote Donald Trump off the island right now," Christie remarked. He again refused to name a fellow Republican onstage Wednesday night to kick out of the race.
"Look, this guy has not only divided our party. He's divided families all over this country. He's divided friends all over this country," the former New Jersey governor said of Trump, adding, "He needs to be voted off the island and he needs to be taken out of this process."
One candidate, off camera, appeared to say, "I'll answer it." But none of them did before Wednesday evening's debate drew to a close.
This post appeared first on The Washington Post