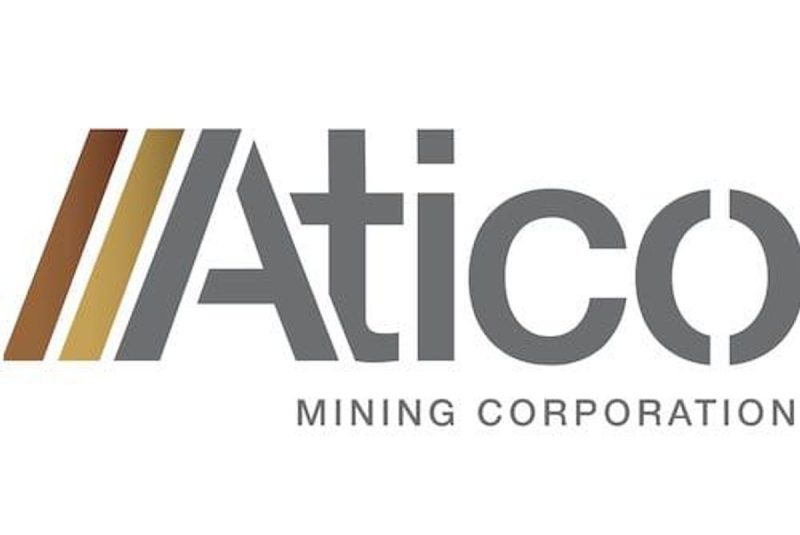 Atico Mining
Overview
Volcanogenic massive sulfide (VMS) deposits are some of the world's most prosperous base metal and precious metal deposits. This type of deposit is found across the globe and often forms in clusters. The oldest known VMS deposits date back three billion years, and new ones are still being formed. VMS deposits have impressive mineralization and high grades, but only 2.2 percent of global gold production and 6 percent of copper production currently come from VMS deposits.
Atico Mining (TSXV:ATY,OTC:ATCMF), operating in Colombia and Ecuador, has two VMS-style projects surrounded by large land packages. Such strategic positioning gives Atico the potential to mimic successes seen with the Fortuna Silver Mines (TSX:FVI,NYSE:FSM), a company with an estimated market cap of US$1 billion, and was founded by the same family currently leading Atico.
"We have a very strong production profile along with a pipeline of growth prospects for a small company. And we generate a robust, free cash flow from which we can finance all of our exploration plans," commented Igor Dutina, the company's corporate development lead.
The stable mining jurisdictions of Latin America have proven to be a premier place for acquisition and mining development for Atico. The company is also looking at other avenues of growth in the possible acquisition of a third project.
The company's flagship El Roble mine has proven to be an extremely valuable asset. The gold-copper mine generates roughly 16 million lbs of copper and 11,000 oz of gold per year, with a life-of-mine of about four years. This VMS asset primes the company on its path to become a mid-tier producer.
El Roble Mine's total production for the three months ending June 30, 2023, totaled 2.8 million pounds of copper and 2,294 ounces of gold in concentrates, a decrease of 22 percent for copper and 18 percent for gold, over the same period in 2022.
The company's second asset, its 100-percent-owned La Plata project in Ecuador, is a pre-development-stage asset with a mineralized profile containing high-grade gold, copper, zinc and silver. Past exploration campaigns and a completed preliminary economic assessment (PEA) have also aided in advancing this highly prospective asset. In 2023, Atico Mining received approval of the environmental impact assessment (EIA) for the construction, operation, maintenance and closure of the 69 kV powerline and substation required for the La Plata mining project.
Atico Mining has a world-class team of mine developers and mine operators, with several generations of mining experience in Latin America and extensive expertise in the industry and regional networking sectors.
Company Highlights
Atico Mining is a Canada-based mining exploration and development company operating out of Latin America. The company is headed by the founders of mining heavyweight Fortuna Silver Mine.The company is primarily focused on its robust flagship El Roble Mine project in Colombia, as well as the La Plata project in Ecuador. Both assets are volcanogenic massive sulfide (VMS) deposits with high-grade copper and gold mineralization clustering.Atico Mining's well-engineered business model primes the company for self-financing potential benefiting shareholders and future investors. This model helps to focus on free cash flow generation and reduce dilution.The El Roble project currently generates roughly 16 million pounds (lbs) of copper and around 11,000 ounces (oz) of gold per year. The mine has a projected three-year mine life and high-margin potential.In 2023, Atico Mining initiated a regional drill campaign at its El Roble Mine project in Colombia.The company acquired the remaining 40 percent of the issued and outstanding shares of Compañia Minera La Plata S.A., which owns the concessions comprising the La Plata project
Key Projects
El Roble Mine
Atico's El Roble mine is the only copper mine currently in production in Colombia. Under-explored until 1990, the 6,355-hectare asset has processed approximately 1.8 million tonnes of primarily pyrite-chalcopyrite ore with an average grade of 2.67 percent copper and an approximate grade of 2.63 g/t gold. Currently, the mine has an 1,000-tonne-per-day throughput capacity and 15 prospective geochemical VMS exploration targets that extend over 10 kilometers across the property.
The land package, which is located in Carmen de Atrato, also leverages a strategically positioned infrastructure with proximity to paved roads, a power grid and established mine and plant facilities on site. As of January 2023, the company owns 90 percent of the operating mine and surrounding claims.
Future plans for the project include a continued focus on drilling into recently discovered resources and mineralization exploration along the strike's depth. With the impressive cluster profile of VMS deposits, El Roble has the potential to generate significant cash flow and shareholder returns for the company as production progresses. The current available free cash flow stands at approximately US$8.7 million.
La Plata Project
This Noranda/Kuroko-type VMS deposit hosts nine priority exploration targets over a land package that spans 2,300 hectares near Quito, Ecuador. Surrounded by large Atico-controlled land packages, the property operates in an investor-friendly jurisdiction with governmental mining support. It hosts an infrastructure with high road accessibility and good natural resource networks.
This pre-development asset hosts the characteristic VMS cluster profiling which reinforces the prospect of further nearby deposits and significant exploration potential. Currently, La Plata has prospective resources of 1.9 million tonnes at 12.9 grams per ton (g/t) gold equivalent mineralization. Historic resources based on past drilling campaigns are estimated at 913,977 tonnes graded at 8.01 g/t gold and 5.01 percent copper. High-grade silver, lead and zinc have also been found along the more than 9 kilometers of favorable strike geology on the property.
Atico Mining has been quick to begin exploring and developing this exciting project after its acquisition in late 2019. The company intends to complete a full feasibility study for the project and to prepare the asset for the initial development of prospective targets.
Management Team
Fernando E. Ganoza – CEO and Director
Fernando E. Ganoza has over 20 years of management experience in Latin America, including key roles in developing mines in Peru and Mexico as the project manager and country manager for Canada-based producer Fortuna Silver Mines.
He has strategic planning and business development experience with Cargill, at which he participated in the valuation and structuring of deals with a cumulative value of over US$350 million. Ganoza holds a BSc. in mining engineering from the Universidad de Antofagasta in Chile and an MBA from the Darden School of Business at the University of Virginia.
Luis D. Ganoza.- Chairman of the Board
Luis D. Ganoza has held the position of CFO in Fortuna Silver Mines since 2006 and has over 20 years of experience in the financial management of public mining companies. He has participated in debt and equity financings for mining projects in Peru and Mexico for over C$120 million. Ganoza has a B.Sc. in mining engineering from the Universidad Nacional de Ingenieria in Peru; an MBA from ESAN, a Tier 1 Latin American Business School; and an MSc. in accounting and finance from The London School of Economics.
Jorge Ganoza – VP Operations and Director
Jorge Ganoza has over 40 years of experience in the Latin American mining industry, holding senior leading roles in the founding and development of private and public mining companies.
For the past six years, he has held the position of VP of operation in Fortuna Silver Mines. He has a BSc. in engineering from the Universidad Nacional La Molina and also completed advanced finance studies at the Escuela Superior de Administration, ESAN, in Peru. Ganoza is a third-generation miner from a Peruvian family that has owned and operated underground gold, silver and base metal mines in Peru and Panama.
Alain Bureau – President
Alain Bureau has over 30 years of leadership in project management, operating in North and Latin American countries gained through notable projects including mines in Peru, Chile, Mexico, Panama and Canada.
Joseph A. Salas – Senior Exploration Manager
Joseph A. Salas has 25 years of experience in exploration, mine geology, project evaluation and development with vast expertise in gold-copper and copper-molybdenum porphyries in Colombia and Peru.
For the past three years, he has held the position of exploration country manager in Colombia for Barrick Gold Corporation. From 1996 to 2002, he worked in various exploration positions of increasing responsibility for Anglo American. Salas has a B Sc. in geological engineering from the Universidad Nacional de San Agustín de Arequipa in Peru and is affiliated with the Society of Economic Geologists Inc.
Matias Herrero – CFO
Matias Herrero is a Canadian chartered accountant, with 15 years of progressive senior level experience as a mining professional in various areas including finance, mergers and acquisitions, international arbitration, treasury management, risk management, regulatory compliance, and multi-jurisdictional public company reporting. Prior to joining Atico, Herrero served as the CFO before becoming the CEO of Gold Springs Resource. Prior to that, he served as the CFO of a gold producer in South America.
He began his career with PricewaterhouseCoopers and gained experience working in senior management roles in publicly-traded companies with gold projects in North America, South America, and Africa. Herrero earned a bachelor's degree in accounting from the University of Belgrano in Buenos Aires, Argentina, he is fluent in English and Spanish and holds a CPA in both Colorado and Washington.
Igor Dutina – Corporate Development
Igor Dutina has an extensive background in financial and capital market analysis, with more than 15 years of experience in the mineral exploration and mining industry, working with several publicly listed companies.
This post appeared first on investingnews.com