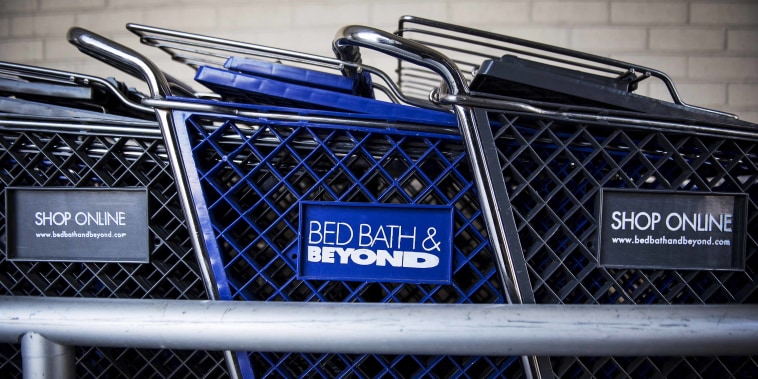 Bed Bath & Beyond comes back as an online retailer
Bed Bath & Beyond's website relaunched Tuesday under its new owner, Overstock.com, breathing new life to the iconic home goods retailer declared bankrupt earlier this year.
The goal, said Overstock CEO Jonathan Johnson, is to combine Bed Bath's brand name with Overstock's business model 'to create a business that can soar.'
Johnson said customers visiting the new website would see up to $50 of loyalty reward points reinstated from former Bed Bath & Beyond customer accounts, including a number of additional perks like 20% off initial purchase for signing up for a newly relaunched Welcome Rewards loyalty program; and 25% off initial purchases for anyone who downloads the new Bed Bath & Beyond mobile app.
When asked why Overstock is adopting the Bed Bath & Beyond name, Johnson said: "People view Overstock as liquidation, which is what we were 25 years ago when we started, but that's not what we've been for the past two decades."
"We've looked at Bed Bath and Beyond jealously for several years,' Johnson said; 'we really liked their name, and it was an iconic brand people loved."
The relaunch was foreshadowed in June, when Overstock announced it had successfully purchased Bed Bath & Beyond's intellectual property and digital assets out of bankruptcy for $21.5 million in cash.
Bed Bath & Beyond filed for Chapter 11 protection in April after years of failed attempts to reboot its long-running home goods business. All remaining Bed Bath & Beyond physical stores were officially slated to close this weekend.
Overstock.com, launched in 1999 as a liquidator and gone public in 2002, saw quarterly net revenues decline 20% year-on-year last quarter to $422 million. The company had a net quarterly loss of $73 million in the same three-month period. Its number of active customers for the quarter fell to 4.6 million, down 29% from the same period last year.
After seeing demand for its household goods boom during the Covid-19 pandemic, Overstock lost considerable sales momentum, reflected in its share price declining from about $121 in August 2020 to about $36 at the close of trading on Monday.
Johnson said an internal customer research survey showed Bed Bath & Beyond was still considered a top-five home goods retail brand among North American consumers. The new website recently went live in Canada and has been well received, he said.
But the relaunched Bed Bath website may have to lean heavily on deals and discounts in order to separate itself from the vast marketplace of competing online retailers, said Neil Saunders, managing director for retail at the GlobalData consultancy.
'Offers and deals used to be a big part of Bed Bath & Beyond,' he said.
The new company could also ultimately be hindered by the closure of Bed Bath's stores, Saunders said.
'What you don't want is for Bed Bath & Beyond to drop off the radar,' he said. 'In two or three years, memories will fade. So you need a strategy to keep the brand alive in consumers' minds.'
Johnson is confident that his company's strategy will pay off.
'Our view is bad management can kill companies, but it doesn't kill brands,' he said. 'The Bed Bath brand is still strongly associated with home, and still much loved.'
This post appeared first on NBC NEWS