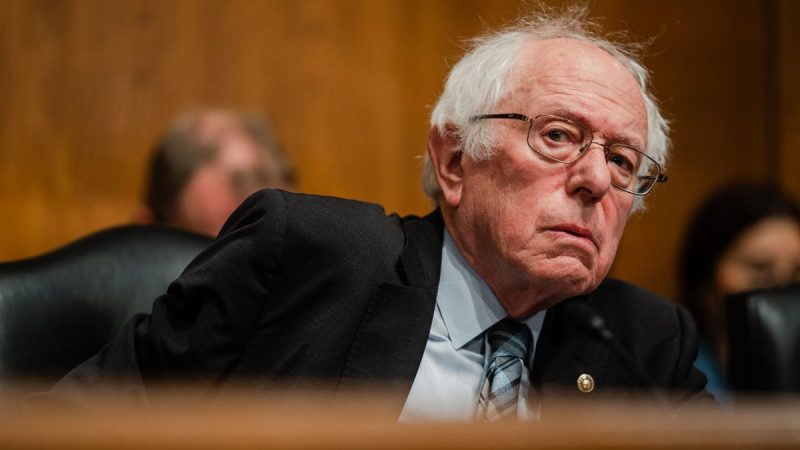 Bernie Sanders says blast at Palestinian hospital an 'unspeakable crime' as IDF, Hamas trade blame
Vermont Sen. Bernie Sanders said Tuesday that the rocket strike against a hospital in Gaza that killed hundreds of Palestinians is an 'unspeakable crime' and called for both Israeli forces and Hamas terrorists to bring the ongoing violence in Israel to an end.
The independent senator also described the killings of more than a thousand Israelis carried out by Hamas as an 'unspeakable crime.'
'The slaughter of over a thousand Israelis by Hamas in a terrorist attack is an unspeakable crime,' Sanders said in a statement. 'The bombing of a Palestinian hospital is an unspeakable crime, as is the displacement of a million people without water, food, and medicine.'
More than 4,200 people have been killed in Gaza and Israel since Hamas launched its largest attack against the Jewish State in decades on October 7, leading to retaliatory action from Israeli forces. Thousands more have been wounded, and many others have been taken hostage by Hamas and raped, tortured and murdered.
'These unspeakable crimes must stop now. The bombs and missiles from both sides must end, massive humanitarian aid must be rushed to Gaza, and the hostages must be returned to their families.' Sanders said.
Health officials in Gaza accused the Israeli forces of launching an airstrike against the hospital, although that claim has been disputed by Israel's officials, who claim the rocket was a misfire launch by the Islamic Jihad in Gaza.
Last week, Sanders, who condemned Hamas' terrorist attack against Israel, said the international community must focus on 'reducing humanitarian suffering and protecting innocent people on both sides of this conflict.'
'The targeting of civilians is a war crime, no matter who does it,' he said in a statement at the time. Israel's blanket denial of food, water, and other necessities to Gaza is a serious violation of international law and will do nothing but harm innocent civilians.' 
'The United States has rightly offered solidarity and support to Israel in responding to Hamas' attack,' he continued. 'But we must also insist on restraint from Israeli forces attacking Gaza and work to secure UN humanitarian access. Let us not forget that half of the two million people in Gaza are children. Children and innocent people do not deserve to be punished for the acts of Hamas.'
This post appeared first on FOX NEWS