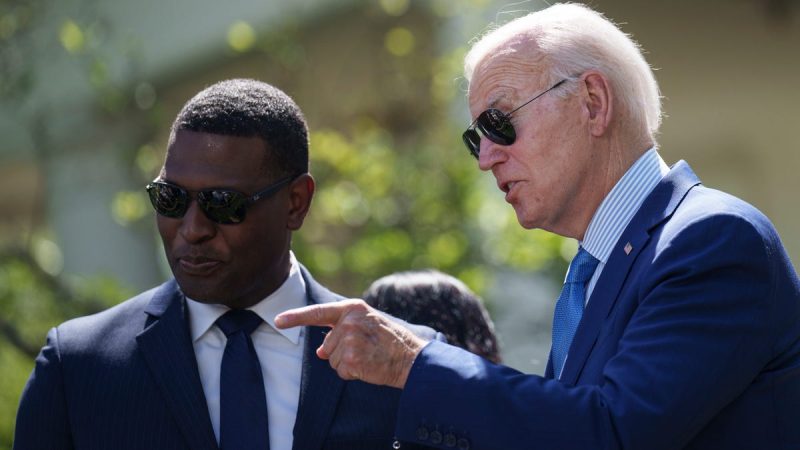 Biden admin reverses Trump-era action making it easier to build fossil fuel pipelines
The Biden administration has unveiled new regulations expanding the authority of states and tribes to deny certification for various infrastructure activities including fossil fuel pipelines that may impact water sources.
The Environmental Protection Agency (EPA) issued the final rule in a move applauded by a wide range of Democratic governors who said it would strengthen their ability to protect the environment and weigh in on key federal permits. According to the EPA, the rule realigns the scope of a provision in the Clean Water Act of 1972, Section 401, which prohibits projects that result in any discharge into waters from being approved.
'The Biden-Harris Administration is committed to supporting economically secure, healthy, and sustainable communities,' EPA Administrator Michael Regan said Thursday in a statement.
'To achieve this goal, we must protect our water resources while also making investments that move our nation forward,' he continued. 'With EPA's final Clean Water Act Section 401 rule, we are affirming the authority of states, territories, and Tribes to protect precious water resources while advancing federally permitted projects in a transparent, timely, and predictable way.'
States for years had previously used authority under Section 401 of the Clean Water Act to reject fossil fuel projects in their jurisdiction. For example, New York rejected permits for a natural gas pipeline in 2018 and, one year later, Oregon rejected certification for a natural gas export facility. 
However, former President Donald Trump issued an energy security and infrastructure executive order in 2019 that ordered the EPA to restrict states' authority under the Clean Water Act.
The EPA then finalized regulations in 2020 rolling back how much states could intervene in federal permitting for activities potentially impacting water sources, a move that was ultimately challenged by Democratic-led states in federal court. The EPA's regulations this week reverse the Trump administration's actions.
'EPA's action will better protect New Mexico's water quality at a time when federal and state protections are needed most,' Democratic New Mexico Gov. Michelle Lujan Grisham said after the Biden administration announcement. 'New Mexico must do all it can to protect our most precious resource — our water.'
'As Attorney General, I stood up to efforts to undermine this and now, as Governor, I'm grateful to see it restored,' Democratic Massachusetts Gov. Maura Healey added. 'Massachusetts thanks the U.S. EPA for strengthening the partnership envisioned by the Clean Water Act with today's rule, helping us fulfill our commitment to protecting waterways across Massachusetts.'
The Environmental Council of States, a nonprofit that works with state environmental agencies to push green policies, also endorsed the EPA's action.
This post appeared first on FOX NEWS