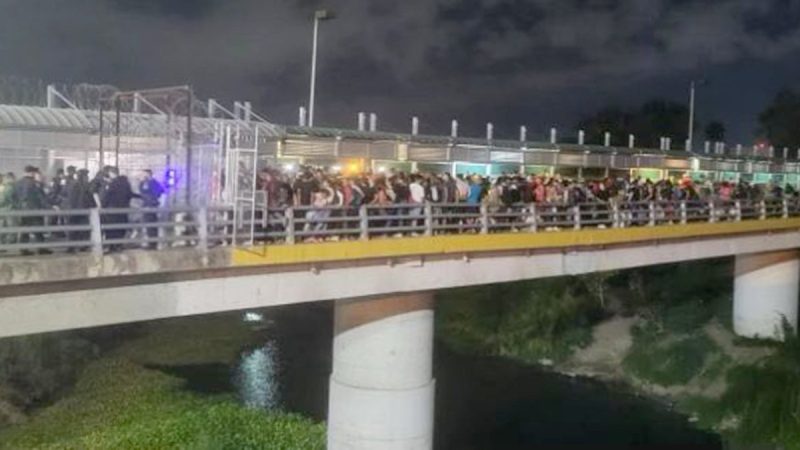 Biden administration considering plan to force migrants to remain in Texas: report
The Biden administration is considering forcing migrants who cross into the United States illegally to remain in Texas while they wait out their asylum screening.
Administration officials cite the proposed plan as a way to curb the flow of illegal immigrants at the southern border, The Los Angeles Times reported, citing three U.S. officials not authorized to discuss the matter.
The plan would force migrants to remain in Texas, or possibly other border states by tracking their location through GPS monitoring devices, such as ankle bracelets, the officials told the Times. 
The migrants would undergo an asylum screening to determine whether they can remain in the U.S. Officials have discussed working with local groups to provide housing for the migrants.  
Fox News Digital has reached out to the White House, Texas Gov. Greg Abbott's office and several immigration agencies. 
A spokesperson for the Department of Homeland Security (DHS) told Fox News Digital that the Biden administration 'is committed to expanding safe and orderly pathways for migrants to lawfully enter the United States, while imposing consequences to those who fail to use those pathways.'
Since May, DHS has removed or returned over 200,000 people, the agency said.  
'DHS continuously holds policy and operational discussions on how to leverage our authorities to ensure a fair, humane, and effective immigration process that efficiently removes those without a lawful basis to stay in the country,' the DHS statement said. 
The plan would expand upon the Family Expedited Removal Management (FERM) program, which places migrant families under a curfew and GPS monitoring. It applies to those heading to various cities like Baltimore, Washington and Chicago. 
The potential move comes amid an increase in migrant encounters at the southern border. Texas has also continued to feud with the federal government, most recently over Abbott's effort to stem the influx of migrants with floating buoys on the Rio Grande. 
A Texas judge ruled Wednesday that the buoys must be removed no later than Sept. 15. 
In addition to the floating barriers, Texas has operated a bussing program to transport migrants to so-called 'sanctuary cities' like Chicago, Philadelphia, New York and Los Angeles, in an effort to provide relief to border towns. Abbott argues that Texas cities have carried the weight of illegal immigration and that 'sanctuary cities' need to begin sharing the burden.
'Texas has bused over 35,000 migrants to self-declared sanctuary cities,' he wrote Tuesday on X, the platform formerly known as Twitter. 'Over 11,300 to D.C., over 13,300 to NYC, over 6,700 to Chicago, over 2,600 to Philadelphia, over 1,000 to Denver, over 480 to LA.
Many of the targeted cities have become overwhelmed and continue to struggle with providing resources to the migrants. Democratic mayors have demanded more support from their states and the federal government.
Los Angeles leaders recently voted to sue Abbott over the program, and New York Mayor Eric Adams has demanded Biden expedite the work-permitting process for migrants to allow them to support themselves, rather than take up city and state resources housing them in shelters.
Fox News Digital's Adam Shaw contributed to this report. 
This post appeared first on FOX NEWS