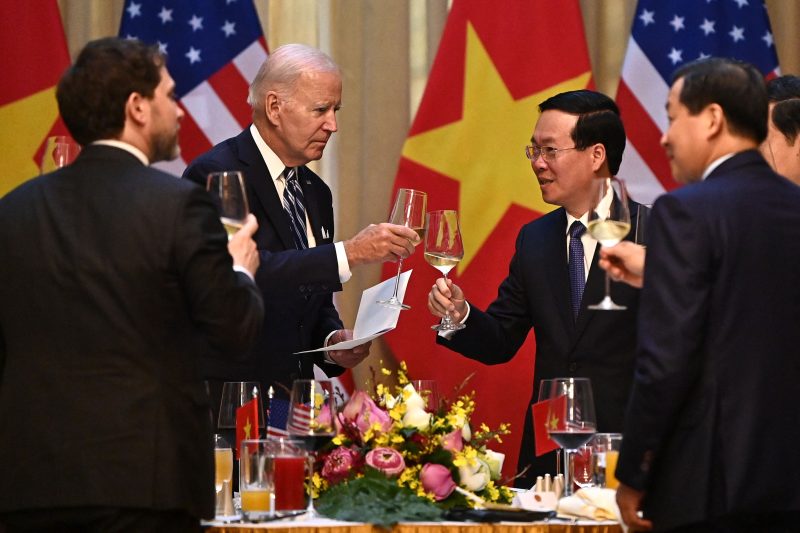 Biden concludes foreign trip proclaiming 'new stage' of U.S.-Vietnam ties
HANOI — President Biden met with Vietnamese officials here on Monday, continuing to build on stronger diplomatic ties between the United States and Vietnam at the conclusion of a whirlwind foreign trip.
His final stop was at a memorial for John McCain, a longtime friend and colleague who was held as a prisoner of war for five years during the Vietnam War. Biden touched a wreath of red, white, and blue flowers that was at the memorial, and bowed his head. He dropped a commemorative coin and saluted before leaving.
"I miss him, I miss him," Biden said. "He was a good friend."
McCain had done significant work throughout his career to normalize relations between the two countries, and Biden's arrival here on Sunday helped solidify a further strengthening of that relationship.
Biden's 24-hour stop in Vietnam was aimed in large part at enhancing ties between the two countries in the face of China's influence, even as Biden used a news conference to try to calm anti-China rhetoric.
Earlier in the day, Biden spoke about a "new stage" of U.S.-Vietnam relations that would be marked by investment and innovation. He hailed stronger economic and diplomatic ties that would see investments in the semiconductor industry.
"My message today is quite simple: Let's keep it up," he said during a meeting with business leaders and technology chief executives. "We need to develop and drive our collaboration, We need to forge new partnerships."
"It's about creating a free and open Indo-Pacific for all of us," he added.
Prime Minister Pham Minh Chinh was just as effusive. "The sky is the limit," he said. "We truly wish to receive strong political commitment from the U.S. government including you, Mr. President, who has had great affection for Vietnam."
Vietnamese President Vo Van Thuong called the new partnership a "momentous occasion" and said it was "opening up a new chapter."
Several business agreements were announced. Both sides also exchanged artifacts that belonged to soldiers who fought in the Vietnam War.
During a state lunch at the presidential palace, a toast was said to Biden's health. Biden cited a Vietnamese poet and said that this day "may have seemed impossible not that long ago."
He concluded with his oft-cited passage from Irish poet Seamus Heaney's "The Cure at Troy" about the times when "hope and history rhyme."
"Here's to all of us making hope and history rhyme," he said.
Biden also mentioned McCain during the lunch, as well as John F. Kerry, who fought and protested the war and who has been with Biden during much of the Vietnam visit. Biden mentioned the role they played in what he called a "50-year arc of progress."
"Where there was darkness you all found light," Biden said.
Biden departed in the afternoon, with Air Force One headed toward Alaska. Biden is planning to mark the Sept. 11, 2001, anniversary by meeting with military families during a refueling stop at Joint Base Elmendorf-Richardson in Anchorage.
This post appeared first on The Washington Post