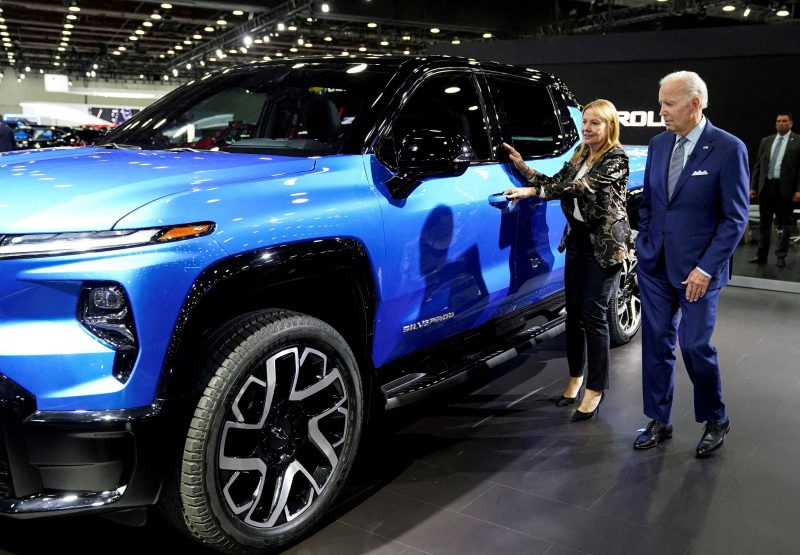 Biden faces a moment of peril as UAW threatens broad strike
President Biden has simultaneously called himself the "most pro-union president in history" and the most effective environmental champion to occupy the Oval Office. As he stakes his reelection bid on his handling of the economy, those at times conflicting priorities are being challenged by a looming autoworker strike with outsize political ramifications.
The White House has been monitoring closely as Detroit's big automakers and the United Auto Workers engage in acrimonious negotiations, with the laborers threatening to strike if an agreement is not reached before their current contract expires at 11:59 p.m. on Thursday. A full or partial strike could send shock waves through the economy while also calling into question's Biden's pledge to create a "win-win" transition to a clean-energy future.
While the president is not a direct party to the negotiations, the latest labor dispute is shaping up to be one of the most politically precarious of his term. With the key presidential battleground state of Michigan likely to be the most impacted by a work stoppage, Biden's allies are hoping to avoid a strike while also pursuing an elusive endorsement from the UAW.
"He is not directly involved but he certainly has a strong interest in seeing a settlement that both sides can live with," said Harley Shaiken, a labor professor at the University of California at Berkeley. "A strike makes things much more complicated and it raises the specter of political damage when Biden can least afford it and would most like to avoid it."
So far, Biden has expressed optimism that a strike will be averted while dispatching longtime Democratic adviser Gene Sperling as a liaison as the UAW seeks a new contract with General Motors, Ford and Stellantis.
"We're focused on the here and now," Sperling said. "Right now, you want everybody at the table 24/7 working to hammer out an agreement that ensures UAW jobs continue to be strong middle-class jobs and that UAW workers stay at the center of an auto future made in America."
With the deadline approaching, UAW's fiery new president Shawn Fain has not echoed Biden's optimism, saying the union's roughly 150,000 automotive members are ready to walk off the job if their demands are not met in the next two days. Among other things, the workers have called for a 36 percent pay hike over four years and the restoration of defined-benefit pension plans.
Even a partial strike could destabilize an industry that contributes about 3 percent of the nation's gross domestic product and deliver a blow to the economies of states in the Midwest and beyond. Economists have predicted that a prolonged strike could eventually lead to higher car prices, a major driver of the surge in inflation under Biden that has only recently cooled off.
The White House is also aware of the political ramifications of a work stoppage, which could coincide with a potential government shutdown on Sept. 30, officials said.
Biden's push to help the auto industry transition to clean energy technologies has become a key sticking point for autoworkers, who fear the shift to electric vehicles will mean fewer jobs and lower pay. The UAW — which has pointedly withheld an endorsement of Biden's reelection — has specifically chided the administration for facilitating billions of dollars in tax incentives and loans for automakers without requiring them to share the benefits with union laborers.
Fain's harsh comments about Biden's approach to the EV transition earlier this year created a sense of tension with the White House, which did not know the upstart union leader well before his March election, according to a senior administration official who spoke on the condition of anonymity to discuss internal deliberations. Still, Biden invited Fain for a half-hour meeting in the Oval Office this summer and relations have improved in recent months, the official said.
Biden, who sought unsuccessfully to include certain pro-union provisions in the Inflation Reduction Act, has publicly urged the carmakers and electric battery companies to hire union workers and pay them a fair wage.
"We're going to transition to an electric vehicle future made in America — and it will protect and expand good union jobs," Biden wrote on X, formerly known as Twitter, on Tuesday.
But it's not clear how much power the president has to force the two sides into an agreement, as he did with the railroad worker contract talks last year. The White House's intervention in the rail dispute angered many of Biden's union allies and some labor officials have requested him to stay out of the current talks.
The president, who returned to Washington on Monday night from a trip to Asia, has not publicly endorsed the UAW's list of specific demands or criticized the auto companies' offers. White House officials have not always been kept apprised of the various offers and counteroffers on the table during the multiparty negotiations, one official said. It has at times been difficult to parse which of Fain's demands are top priorities and which can be tabled, the official said.
The UAW did not respond to a request for comment.
With the strike date nearing, there are some signs that the various parties are making progress. While Fain has often used incendiary language to describe the state of the negotiations — calling GM's initial offer an "insulting" waste of time last week — he spoke in a more conciliatory tone Monday.
"We've made some progress, a little bit of progress — it's still slow but we're moving," Fain told CNN. "We have a long way to go."
In addition to wage hikes and stronger retirement benefits, the workers have demanded annual cost of living wage adjustments, an end to tiered pay scales and better treatment of temporary workers. Fain has also called for a 32-hour workweek. The workers have made ambitious requests in part due to a soaring rate of inflation since their last contract in 2019, which has reduced their purchasing power. They have also noted the record profits the car industry has seen lately.
The Big Three automakers have said they are offering workers some of the largest pay increases in decades while trying to balance remaining competitive as the shift toward electric vehicles upends their industry.
Stellantis, the parent company of Jeep and Chrysler, said Friday it would provide a 14.5 percent wage hike for hourly workers over the next four years. GM on Thursday offered workers a 10 percent wage increase, two lump-sum payments equal to 3 percent of their wages and a $6,000 one-time "inflation-recognition payment." The company would also give workers a $5,500 bonus for ratifying the contract. Ford initially offered a 9 percent wage increase over the four-year contract and a lump-sum payment equaling 6 percent of wages.
The carmakers have warned that acceding to the UAW's demands would make it difficult for them to compete against competitors like Tesla and foreign auto companies that do not have unionized workforces.
"We will not make a deal that endangers our ability to invest, grow and share profits with our employees," Ford President and Chief Executive Officer Jim Farley said last month in a statement. "That would mortgage our future and would be harmful to everyone with a stake in Ford, including our valued UAW workers."
White House officials have shown some openness to that sentiment, especially as Biden tries to boost domestic manufacturing and help U.S. companies compete with foreign competitors.
But some progressive Democrats have blasted the companies for taking in billions of dollars in taxpayer funds while rebuffing employees' call for more equitable pay. They have urged party leaders to take a more unequivocal stance behind the workers.
"My belief is that the Democratic Party, from the president on down, need to stand in solidarity with Shawn Fain and the workers," said Rep. Ro Khanna (D-Calif.), who added that Biden has been clear when he has spoken out on labor issues. "There are not two sides to this issue. There is the issue of workers being paid fairly, especially after we have provided billions of taxpayer handouts and subsidies to the Big Three companies."
Biden, who often proclaims on the trail that "unions built the middle class," has made selling "Bidenomics" a key piece of his reelection pitch. He has touted the Inflation Reduction Act, with its clean-energy tax credits for consumers and companies, as crucial to creating well-paying jobs and reviving America's manufacturing sector.
But Republicans have been hammering Biden on the economy, and several GOP presidential contenders have sought to turn his clean-energy push into a political liability. Former president Donald Trump has made a direct appeal to UAW's workers, calling on them to endorse him and reject Biden's climate-focused "war on the U.S. auto industry."
"Joe Biden's Electric Vehicle mandate will murder the U.S. auto industry and kill countless union autoworker jobs forever, especially in Michigan and the Midwest," Trump's campaign said in a statement last week.
While it is unlikely that the UAW will endorse Trump — Fain has publicly pilloried the former president — the group's unwillingness to back Biden has emerged as a political headache for his campaign. Most other major unions, including the AFL-CIO and International Brotherhood of Electrical Workers, have given the president early endorsements and public support for his pro-union image.
The UAW, which endorsed Biden in 2020, has indicated that the president's approach to electric vehicles will play a major role in its decision about the 2024 race.
"Our endorsements are going to be earned and not freely given," Fain told CNN. "Actions are going to dictate endorsements so we'll see how things continue to play out. We have a lot of issues to resolve … There's a lot with the EV transition that has to happen. There's hundreds of billions of our taxpayer dollars that are helping fund this and workers cannot continue to be left behind in that equation."
Biden won some plaudits from autoworkers last month when his Energy Department unveiled $12 billion in grants and loans that auto companies could use to revamp existing factories into electric vehicle plants. The grant program plans to prioritize companies that have collective bargaining agreements and pay relatively high wages, the department said. Fain has praised those provisions.
But the impending strike could have a bigger — and more immediate — impact, according to economists.
A full strike on all three automakers could cost the U.S. economy more than $5 billion in 10 days, according to Michigan consulting firm Anderson Economic Group. Even a partial strike could disrupt supply chains and hit consumers.
While Biden has been able to navigate a growing number of labor disputes in the past year — including threatened strikes by UPS employees, dockworkers on the West Coast and rail workers — a work stoppage at the Big Three automakers could leave lasting political damage ahead of 2024, said Shaiken, the labor professor. In states like Michigan, which Trump won by less than 11,000 votes in 2016, the election could be decided by the labor group that endorsed Biden in 2020 but has stayed neutral so far about his reelection.
"It gives the possibility of UAW workers simply staying home," he said. "That could have a very significant impact."
Jeanne Whalen contributed to this report.
This post appeared first on The Washington Post