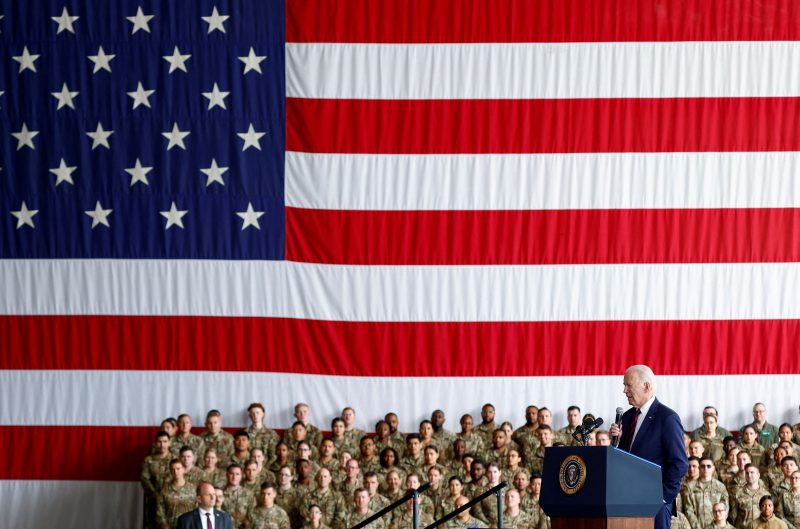 Biden marks 9/11 attacks by denouncing division, urging unity
ANCHORAGE — President Biden on Monday used a commemoration of the Sept. 11, 2001, terrorist attacks to reiterate his call for unity among Americans of different political stripes, decrying divisiveness and polarization while urging all to "honor Sept. 11 by renewing our faith in one another."
Biden spoke at Alaska's Joint Base Elmendorf-Richardson before an audience of service members and their families during a stopover on his return from a trip to India and Vietnam, paying tribute to those who lost their lives on Sept. 11, 2001, as well as during the wars in Iraq and Afghanistan.
"I join you on this day to renew our sacred vow: Never forget. Never forget. We never forget," Biden said to about 1,100 service members and their families gathered in a large aircraft hangar here. "We must not succumb to the poisonous politics of difference and division. We must never allow ourselves to be pulled apart by petty manufactured grievances. We must continue to stand united."
Backdropped by the freshly snow-capped Chugach Mountains, Air Force One and a trio of military aircraft, Biden spoke for about 15 minutes before shaking hands and taking selfies with troops. Military members and their families were joined at the event by state and local officials, including Rep. Mary Peltola (D) and Alaska Gov. Mike Dunleavy (R).
Biden sought to tie the 9/11 remembrance to his just-concluded trip to New Delhi, where he took part in a summit of the Group of 20 major world economies, and Hanoi, where he sought to bolster the U.S.-Vietnam relationship.
"These trips are an essential part of how we ensure the United States is flanked by the broadest array of allies and partners, who will stand with us and deter any threat to our security, to build a world that is safer for all of our children — something that today of all days we're reminded of is not a given," Biden said.
Since the attacks in 2001, presidents have generally, though not always, observed the anniversary by traveling to one of the sites where the planes crashed — Lower Manhattan, the Pentagon or Shanksville, Pa. Biden's schedule, however, was affected by the long-planned G-20 summit.
Terry Strada, who lost her husband Tom in the World Trade Center attack, said she was surprised to hear that Biden would observe the day in Alaska.
"It's shocking to hear he won't be at Ground Zero, Shanksville or the Pentagon," said Strada, who is national chair of the 9/11 Families United. "It leads us to believe he's avoiding the 9/11 community."
White House aides said that the president cared deeply about marking the anniversary and that he observed it appropriately by meeting with service members and first responders on a military base. Other administration officials, meanwhile, did visit the crash sites: Vice President Harris traveled to New York, first lady Jill Biden visited the Pentagon, and second gentleman Douglas Emhoff took part in a wreath-laying ceremony in Shanksville.
Among the pivotal moments in Biden's presidency was his decision in August 2021 to pull U.S. troops out of Afghanistan, 20 years after the United States went into the country in response to the Sept. 11, 2001, attacks. Biden argued that the American presence was costing lives, the objective of dismantling the terrorist threat had been met, and Americans could not remain in the country forever.
More broadly, Biden signaled that the post-9/11 phase of American history was over and that the time had come to focus on new threats, notably China. On Monday, he sought to reassure Americans that he would not overlook any terrorist threat.
"We're going to continue to track terrorist threats in all forms, wherever it may be," Biden said. "We're going to disrupt terrorist activity wherever we may find it. And I will never hesitate to do what is necessary to defend the American people."
Earlier on Monday, Biden wrapped up his trip to Vietnam with a stop at a memorial for the late Sen. John McCain (R), a longtime friend and colleague who was held as a prisoner of war for five years during the Vietnam War. Biden touched a wreath of red, white, and blue flowers that had been laid at the memorial, bowing his head. He dropped a commemorative coin and saluted before leaving.
"I miss him, I miss him," Biden said of the late Arizona senator. "He was a good friend."
In Alaska, Biden referenced that visit to the McCain memorial, stressing that he was close friends with the Arizona Republican despite their strong political differences. He recalled visiting McCain shortly before he died of brain cancer in 2018. "As I was walking out, I put my hand on his chest and he pulled me down and kissed me and said, 'I love you — will you do my eulogy?' ' Biden recalled. "John and I were friends, like a lot of us who had differences."
He added: "One thing I always admired about John was how he put duty to country first. That's not hyperbole — he did. Above party, above politics, above his own person. This day reminds us we must never lose that sense of national unity."
McCain, who was tortured during his imprisonment yet refused to accept release before the other Americans who were being held there, later worked hard to normalize relations between the United States and Vietnam. Biden's visit Sunday and Monday helped solidify that relationship, capping a remarkable transformation after the bitter enmity of the Vietnam War. Biden credited McCain, as well as special envoy John Kerry, who also served in Vietnam, as "truly close friends" of the country in remarks at the presidential palace Monday.
The renewed alliance is based largely on a desire to push back against China's influence, and Biden spoke in Hanoi of a "new stage" in U.S.-Vietnam relations that would be marked by investment and innovation. Vietnamese President Vo Van Thuong, for his part, called the new partnership a "momentous occasion" that was "opening up a new chapter."
Still, some human rights activists criticized Biden's effort to move closer to Vietnam, citing Hanoi's harsh treatment of dissidents.
Reacting to Biden's event in Anchorage, Strada, the 9/11 activist, called on the president to support a bill introduced in June aimed at strengthening the Justice Against Sponsors of Terrorism Act, or JASTA, a 2016 law that allowed Americans to sue foreign countries for sponsoring terrorist acts on U.S. soil.
More than 4,000 victims and family members have signed a letter urging Congress to move forward with the legislation, but Biden has not publicly supported it. Some American diplomats have expressed concern about JASTA, saying it could harm U.S. personnel if other countries enact similar laws. President Barack Obama initially vetoed it, only to see his veto overridden with a strong bipartisan vote in Congress.
On Monday, Biden sought to make broader points about American resilience and perseverance following the deadly attacks.
"We'll never forget that, when faced with evil and an enemy who sought to tear us apart, we endured," Biden said. "We endured."
This post appeared first on The Washington Post