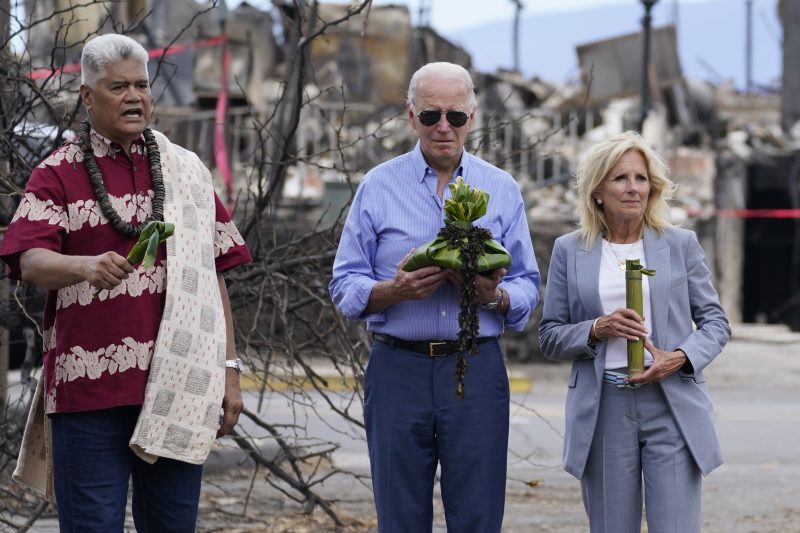 Biden pledges $95 million for Hawaii's electrical grid after Maui wildfires
The Biden administration announced Wednesday it will spend $95 million to help strengthen Hawaii's electrical grid in the wake of deadly wildfires that swept through parts of Maui earlier this month. The fast-moving fires were the deadliest in modern U.S. history, killing more than 100 people on the island, forcing thousands to evacuate and destroying the historic town of Lahaina.
On Wednesday afternoon, President Biden addressed both the government's long-term recovery and rebuilding efforts on the island, as well as the administration's ongoing response to Hurricane Idalia, a major storm that made landfall in Florida on Wednesday morning.
"I don't think anybody can deny the impact of a climate crisis anymore," Biden said. "Just look around. Historic floods … more intense droughts, extreme heat, significant wildfires have caused significant damage like we've never seen before."
Biden traveled to Maui earlier this month to survey the devastation caused by wildfires and has vowed that "every asset we have will be available" to the victims.
"I've directed my team to do everything we can for as long as it takes to help Maui recover — rebuild in a way that respects and honors Hawaiian traditions and cultures and the needs of the local community," Biden said Wednesday. "We're not going to turn this into a new land grab. We're not trying to see multimillion dollar homes on the beach. We want to restore that part of the island like it was before, only better."
Republicans, however, have been highly critical of the administration's response to the wildfires in Hawaii and took aim at Biden for not answering questions about the episode while he was on vacation earlier this month. The GOP-led House Oversight Committee this week announced an investigation into the government's response to the disaster.
Skip to end of carousel
Maui wildfire updates
The Hawaii wildfires are the U.S.'s deadliest in more than 100 years. Here's how the wildfires devastated Lahaina.
Maps: See where fires have burned.
Cause: Officials have not announced a cause, though power lines likely caused the first reported fire.
End of carousel
The $95 million for Hawaii's electrical grid will be provided through the bipartisan infrastructure law, the $1.2 trillion package that Biden signed into law in 2021. According to the White House, the funds will help strengthen critical power transmission lines, including two on Maui; harden utility poles that support critical facilities like hospitals; replace wooden utility poles with a fire-resistant material; remove trees considered hazardous; and relocate the Maui control center.
Biden said similar efforts in California — including burying power lines — helped the state better withstand subsequent disasters.
"All this is going to help Maui and the entire state, Hawaii, better withstand future disasters, because this is not going away. It's not like, oh, these are the last disasters," Biden said. "It costs a lot of money, but it works. But it saves a lot of money long term."
Maui officials and residents have sued Maui power company Hawaiian Electric, alleging that the utility's power lines sparked the deadly wildfires. Hawaiian Electric has pushed back on those claims, saying it was not the company's neglect that led to the devastation after the wildfires but the incompetence of the fire department.
The White House is billing Biden's event on Wednesday as an opportunity to highlight its "whole-of-government effort" response to the wildfires, and it released a lengthy fact sheet detailing efforts by various departments. Among other things, the White House noted that the administration has 1,000 federal personnel on the ground in Maui and has provided more than $16 million in assistance to 4,200 households.
In announcing the House Oversight Investigation, Chairman James Comer (R-Ky.) said in a statement Tuesday that the federal, state and local response to the wildfires "raises serious questions, and Americans, especially those impacted by this tragedy, deserve answers."
House Speaker Kevin McCarthy (R-Calif.), who has said he plans to visit Maui, has also been highly critical of Biden and the administration's response.
"How could you lose that many Americans in today's age?" McCarthy said last week. "I'm going to be working with committees to investigate what went on so this never happens again."
This post appeared first on The Washington Post