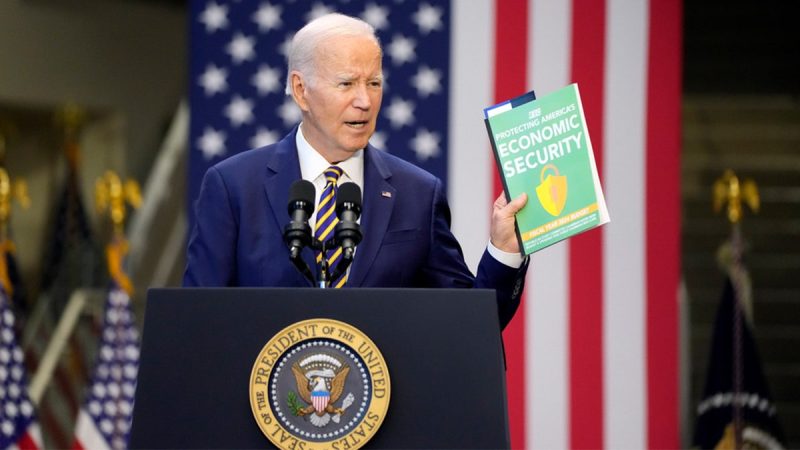 Biden slams 'MAGAnomics,' ignores Hunter's legal woes in first speech since indictment
In his first speech since the indictment of his son, Hunter Biden, on federal firearms charges, President Biden addressed a crowd in Largo, Maryland to make the case for 'Bidenomics.' 
Biden devoted much of the speech to bashing Republicans' economic agenda, which he pejoratively referred to as 'MAGAnomics,' after former President Donald Trump's 2016 slogan: 'Make America Great Again.'  
'This is not your father's Republican Party. This is a different deal,' Biden said, before arguing that the Old Guard cared more about Democratic institutions than 'MAGA' Republicans. 
'Their plan, MAGAnomics, is more extreme than anything America has ever seen before,' the president said before bashing Republicans for threatening to default on the debt and doubling down on 'trickle-down' economics. 
'Under their plan, the top 1% … of households that make over $4 million a year are going to get another tax cut worth more than two times what the typical American family makes in a single year,' Biden said. 
At another point in the speech, Biden touted post-pandemic job recovery and appeared to fumble when pointing to record-low unemployment for African Americans and Hispanics. 
'We've seen record lows in unemployment, particularly – and I've focused on this my whole career – for American Americans and Hispanics, and veterans. You know, workers without high school diplomas,' he said. 
The president's speech made no mention of his son's legal woes. 
Just hours earlier, Hunter Biden was indicted on federal gun charges for allegedly lying about his drug use when he bought a firearm in October 2018. The indictment came weeks after the collapse of a plea deal that would have averted a criminal trial. 
The younger Biden's attorneys argued that he didn't violate the law and remains protected by an immunity provision that was part of the deal. 
He's facing two counts of making false statements by checking a box falsely saying he was not addicted to drugs and giving it to the shop for their federally required records. A third count alleges he possessed the gun for about 11 days despite knowing he was a drug user. The counts are punishable by up to 25 years in prison. 
During the time of his purchase, the younger Biden has acknowledged struggling with an addiction to crack cocaine. 
Hunter Biden has been under investigation for his business dealings in Ukraine and China, and the special counsel has indicated that tax charges could be filed at some point in the future in Washington or in California, where he lives. 
The indictment comes after House Speaker Kevin McCarthy on Tuesday announced a formal impeachment inquiry against the president, seeking to tie the elder Biden to his son's business dealings. 
The Associated Press contributed to this report.
This post appeared first on FOX NEWS