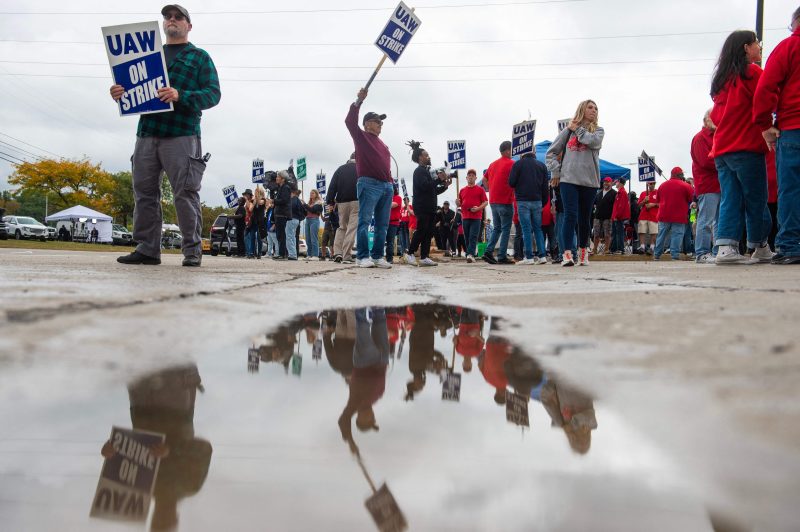 Biden, Trump visits fall flat for autoworkers girding for long strike
BELLEVILLE, Mich. — The motorcades and cameras were gone, packed up and vanished like carnival rides, as quickly as they'd arrived. Now the only remaining clues that something historic had happened, and was still happening here, outside a General Motors parts distribution center, were a couple of port-a-potties, a tent, the scent of wood smoke billowing from a metal barrel, and a handful of people waving signs, in search of supportive honks from passing cars.
This was the spot where President Biden, last Tuesday, stepped out of his armored limo (a Cadillac, as these GM employees proudly noted) for the first-ever presidential visit to a picket line. The strikers handed over their wooden signs and received signs attached to paper rolls that couldn't be used as weapons. "The fact of the matter is that you guys, the UAW, you saved the automobile industry back in 2008," Biden said, speaking into a megaphone, wearing a United Auto Workers cap. "You made a lot of sacrifices. You gave up a lot. And the companies were in trouble. But now they're doing incredibly well. And guess what? You should be doing incredibly well too."
The next night, at nonunion parts plant across town, former president Donald Trump staged his own campaign stop, offering up a nationalist vision of industrial revival. "I will be your protector," he said, to a cheering crowd that included some autoworkers, alongside others who were not but who held "autoworkers for Trump" signs. "I will be your advocate, and I will be your greatest champion."
Then the candidates each jetted off; and back on the ground, in dozens of interviews across eight active picket lines in the Detroit metro area, the striking workers' expressions of gratitude for the candidates' visits sounded about as genuine as they'd made out the politicians' promises to be.
"They just want our endorsement. They talked a good game. But we're still out here," Mike Lowery, a 50-year-old production operator from Detroit, said Thursday while picketing outside a Stellantis facility in Center Line, Mich. "We don't want no politicians. They're not helping us at all."
The striking workers were ready with the facts. They could recount how even though Biden styled himself the "most pro-union president," he'd signed a bill in December to block a railroad strike, and his administration was showering money on automakers for investing in electric cars, without requiring them to extend high wages and labor standards.
"We get drunks come by, we get homeless people come to our picket lines. So the president of the United States, it doesn't impress me," said Bill Bagwell, a 30-year GM employee who was showing up cranky, with an aching back, to the start of an eight-hour strike shift at another parts facility down the road from the site of Biden's visit. "He didn't put any language in that grant to provide quality jobs with benefits and to help the community. He didn't do any of that. So it's all show and no go, all flash and no gas."
If Biden had been there then, if he'd tried to explain that he'd wanted to include those funding conditions but had to remove them at the insistence of Sen. Joe Manchin III (D-W.Va.), then Bagwell would have responded: "I don't even know who that person is. How come Barack Obama didn't have a problem requiring us to accept concessions?"
As for Trump, the workers had heard him say the government should have let the automakers go bankrupt in 2008, and that he'd suggested moving jobs out of Michigan so that workers would beg the companies to come back and accept lower pay.
"If he cares about us, why'd he go to a nonunion facility? We know what he's doing," said Richard Porter, a 27-year shipping and receiving employee striking at a Stellantis parts distribution center in Center Line. "Making threats. He's trying to fearmonger. 'This is gonna happen if y'all don't vote for me …' All he has is mouth."
Some of the workers preferred not to address either candidate directly. They'd say, with their Midwestern manners, "Just leave it at that."
Others didn't mind saying outright they had little patience for stunts that seemed driven more by the candidates' interests than theirs — a fitting start to a campaign pitting two deeply unpopular presidents against each other, in a likely rematch that most Americans in surveys say they do not want.
"Joe was off the airplane for what, a half-hour? Stepped on a platform and mumbled out words that were barely audible. Got back on the plane and left," Renee Hammac, 49, said from the picket line outside the Ford Assembly Plant in Wayne, as passing drivers blared their horns. "Trump goes to a nonunion shop — what sense does that make?"
To her left, Darrell Johnson, 55, added: "To me it doesn't make a difference. Honestly, I don't think they have a lot of sway in what's gonna happen with us. It all boils down to what the Big Three want and what the UAW can agree on."
It was up to them, the strikers, taking their fate into their own hands. Some had been through strikes before. GM workers remembered the 42-day walkout in 2019 (with no support from then-president Trump), and little to show for it at the end. "We actually lost," said Wayne Waller, who'd attended Biden's visit. "That right there was a slap in the face." He hoped this time would be different.
Others were striking for the first time. It was scary. "It didn't feel like it was going to happen," said Alex Maroni, a machine setup at Stellantis. "It was almost like a feeling of shock." The first thing he did was call his dad, who had been a chief steward with the UAW in the '80s.
"I was proud," he said, choking up. "It brought me back to the days walking with my dad and making picket signs."
He had his dad's red union jacket with him on the picket line now. Maroni saw how the industry had changed. "This used to be a business where, back in the day, you get a job there, you're set for life," he said. "Now it seems like it's just another job out there in the market. No real career. It used to be something you could pass on to your family. Generational security. Now it seems like it's all up in jeopardy."
Strikers said they had friends and relatives who could make more money in entry-level jobs at Starbucks or Taco Bell than at Ford or GM.
"I brought a stub in last week from 1996, and I was making $18.28 an hour," Dino Leventis, a 36-year Ford worker, said on the picket line in Wayne. "They don't even come in at that," he said of new hires today.
The workers said they wanted to end the pay tiers started in the Great Recession, which now had people working side by side earning different amounts for the same job. They wanted to recover the cost-of-living raises that the union had agreed to suspend in 2008 to help the companies survive. The Big Three carmakers reported $21 billion in North American profits in the last six months, while the workers struggled to keep up with soaring costs for everyday items like gas and groceries — a hardship that most of them blamed on the disruption of the covid-19 pandemic, and huge companies taking advantage of it by raising prices.
They said they wanted pensions that would let them retire after decades of labor that strained their hands and shoulders and backs. They wanted to be able to afford the iconic Broncos and Jeeps they were proud to build. They wanted more time and energy to do anything besides work, shower, eat and sleep.
"You use yourself up doing these jobs," said Vince Gustry, a striking GM parts picker, who just turned 42 and kept a usual bedtime of 8 p.m. for a shift that starts at 5 a.m. "I would love to have some amount of time to be Vince."
Some said they wanted something else too, something bigger than themselves — bigger than the UAW, bigger than the Big Three.
"This is really a push for the middle class," Jamal Terrell, 49, said at the neighboring GM parts site. "Historically, the middle class was built off the unions. We talk about the American Dream and yet we're watching it getting squashed right in front of us by rewarding corporate greed. This is just us standing up for ourselves, but not just us, because it's not just going to affect us."
"These used to be awesome jobs, these were American Dream jobs," said Kendra Marion, a 25-year assembler at Ford who identified herself as a Trump fan and was disappointed the UAW didn't invite him to visit a picket line like Biden. "These young people, it's too hard of work for what they're getting paid. There's no middle class anymore, it's all going all the way up to the top."
Marion was eager to get back to work. She wondered how long the strike would go on. On Friday, the UAW called out 7,000 additional workers at a Ford plant in Chicago and a GM factory near Lansing, which would bring the total striking workforce to about 17 percent of the UAW's 146,000 members working for the Big Three nationwide.
In announcing the expansion in a Facebook live-stream on Saturday, UAW president Shawn Fain said, "When we win this fight, when we right the wrongs of the past 15 years or longer, and when we set a new course for future generations, it won't be because of any president — not the UAW president, not the president of the United States." He added, "It will be because ordinary people did extraordinary things."
They could be excused for not feeling extraordinary in the meantime. They took turns waving signs. They tended fires for warmth, and would leave their shifts going home with the smell of campfire in their red union T-shirts and warm coats. They carried in pizza boxes or grilled hot dogs and burgers and ribs. They chanted, "No pay, no parts. … No deal, no wheels … No justice, no Jeeps." They line-danced to boomboxes and played cornhole. It could have looked like a campout or a party, but they were not celebrating.
"I don't want to be out here all winter," said Justin Nelson, a painter who's worked for Ford for 27 years.
"However long it takes, one day longer," Bagwell said.
Another log on the fire. Another horn blast from a passing truck.
This post appeared first on The Washington Post