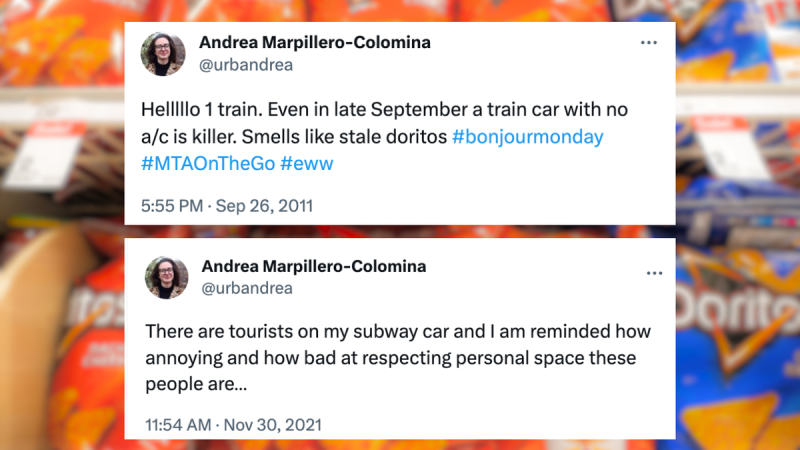 Buttigieg adviser who says all cars are bad has problem with public transit that smells like Doritos
An appointee on a committee advising Transportation Secretary Pete Buttigieg once declared 'ALL CARS ARE BAD' but has a long record of complaining about public transit on social media.
'Even in late September a train car with no a/c is killer,' Andrea Marpillero-Colomina posted to X, formerly known as Twitter, in 2011. 'Smells like stale doritos.'
Marpillero-Colomina was appointed last month to the Advisory Committee on Transportation and Equity (ACTE), which focuses on advising Buttigieg on civil rights and equity. Her social media history criticizing cars was highlighted shortly after her appointment, but additional posts show she also has grievances about public transportation, including tourists, cleanliness, disorganization and safety. 
HOW CLIMATE ALARMISM IS MAKING PEOPLE CHILDLESS BY CHOICE:
'There are tourists on my subway car and I am reminded how annoying and how bad at respecting personal space these people are…' she posted in November 2021. 
Originally created under the Obama administration, ACTE is made up of 23 experts serving two-year terms, according to a press release. Marpillero-Colomina was selected from a pool of more than 240 applicants.
Marpillero-Colomina is also the sustainable communities program director for GreenLatinos. The nonprofit is made up of 'Latino/a/x leaders' working to 'demand equity and dismantle racism' and 'resourced to win our environmental, conservation, and climate justice battles, and driven to secure our political, economic, cultural, and environmental liberation,' according to its website.
In October 2022 Marpillero-Colomina posted about a 'psychotic man' on the subway and tagged New York City Transit.
'We'd all be dead by now if he had decided to act,' Marpillero-Colomina wrote in a follow-up post when asked for a description of the man.
'I don't know — tall, Black, wearing ill-fitting shoes and a green hat… generally I try not to look at people behaving insanely and suggest you don't put your riders in danger by asking them to..' she replied to the city transit's account.
A few hours later, she asked the New York City Police Department to 'do something one of these days about the mentally unwell people all over the subway system.'
In another post about the safety of public transit, she said her late night rules include using cars with other people — preferably women — and avoiding the first or last car on a subway 'so you can't get trapped as easily.'
During the COVID-19 pandemic, Marpillero-Colomina criticized passengers without masks.
'I hope all the people who don't wear masks on the subway enjoy the extra special hell they are all ending up in together,' she posted in June 2022.
The next month, she she asked 'why everyone who doesn't wear a mask on the subway IS NOT DEAD YET.'
'Ooh my favorite! A man on the subway who has not heard of headphones or wearing a mask,' another July 2022 post read.
In other posts, Marpillero-Colomina complains about the subway's cleanliness and disorganization, including one where she said she gets panicked when she sees people accidentally 'dragging their coats on the floor of the subway.' Another called service changes 'nonsensical' and 'completely insane.'
She took a break from lambasting the New York City subway in July 2021 and turned to Amtrak.
'THE ENTIRE AMTRAK SHOULD JUST BE A QUIET CAR,' she posted.
But in March 2021, she said in another post that 'Everyone's crazy because they spend all their time alone in their cars.'
Marpillero-Colomina told Fox News she didn't have time to comment, and the Department of Transportation responded only with unsolicited information about the 2021 infrastructure law.
This post appeared first on FOX NEWS