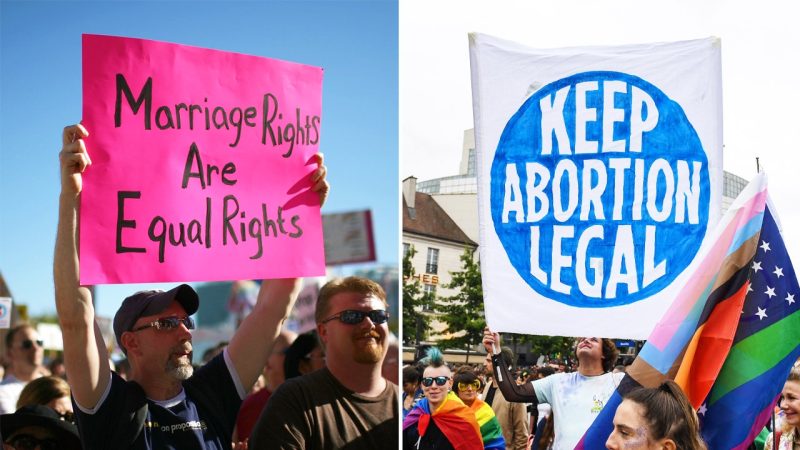 California GOP proposal would distance state party from national messaging on abortion, same-sex marriage
Republicans in California, a state that has increasingly become known for espousing left-wing ideals, are seeking to nix certain anti-abortion and same-sex marriage positions from the state party's platform in an apparent move to resonate with more voters.
Adopted by a party committee in late July, the California GOP proposal that would distance itself from the national party's position on the subjects has the potential to be voted on at the Golden State GOP's fall convention in Anaheim, the Los Angeles Times reported Friday.
A draft of the proposal highlights support for 'traditional family values' and a 'strong and healthy family unit,' but language dictating that 'it is important to define marriage as a union between one man and one woman' was removed.
The draft also seeks to eliminate the state Republican Party's opposition to abortion being a federally protected right, the outlet reported. Language promoting 'adoption as an alternative to abortion' remains, however.
Additionally, the outlet reported that the proposal, which reduces the state party's platform from 11 pages to four, removed some 'language about taxpayer protection for homeowners and a plank about opposing racism.'
'It's a seismic shift but it's a shift born out of practical necessity. Look at what's happening not just in California but in much more conservative states, realizing antiabortion, anti-same-sex marriage stances are no longer tenable,' Jessica Levinson, an election law professor at Loyola Law School, told the outlet. 'I think it shows their acknowledgment that the sand has shifted underneath their feet.'
Some, including Jon Fleischman, who served as executive director for the California GOP from 1999 to 2001, believe a debate over the proposal isn't what the party currently needs.
'This will be extremely controversial and will take a convention that is supposed to be about unifying the party and instead it ends up becoming a big feud,' Fleischman said, according to the Times. 'It's the last thing the party needs.'
A vote to approve a draft of the proposal was reportedly held in Irvine on July 29 following a California GOP executive committee meeting to discuss how the state party's presidential delegates will be awarded in the March primary.
If approved, the modifications outlined in the proposal could drastically shake up things ahead of the 2024 presidential election.
The draft is slated to be voted on at the state party's fall convention, which stretches from Sept. 29 to Oct. 1 and includes appearances by several GOP presidential hopefuls, including former President Donald Trump, South Carolina Republican Sen. Tim Scott, Florida Gov. Ron DeSantis, and others.
The proposal also works to align the state party's views with that of most California voters.
A 2021 poll from the Public Policy Institute of California found that 77% of adults in the Golden State did not want federal protections for abortion overturned. That figure included 59% of Republicans and 89% of Democrats.
A Gallup poll revealed in June that 71% of Americans believe same-sex marriage should be legal, up 44% from the same poll in March 1996.
The California GOP did not immediately respond to Fox News Digital's request for comment.
This post appeared first on FOX NEWS