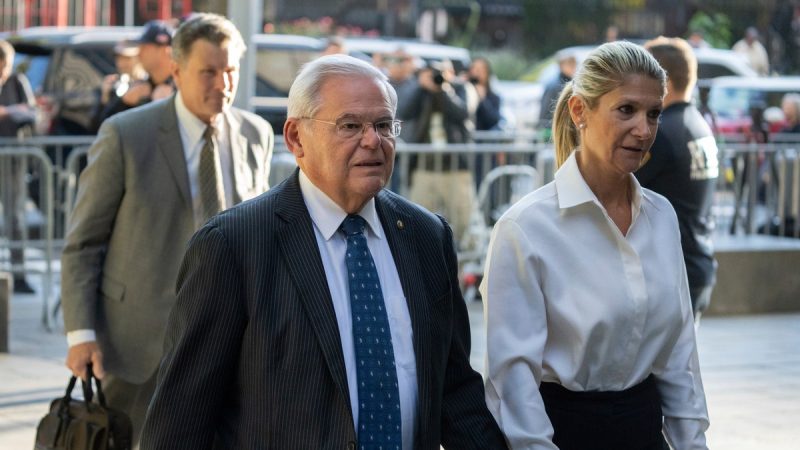 Democrat Sen Menendez's wife hit, killed pedestrian while driving in 2018: reports
Nadine Arslanian Menendez, wife of recently indicted Sen. Bob Menendez, D-N.J., struck and killed a man while driving her Mercedes-Benz in New Jersey in December 2018, according to police reports obtained by local media.
She was found not at fault for the incident because the man, identified as Richard Koop, was jaywalking when he was hit, according to the New York Times and The Record. She was not given a DUI test at the scene and was immediately allowed to leave after providing a brief statement, according to dashcam footage of her interaction with Bogota police.
Arslanian — who was alone in the vehicle — was dating Menendez at the time of the fatal crash, which reportedly left Koop's body severely mutilated, according to the Bergen County medical examiner.
Menendez commented on the incident to reporters Wednesday.
'It was a tragic accident, and obviously we think of the family,' he said.
A federal indictment brought by the U.S. attorney for the Southern District of New York, which charges Arslanian and Menendez in a federal bribery scheme, revealed that in January 2019, approximately a month after the crash, Arslanian informed Wael Hana and Jose Uribe, two Egyptian-American businessmen also implicated in the alleged bribery scheme, that she no longer had a vehicle. Hana then provided her with a 2019 Mercedes-Benz — worth more than $60,000 — as detailed in the indictment.
'In exchange, MENENDEZ agreed and sought to interfere in the NJAG's criminal insurance fraud prosecution of an associate of URIBE and a related investigation involving an employee of URIBE,' the indictment states.
Audio recordings from the police dashcam footage featured a man self-identifying as a retired officer from a neighboring department who mentioned that he had come to the scene as a 'favor' for a friend whose wife was acquainted with Arslanian.
Koop's sister, Rosemarie Koop-Angelicola, told the Times that their family 'has had serious concerns over what we felt was a very sparse, one-sided investigation.'
'Definitely a lack of legal enthusiasm to take this case, definite lack of media coverage, and a lack of communication by the authorities of Bergen County. We felt that the whole thing was very silently swept under the rug,' she said.
It's not the first time Arslanian has been involved in a traffic incident. According to public court records, Arslanian reportedly racked up several penalties between 2007 and 2021, including using a mobile phone while driving, ignoring traffic signals and unsafe passing, adding up to about $410 total. 
Both Menendez and Arslanian have pleaded not guilty to the federal bribery charges. Fox News Digital reached out to the couple's representatives but did not hear back by press deadline.
In June 2022, the FBI executed a search warrant at Menendez's and his wife's New Jersey home where federal agents discovered many of the fruits of the alleged bribery scheme, including cash, gold, a luxury convertible and home furnishings. Prosecutors say $480,000 in cash, much of it stuffed into envelopes and hidden in clothing, closets and a safe, was discovered in the home, as well as more than $70,000 in cash in Nadine's safe-deposit box. Some of the envelopes contained the fingerprints and/or DNA of Fred Daibes, another figure in the alleged bribery scheme, or his driver, according to the indictment.
Some of the envelopes were found inside jackets bearing Menendez's name and hanging in his closet.
The Bogota Police Department and Menendez's office did not respond to Fox News Digital's requests for comment.
This post appeared first on FOX NEWS