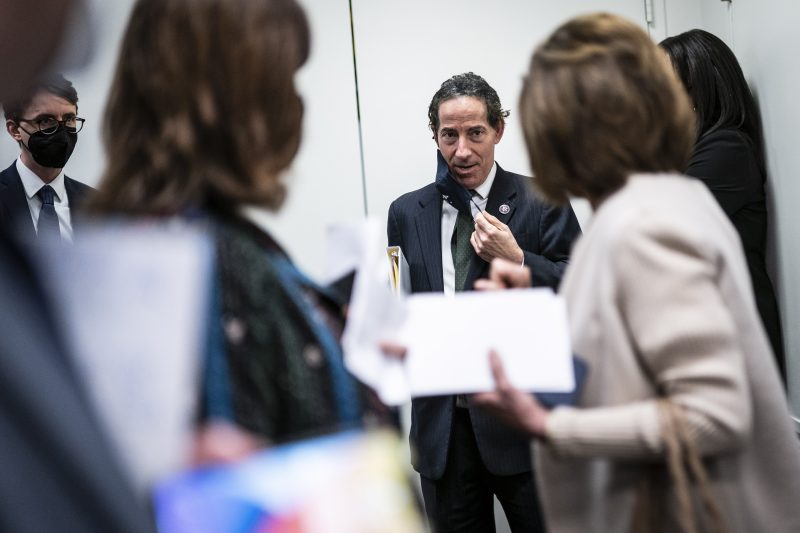 Democrats' weird answers on Kamala Harris
Democrats can try to play it off as a manufactured controversy all they want. But prominent Democrats' strained answers about Vice President Harris are getting more conspicuous.
The question of why is valid. Why not just give Harris the kind of full-throated vote of confidence you'd expect from fellow partisans under such circumstances, particularly given that President Biden has signaled he's committed to Harris on the 2024 ticket?
Questions about Harris's political prospects have hovered for a long time. Harris isn't extraordinarily unpopular for a vice president, but her presence looms larger in this election. Voters have serious and growing concerns about Biden's age and sharpness. And polls show that Americans are more reluctant about the prospect of Harris becoming president than they have been about recent past vice presidents. They are also more reluctant about Harris now than they were in 2020.
Most often, the concerns are spoken about privately. Or they come from lesser-known Democrats outside Washington. But prominent Democrats are increasingly giving the kind of answers that ordinarily would seem designed to fuel questions about the wisdom of proceeding as-is.
Back in January, it was Sen. Elizabeth Warren (D-Mass.) responding affirmatively to a question about whether Biden should run. Then, when the question turned to Harris, she was significantly more muted.
"I really want to defer to what makes Biden comfortable on his team," Warren said.
Warren quickly clarified that she fully supported both candidates, and her office contended that she had merely wanted to avoid stepping on a future Biden campaign announcement. It was a plausible defense. But Warren's initial, somewhat meandering answer seemed to point to the possibility that there were reasons to look elsewhere.
She said she liked Harris while adding, "But they need — they have to be a team, and my sense is they are — I don't mean that by suggesting I think there are any problems."
Why even raise that prospect?
Fast forward to this week, and there was former House speaker Nancy Pelosi (D-Calif.) obviously dancing around a similar question. Asked three times on CNN whether Harris was the best running mate for Biden, she avoided saying yes while otherwise praising Harris.
"He thinks so, and that's what matters," Pelosi initially said.
She added, upon the third asking: "She is the vice president of the United States. … I think she's represented our country very well at home and abroad."
The following day, on MSNBC's "Morning Joe," Pelosi seemed to take care to say, "The Biden-Harris team is our team. We're very proud of it." A Pelosi ally, meanwhile, responded by suggesting that this was much ado about nothing and even that the coverage was misogynistic.
But later that day, Rep. Jamie Raskin (D-Md.) made it a combined seven times that a prominent Democrat was asked the "best running mate" question without directly answering.
CNN host Jake Tapper soon made it abundantly clear that he was noting Raskin hadn't said "yes." Ultimately, Raskin instead said Harris "would be an excellent running mate and an excellent vice president."
Raskin soon cleaned this up, saying on X, the platform formerly known as Twitter, that Harris was "a historic and effective VP, and clearly the best match and running mate for President Biden."
Is Harris the best running mate?
In all likelihood, not — and not just because of her unpopularity. In terms of raw probability, there is only one best option, and the odds that you would ever pick it are vanishingly small. But politicians aren't generally shy about attaching hyperbolic labels to their allies.
As with Warren, it's worth looking at Raskin's extended comments.
"I don't know whether President Biden has named his running mate," Raskin said on CNN. "We're going to a convention next summer. It's, you know, a year away from now, then we're going to go through that process."
Again, why even float something like this? Biden has said Harris is his running mate — more than a year and a half ago. She was prominently featured in his April campaign launch video. About the only reason to even raise the convention would be if you think there's reason to doubt she'll still be there in a year, or maybe you're suggesting she shouldn't be.
What's particularly perplexing is that, even if the people in charge agreed that was the right call, there doesn't appear to be any good way to replace her on the ticket without risking a collapse of the Democratic coalition. Much as with Biden, the costs of pursuing a supposedly ideal alternative could well be greater than the potential payoff. Replacing Harris is the kind of thing you would risk only if you felt you had no other choice.
About the only other way it makes logical sense is if Democrats are legitimately thinking Biden might step aside. At that point, Harris would immediately be the most logical backup option by virtue of her role as second-in-command.
It's a possibility that California Gov. Gavin Newsom (D) pointed to this past weekend, also rather conspicuously. When asked about the possibility that Biden would bow out, Newsom largely demurred as one would expect. But he began by doing something unusual: stating that, if Biden for some reason didn't run, Harris would be next in line and that he wouldn't run against her.
"Of course not," he said. "By definition. Won't happen."
It's a bunch of weird answers about a ticket that is supposed to be set, from people who must know how they might be perceived. And for whatever reason, those weird answers are suddenly proliferating.
This post appeared first on The Washington Post