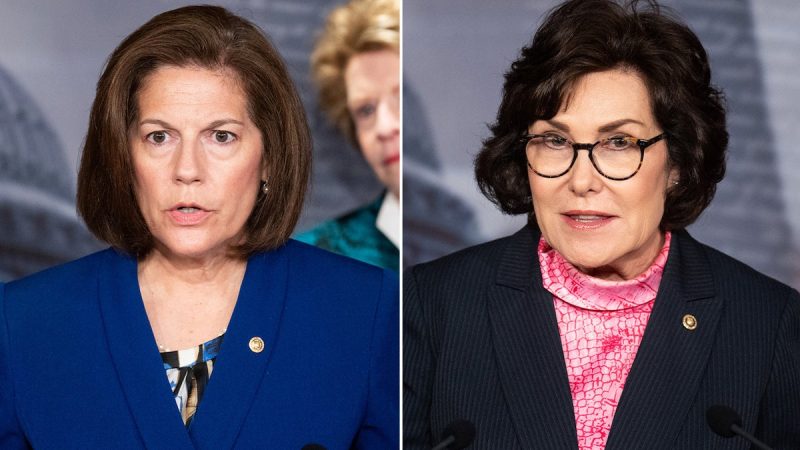 Dems blast Biden admin for efforts to crack down on critical mineral production: 'Hurt the mining industry'
The Biden administration is facing criticism from Democratic lawmakers over its latest effort to clamp down on critical mineral production needed for green energy technologies.
Democratic Nevada senators Catherine Cortez Masto and Jacky Rosen criticized the administration after a federal interagency working group (IWG) published a long-awaited final report outlining steps and policy recommendations it said would help modernize mining regulations. 
Cortez Masto and Rosen echoed a top mining industry group, arguing the policies listed would restrict vital mineral production.
'Unfortunately, these recommendations to impose new taxes and change the mining claims process would make it harder to create new mining projects in the United States at a time when too many companies are sourcing these minerals from communist China,' Cortez Masto said. 
'We need lithium and other critical minerals to drive our clean energy industry, and I will continue to make sure any changes to mining policy work for the tens of thousands of Nevadans powering this industry.'
Cortez Masto said strengthening domestic mineral supply chains is key to ensuring clean energy jobs and lower costs for tens of millions of Americans. Nevada is home to substantial reserves of lithium, a mineral that is a key component of electric vehicle batteries but which is largely produced in foreign nations.
Rosen added that some of the policy recommendations in the report were reasonable, but others would harm mining efforts.
'While this report offers needed recommendations to reform federal mining regulations, some of the proposals will hurt the mining industry and fail to bolster our nation's domestic mineral supply chain,' Rosen said in a statement. 
'We must focus on strengthening our domestic energy supply chains and moving away from our reliance on foreign adversaries for critical minerals. I'll keep fighting for regulations that support Nevada's mining industry and the good-paying jobs it creates in an environmentally-sustainable way.'
Overall, the report Tuesday listed 65 recommendations to inform efforts to update the General Mining Act of 1872. Environmental advocacy organizations have for years called for mining reform, saying more stringent environmental protections are needed.
Among the policies, the IWG report recommends a federal leasing program for critical mineral deposits, replacing the current system in which mining companies are able to freely stake claims. 
The report also recommends companies pay royalties on land they are approved to mine for resource development. IWG Chair and Deputy Interior Secretary Tommy Beaudreau explained Tuesday that the current structure lacking royalties is why there is little funding for addressing abandoned mines he said create 'safety hazards and pollution for land and water across our country.'
And the report further recommends a controversial 7-cent per ton fee on material displaced by hard rock mining, a 'dirt tax' proposal that would also increase prices for the mining industry.
'Unfortunately, if the Biden-Harris administration's stated objective is to secure our nation's domestic mineral supply chains while supporting responsible mining, the recommendations contained in this report don't do anything to advance the ball,' Rich Nolan, president and CEO of the National Mining Association, said in a statement to Fox News Digital Tuesday.
'In fact, some of the recommendations — including the consideration of a leasing system, imposition of a punitive dirt tax or application of the higher end of suggested proposed royalties — will throw additional obstacles in the way of responsible domestic projects and would-be investment, forcing the U.S. to double down on our already outsized import reliance from countries with questionable labor, safety and environmental practices.'
The Department of the Interior declined to comment.
This post appeared first on FOX NEWS