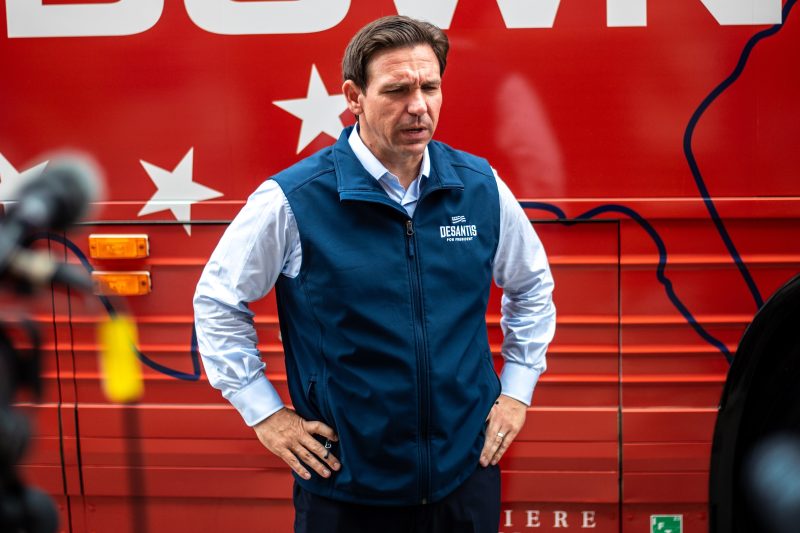 DeSantis campaign moves staff to Iowa, announces $15 million in fundraising
Ron DeSantis's presidential campaign is moving roughly a third of its staff to Iowa, banking further on an intense focus on the first-in-the-nation GOP caucus state as he struggles to weaken Donald Trump's dominance.
Staffers were notified Wednesday morning that they would need to move, the same day the campaign also announced it had raised $15 million across three fundraising committees. The campaign celebrated that number as a sign of recovery after a turbulent period of layoffs and cutbacks, though two-thirds of its cash on hand are not available for use in the primary — signaling the Florida governor has a large share of maxed-out donors.
The planned relocations came as DeSantis runs a distant second to Trump and has polled strongest in Iowa while losing ground or fighting for second with rivals such as Nikki Haley in two other early states he has visited far less, New Hampshire and South Carolina. DeSantis was back in South Carolina on Wednesday for the first time since July, after he canceled a late August appearance while preparing for a Florida hurricane. He plans to return to New Hampshire next week.
DeSantis has promised to visit all 99 counties in Iowa and increasingly looked to that state as a chance to change the course of the primary — seeing opportunities in the state's large evangelical community, Trump's alienation of prominent Republicans such as Iowa Gov. Kim Reynolds and his recent comments disparaging six-week abortion bans passed by Republicans in Iowa, Florida and elsewhere.
Trump still polls far ahead of DeSantis in Iowa and has started to campaign there more after holding fewer events compared with rivals. But DeSantis has ramped up his attacks on Trump recently, embracing a more direct approach after months of contrasting himself with Trump implicitly.
For months he only criticized Trump directly when pressed in interviews — but he hit the former president by name in the second GOP primary debate, calling him "missing in action" and later challenging him to a debate. In his pitch to voters Wednesday in South Carolina, he noted that Trump did not finish the southern border wall he promised in 2016 and emphasized the importance of "results."
Still, Republicans looking to defeat Trump have repeatedly found that the former president is unusually resilient to normal attacks on his policy positions and character.
"Even when you show video to Republican primary voters — with complete context — of President Trump saying something otherwise objectionable to primary voters, they find a way to rationalize and dismiss it," read a recent memo on the findings of Win It Back, a conservative group that has been airing ads against Trump.
Campaign aides billed the fundraising haul and relocations to Iowa as part of a "comeback," one of many pivots for a candidate who began the year with sky-high expectations but then lost ground. DeSantis raised $2o million in its first fundraising period but then laid off more than a third of his campaign staff after overspending, and ultimately replaced his campaign manager in August.
The New York Times first reported the Iowa relocation and fundraising numbers.
DeSantis started October with more than $13 million in campaign cash on hand and raised $15 million across three accounts supporting the campaign in the latest fundraising quarter, according to campaign aides, who said $5 million of the cash on hand is available for use in the primary and the rest is not accessible until the general election phase due to contribution limits.
"This significant fundraising haul not only provides us with the resources we need in the fight for Iowa and beyond, but it also shuts down the doubters who counted out Ron DeSantis for far too long," campaign manager James Uthmeier said in a statement.
The fact that only $5 million of DeSantis's haul is available for the primary election underscores the challenges still facing his campaign. The super PAC aligned with his bid, Never Back Down, has taken over expenses traditionally covered by campaigns, hosting many of DeSantis's events and making major ads buys while the campaign stays off the air. But DeSantis's core team is operating with tight budget constraints.
People familiar with the campaign's fundraising operations have been worried for months that many of the Florida governor's donors gave the maximum allowed under FEC guidelines — $3,300 for the primary and $3,300 for the general — early on in the cycle. That has limited DeSantis's ability to replenish the dollars he desperately needs for the primary campaign to defeat Trump.
One of the three committees that helped raise the $15 million — a leadership PAC called Great American Comeback that became active this past fundraising quarter — can accept contributions of up to $5,000 per year. That allows additional contributions from donors who already gave the maximum allowed to the campaign, which drive up DeSantis's total haul but not the funds at his disposal for the primary.
Maeve Reston contributed to this report.
This post appeared first on The Washington Post