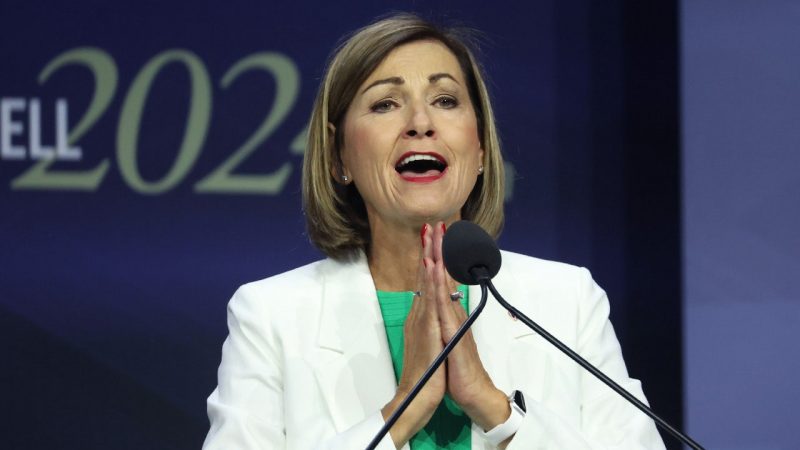 DeSantis, Scott, Haley, Pence, rest of 2024 field other than Trump to join Reynolds at Iowa State Fair
FIRST ON FOX: It was an Iowa invitation that nearly all the GOP presidential candidates found hard to turn down.
Republican Gov. Kim Reynolds invited the entire field of more than a dozen Republican White House hopefuls to join her for 'Fair Side Chats' next month at the Iowa State Fair.
Nearly everyone accepted the invitation to take part in the one-on-one interviews in the state that leads off the Republican presidential nominating calendar.
In an announcement shared first with Fox News on Tuesday, Reynolds unveiled her schedule for the 'Fair Side Chats,' which includes Florida Gov. Ron DeSantis, former ambassador and former South Carolina Gov. Nikki Haley, South Carolina Sen. Tim Scott and former Vice President Mike Pence.
However, not on the list of attendees is former President Trump, who is the commanding front-runner in the latest GOP presidential nominations polls in Iowa, other early voting states and in national surveys, as he makes his third straight White House run.
Reynolds said the interviews will provide fairgoers 'a unique opportunity to learn more about the candidates themselves as well as their policy priorities.'
'I am so proud that I get to have the opportunity to introduce these candidates to Iowans at an event so near and dear to my heart,' Reynolds added in a statement. 'The Iowa State Fair showcases the best of Iowa – from our people to our culture and wonderful agriculture industry – and it's the perfect venue for a conversation with the candidates.'
The Iowa State Fair – held annually in August at the state fairgrounds in Des Moines – has been a must-stop for decades for presidential contenders of both major political parties in the year ahead of the nominating contests.
Reynolds' interviews will take place at JR's South Pork Ranch at the fairgrounds.
Former nationally syndicated radio host and 2021 California recall election gubernatorial candidate Larry Edler is scheduled for 10:30 a.m. CT on Thursday, Aug. 10, the first day of the state fair.
The next day – Friday, Aug. 11 – North Dakota Gov. Doug Burgum (8:30 a.m. CT), Pence (9:30 a.m. CT), and Miami Mayor Francis Suarez (10:30 a.m. CT) will join Reynolds.
Entrepreneur and political commentator Vivek Ramaswamy (8:30 a.m. CT), Haley (9:30 a.m. CT), and DeSantis (10:30 a.m. CT) are scheduled to team up with Reynolds on Saturday, Aug. 12.
Former Arkansas Gov. Asa Hutchinson (8:30 a.m. CT), Texas based businessman and pastor Ryan Binkley (9:30 a.m. CT) and Scott (10:30 a.m. CT) are scheduled for Tuesday, Aug. 15.
Michigan businessman and 2022 gubernatorial candidate Perry Johnson (9:30 a.m. CT) and one-time CIA spy and former Texas Rep. Will Hurd (10:30 a.m. CT) will join the governor on Friday, Aug. 18.
Two weeks ago, Trump criticized Reynolds – a popular two-term governor – for staying neutral in the race for the GOP presidential nomination race.
'I opened up the Governor position for Kim Reynolds, & when she fell behind, I ENDORSED her, did big Rallies, & she won. Now, she wants to remain 'NEUTRAL.' I don't invite her to events! DeSanctus down 45 points!' the former president wrote on Truth Social.
In 2017, Trump nominated longtime Republican Iowa Gov. Terry Branstad as U.S. ambassador to China. Reynolds – who was lieutenant governor at the time – succeeded Branstad as governor. Trump endorsed Reynolds ahead of her narrow election in 2018 to a full term in office. Reynolds was easily re-elected by 19 points last year.
Reynolds' pledge to stay neutral in the presidential nomination race is in line with previous Iowa governors. Iowa's all-Republican congressional delegation is also staying neutral as the large field of 2024 presidential contenders descends on their state.
The governor joined Trump in March in Davenport, as the former president made his first stop in Iowa as a 2024 candidate. Reynolds did not join Trump when he returned to the state in early June and again earlier this month.
Trump took plenty of incoming fire for his criticism of Reynolds, and a Republican state senator who had endorsed the former president switched his support to DeSantis due to the incident.
Former New Jersey Gov. Chris Christie, who is making his second bid for the GOP nomination, is also not joining Reynolds.
Christie is concentrating his campaign on New Hampshire, which holds the first primary in the GOP calendar and the second contest overall following Iowa, and South Carolina, which votes third.
'New Hampshire and South Carolina will be our main focus. And that's what we've intended right from the beginning. You'll see that's what our travel reflects,' Christie told Fox News on Monday. 'I'm sure we'll go to Iowa at some point, probably for a debate. But I'm going to spend my time here in New Hampshire and down in South Carolina.'
This post appeared first on FOX NEWS