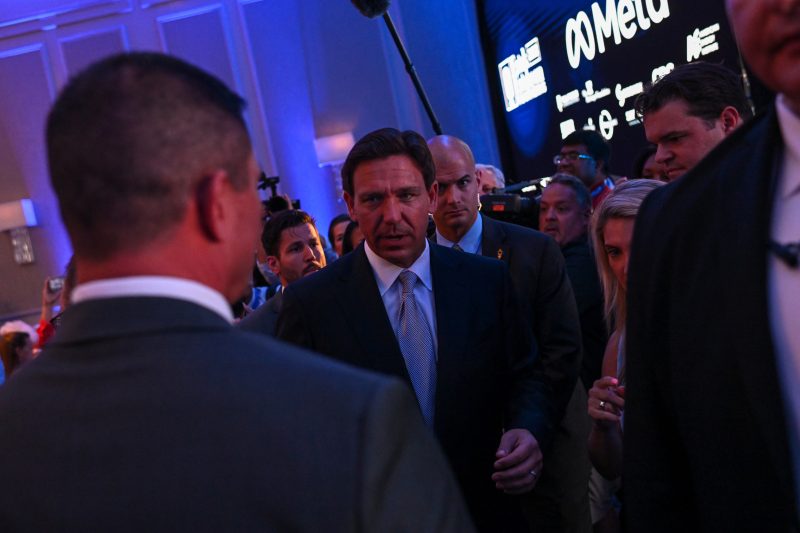 DeSantis voiced complaints about top super PAC strategist, people familiar with comments say
Florida Gov. Ron DeSantis has privately complained about a powerful operative at the center of his 2024 presidential effort, according to three people familiar with the comments, a sign of the internal drama that has complicated his struggling White House bid.
DeSantis has expressed regrets over Jeff Roe's hiring as a lead strategist at the super PAC Never Back Down, an outside group that has assumed many responsibilities in the race traditionally handled by campaigns, two of the people said. One, a DeSantis donor, heard the comments directly from the governor, this person said.
DeSantis has also voiced anger over a pre-debate strategy memo from Never Back Down, which was publicly posted last month on the website of Roe's firm, Axiom, these people said. One of them, the donor, said the governor was "apoplectic."
All of the people spoke on the condition of anonymity to describe private discussions.
DeSantis campaign communications director Andrew Romeo called the accounts of DeSantis's comments "totally false" and said in a statement the campaign is "thrilled" with Never Back Down's work, which includes a field program, paid media and early primary state bus tours that DeSantis regularly joins as a "special guest."
He added, "It's no surprise anonymous sources who feel threatened by Ron DeSantis continue to try to smear him with lies in the corporate media, but our campaign is staying laser-focused on winning the nomination and defeating Joe Biden."
Private sniping between officials at the campaign and super PAC erupted publicly in news reports over the summer as DeSantis lost ground in polling to former president Donald Trump. But the accounts of DeSantis's private concerns with Roe — a campaign veteran who managed Sen. Ted Cruz's (R-Tex.) 2016 presidential run and was also a top political adviser to Virginia Republican Gov. Glenn Youngkin — have not been previously reported.
The ultimate impact of the tensions that have played out in private remains to be seen. The governor continues to spend extensive time with super PAC officials on the Never Back Down bus and is set to attend another super PAC-hosted tour this weekend ahead of the Iowa vs. Iowa State college football game in Ames. The campaign is betting the super PAC's extensive ground game and advertising blitz can help him upset Trump with strong showings in early primary states, particularly Iowa.
Chris Jankowski, Never Back Down's CEO, also pushed back vehemently on The Post's reporting Thursday.
"The Washington Post posting tabloid trash from anonymous sources is a pathetic new low in 'journalism.' These false claims are refuted across the board and vehemently. The great team at Never Back Down is putting in the hard work day in and day out that will help lift Gov. DeSantis to the nomination," Jankowski said in a statement.
After starting the year with high expectations and impressive polling numbers, DeSantis has lost considerable ground to Trump, who holds a commanding lead in polls of the GOP race. The DeSantis campaign has sought to reset its operation several times — laying off staff, bringing in new leadership and looking to the super PAC to cover more costs. The novel setup of a super PAC empowered to take on more than its counterparts from past presidential races put in place a sprawling operation with power centers that have at times felt out of sync with one another.
Tensions spilled out last month just ahead of the first GOP debate after Never Back Down's debate advice for DeSantis made headlines. Campaigns and their supportive super PACs are legally barred from coordinating on spending and messaging, but super PACs can work around those rules by posting information online that could inform strategic decisions inside the campaign.
The memo urged DeSantis to defend Trump and suggested specific attacks on rivals — which immediately became difficult to use as the New York Times and later other news outlets drew attention to the document. DeSantis distanced himself from the advice and said he had not read it. But other campaigns ridiculed the memo, and Never Back Down founder Ken Cuccinelli soon called the memo a mistake.
DeSantis was back with super PAC officials for another bus tour immediately after the debate, visiting the movie-famous "Field of Dreams" and other stops in Iowa. A person close to Never Back Down and familiar with the campaign and super PAC's relationship said staff from the two groups recently had dinner, are "working very well together" and are focused on winning the election.
DeSantis also tapped a Roe ally and former Never Back Down adviser, David Polyansky, as deputy campaign manager last month when he shook up the team's leadership after a rocky summer.
Top DeSantis aides have said they regret the extent of Roe's influence over DeSantis's 2024 operation, according to a person familiar with the comments, and several other people echoed that some campaign staff and donors have been upset with Roe, particularly after the debate memo and leaked recordings of a donor briefing by Roe and other super PAC officials held the day of the debate in Milwaukee.
Roe asked donors to help the super PAC raise an additional $50 million by the end of the year, shortly before the group announced plans to buy at least $25 million in advertising in Iowa and New Hampshire between Labor Day and Halloween.
"This election is moving now. Nothing that happens in August really kind of matters," Roe said while previewing their plans and adding, "The day after Labor Day we're launching, and we need your help to stay up and go hard the rest of the way."
On Thursday, a Politico magazine story about Never Back Down's efforts to reach voters and test its methods' effectiveness featured another quote from Roe that drew attention.
"'They were taking a hard shot at the PAC, for whatever reason, and we were worried that they were going to, like, kill us in the crib with donors," Roe says of DeSantis's Tallahassee-based campaign,'" the story said.
It's normal for campaigns and super PACs to have some tension, but "this is clearly different," said the donor who said DeSantis voiced regret about Roe.
Josh Dawsey and Michael Scherer contributed to this report.
This post appeared first on The Washington Post