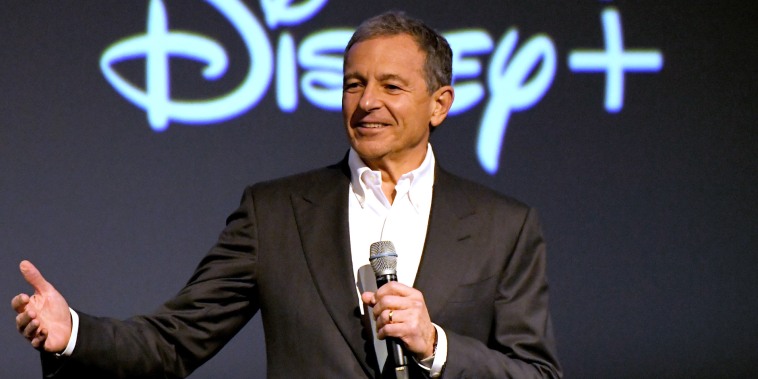 Disney to raise monthly price on ad-free Disney+ to $13.99
Disney is raising prices on almost all of its streaming offerings as it looks to accelerate profitability for the business.
Commercial-free Disney+ will cost $13.99 per month, a 27% increase, beginning Oct. 12. Disney+ with ads will remain $7.99 per month. Disney will also expand its ad-tier offering to select markets in Europe and in Canada beginning Nov. 1.
Disney is increasing the price of Hulu without ads to $17.99 per month, a 20% price hike. Hulu with ads will also stay the same price, at $7.99 per month.
For comparison, Netflix's standard plan without commercials is $15.49 per month. Warner Bros. Discovery's Max is $15.99 per month.
The decision to price Disney+ nearly as high as commercial-free Netflix and Max, and charge even more for Hulu, signals Disney believes its content library can compete with both of those services. When Disney Chief Executive Officer Bob Iger launched Disney+ in 2019, he deliberately set the niche family offering at a low price of $6.99 per month — nearly half the price of Netflix.
Last year, Disney increased the cost of Disney+ by $3 per month. During the company's May quarterly earnings conference call, Iger acknowledged he was surprised the price increase led to minimal cancelations of the service.
"We were pleasantly surprised that the loss of subs, due to what was a substantial increase in pricing for the non-ad-supported Disney+ product, was de minimis," Iger said at the time. "It was some loss, but it was relatively small. That leads us to believe that we, in fact, have pricing elasticity."
Disney is now betting consumers will pay more for its streaming services even as the Hollywood writers and actors strikes threaten its content pipeline in the coming months.
For consumers who want both Disney+ and Hulu without commercials, they can pay $19.99 per month in a new "premium duo" offering — a $12 per month savings. The Disney+ and Hulu bundle with ads will not change from its $9.99 per month price.
Disney also increased the price of its bundle of Disney+ (no ads), Hulu (no ads) and ESPN+ (with ads) to $24.99 per month from $19.99 per month. The bundle of all three products with commercials will be $14.99 per month, an increase of $2 per month.
Disney said Wednesday its streaming division lost $512 million in its fiscal third quarter. Disney+ excluding India's Hotstar added 800,000 subscribers during the period. Disney+ ended the quarter with 105.7 million Disney+ subscribers, excluding Hotstar, and about 146 million in all.
Disney is also increasing the price of Hulu + Live TV with ads to $76.99 from $69.99 per month. The commercial-free Hulu + Live TV will jump to $89.99 per month from $82.99 per month.
More from CNBC
Disney says it will crack down on password sharing, following Netflix's lead Disney posts mixed results for quarter plagued by streaming woes, restructuring costs Thursday's inflation data may be low, but don't expect the Fed to declare 'mission accomplished' yet
This post appeared first on NBC NEWS