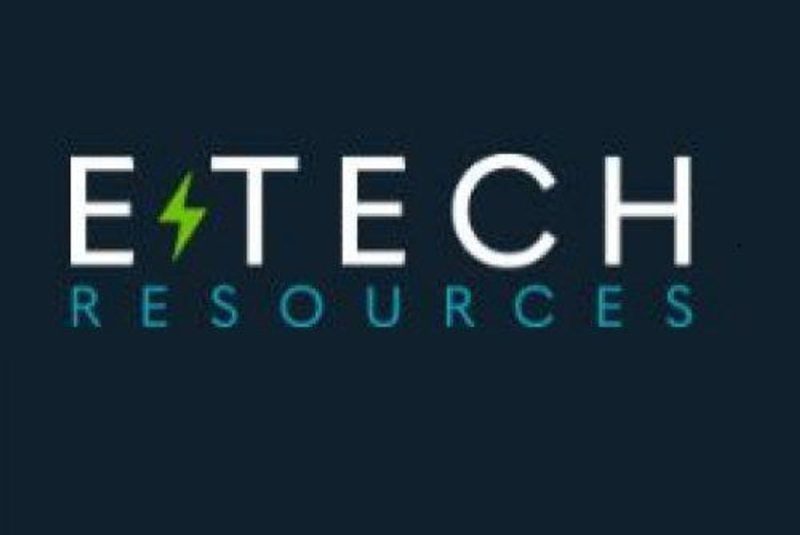 E-Tech Resources Enters into MOU to Evaluate Deployment of Novamera's Surgical Mining Technologies at Eureka Project
E-Tech Resources Inc. (TSXV: REE) (FSE: K2i) ('E-Tech' or the 'Company'), a rare earth element exploration and development company which owns 100% of the Eureka Project in Namibia (the 'Project'), is pleased to announce that it has signed a Memorandum of Understanding ('MOU') with Novamera Inc. ('Novamera') to evaluate the use of surgical mining and Novamera's technologies as the extraction method for the Project. The MOU sets out a series of milestones that include a conceptual surgical mining economic desktop evaluation (commencing immediately), Guidance Tool calibration activities and a bulk sample. The parties are planning to initiate these activities over the next twelve months.
The innovative solution could provide a more cost-effective and faster path to production, while also radically reducing environmental and social impact. It aligns well with E-Tech's values of being a sustainable and responsible company with the goal of supporting the green energy transition. The Project focuses on two Rare Earth Elements ('REEs'), Neodymium ('Nd') and Praseodymium ('Pr'). Nd plays a vital role in supporting renewable power generation and the decarbonisation of transportation and is used to facilitate large wind turbine generators and electric vehicle motors.
'E-Tech is advancing the development of the Eureka deposit by utilizing innovative and leading-edge technology. The minerals of the future will require techniques and approaches that are in line with the ESG principles of their end use. We believe that Novamera's technologies are revolutionary and E-Tech is thrilled to be at the forefront of exploring new mining methods,' says Todd Burlingame, E-Tech CEO. 'We are committed to finding sustainable and cost-efficient ways to mine the materials essential for building a low carbon economy, while also protecting and preserving the environment.'
Located in Namibia, the Project's mineralogy, processability, and favorable logistics have the potential to make it one of the simplest and most accessible sources of REE supply to the global market.
'We are excited to be working with E-Tech and demonstrating the capabilities of our surgical mining technologies. Mining companies like E-Tech are looking for solutions to bring deposits into production with a smaller environmental footprint than that of conventional mining methods,' says Dustin Angelo, Novamera CEO. 'The willingness to look at a different business model will open more strategic options to generate value for their shareholders and realize positive cash flow sooner for a project.'
About E-Tech Resources Inc.
E-Tech is a rare earth element exploration and development company focused on developing its Eureka Rare Earths Project in Namibia. The Eureka project is located approximately 250 km north-west of Namibia's capital city Windhoek and 140 km east of Namibia's main industrial port Walvis Bay. The project is situated next to the national B1 highway in the Erongo Region of Namibia.
The Eureka deposit lies in the Southern Central Zone of the Neoproterozoic Damara Belt within Exclusive Prospecting License ('EPL') number EPL 6762, which covers farms Eureka 99 and Sukses 90. E-Tech has also entered a definitive agreement to acquire an 85% interest in the permit EPL 8748 which lies adjacent to and surrounds the Company's EPL 6762.
Namibia is recognized as one of Africa's most politically stable jurisdictions, with an extremely well-established national infrastructure and a clear and transparent mining law.
For more information, please contact Todd Burlingame, CEO of E-Tech Resources Inc., at (782) 409-5474.
About Novamera
Novamera is a surgical mining technology company that has developed data driven hardware and software solutions that pinpoint, map, navigate and extract high value narrow vein deposits. Novamera's precision drilling products integrate into conventional drilling equipment, enabling mining companies to quickly and sustainably mine various metal and mineral deposits that are otherwise uneconomic due to size, geometry and orientation. The process has large scale environmental and social impacts to support ESG targets and improve social licence. Requiring a small footprint with no blasting, the solution produces 95% less waste, 44% less GHG emissions and 99% less water discharge.
Cautionary Statements
This press release may contain forward-looking information. This information is based on current expectations and assumptions (including assumptions relating to general economic and market conditions) that are subject to significant risks and uncertainties that are difficult to predict. Actual results may differ materially from results suggested in any forward-looking information. E-Tech does not assume any obligation to update forward-looking information in this release, or to update the reasons why actual results could differ from those reflected in the forward-looking information unless and until required by securities laws applicable to E-Tech. Additional information identifying risks and uncertainties is contained in the filings made by E-Tech with Canadian securities regulators, which filings are available at www.sedarplus.com.
Neither TSX Venture Exchange nor its Regulation Services Provider (as that term is defined in policies of the TSX Venture Exchange) accepts responsibility for the adequacy or accuracy of this release.
To view the source version of this press release, please visit https://www.newsfilecorp.com/release/181953
News Provided by Newsfile via QuoteMedia
This post appeared first on investingnews.com