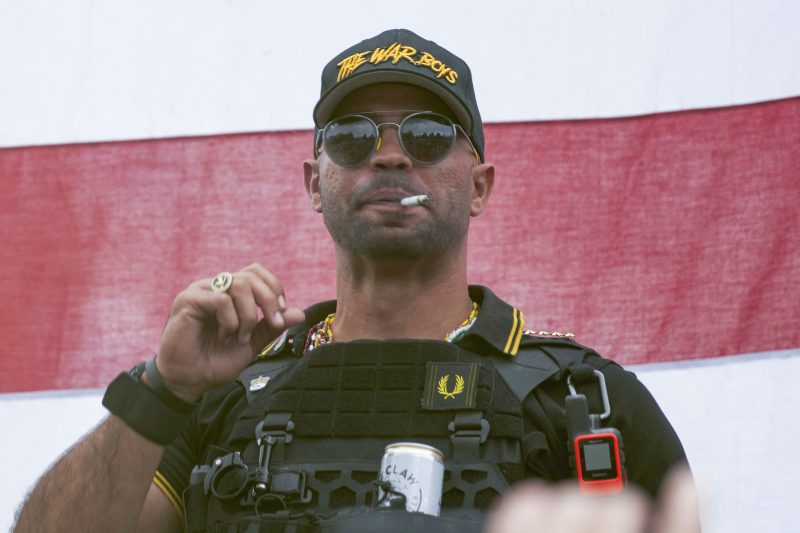 Ex-Proud Boys leader Enrique Tarrio sentenced to 22 years for Jan. 6
Former Proud Boys leader Henry "Enrique" Tarrio, described by a judge as "the ultimate leader" who "was motivated by revolutionary zeal" in organizing members of his far-right group to spark the breach of the U.S. Capitol, was sentenced Tuesday to 22 years in prison, the longest sentence yet among the hundreds convicted of disrupting the peaceful transfer of presidential power on Jan. 6, 2021.
Tarrio, 39, was convicted of seditious conspiracy and obstructing the congressional proceeding meant to confirm the 2020 presidential election as part of a riot that U.S. District Judge Timothy J. Kelly said broke America's long democratic tradition of peaceful transfers of power. Tarrio was the last of five Proud Boys to be sentenced after all were convicted in May following a 15-week trial.
Tarrio, of Miami, was convicted even though he wasn't in Washington on Jan. 6. He had been arrested two days earlier for burning a "Black Lives Matter" flag torn down from a D.C. church during an earlier protest in the city following President Donald Trump's defeat. He was banned from the city as a result.
Skip to end of carousel
What to know about the Proud Boys sedition trial
Former Proud Boys chairman Henry "Enrique" Tarrio and three other members were found guilty of seditious conspiracy in the Jan. 6, 2021, riot.Inside the Proud Boys trial: Videos and secret chats revealed how the Jan. 6 plot unfolded.Who are the Proud Boys charged with seditious conspiracy in the Jan. 6 attack? Here's what to know about the trial.
End of carousel
But prosecutors said he had recruited people to join in a violent assault on the Capitol on Jan. 6 to keep Trump in power and messaged them "Don't f—ing leave" as they led the storming of the building, causing the electoral vote count to stop for about six hours. Kelly cited that message Tuesday in ruling that Tarrio still had a leadership role on Jan. 6, even if he wasn't in D.C. Tarrio denied planning an incursion into the Capitol and gave interviews after the riot saying he did not endorse that move by multiple Proud Boys, some of whom were among the first to enter the building.
Prosecutors asked for a 33-year sentence for Tarrio, one of the most high-profile defendants who have gone to trial in the Capitol attack. But they also asked for 20 years or more for each of Tarrio's four co-defendants, and Kelly declined to impose such terms.
The judge agreed that the convictions qualified for an enhanced terrorism penalty under federal law and increased the federal sentencing guidelines for Tarrio and his co-defendants: Ethan Nordean, Joseph Biggs, Zachary Rehl and Dominic Pezzola. The judge, however, declined to sentence each defendant within the advisory ranges, saying repeatedly that "the terrorism adjustment overstates your role in the offense," and that the Proud Boys did not have the intent to kill or cause mass casualties.
In the case of Nordean, who was an on-the-ground leader of the Proud Boys in Tarrio's absence, Kelly on Friday imposed an 18-year term. That had equaled the longest sentence given to any Jan. 6 defendant so far, handed down to Oath Keepers leader Stewart Rhodes — until Tarrio's.
Also last week, another Proud Boys leader on Jan. 6, Biggs, who headed the march along with Nordean, received a 17-year sentence, while Rehl got 15 years and Pezzola received 10 years. Kelly last week told Pezzola, whose smashing of a Capitol window enabled the first breach of the building, "You really were, in some ways, the tip of the spear that allowed people to end up getting into the Capitol."
The sentencings are a crucial juncture in what prosecutors have called the largest investigation in U.S. history, targeting organized far-right groups like the Proud Boys and the Oath Keepers along with others who attacked the Capitol as Congress met to confirm the electoral college results. Many rioters have said they were drawn to the Capitol by Trump, who encouraged his backers to support his false claims of a stolen election, and who has now been targeted for prosecution himself for his efforts to subvert the election at the state level and in Congress.
Tarrio apologized for his actions and those of the Proud Boys, saying the police officers who defended the Capitol, some of whom were in the audience Tuesday, "deserve nothing but praise, respect and to be honored as the heroes they are. I am extremely ashamed and disappointed they were caused grief and suffering." He also said he had early doubts about whether the election was stolen but kept them to himself. "Every medium I turned to told me my anger was justified," Tarrio said. "It wasn't. … I do not think what happened that day was acceptable."
Kelly said the trial showed that Tarrio "was the ultimate leader, the ultimate person who organized, who was motivated by revolutionary zeal," and that he "had an outsized impact on the events of the day."
As for Tarrio's apology, the judge said: "I'm glad he's sorry for what happened to the law enforcement officers that day. But I think we're talking past each other in many ways. I don't have any indication that he is remorseful for the actual things that he was convicted of. … There's only so much that statement can go toward assuring me that deterrence is not warranted."
In an orange jail coverall, Tarrio stood with both hands on a lectern and lowered his head briefly as the judge imposed the sentence, and his mother let out a sob in the gallery behind him. As he left the courtroom, he looked back at his family and supporters, held up two fingers, and blew a kiss with a smile.
His lawyers said afterward that they would appeal the convictions.
The trial for the five members of the Proud Boys this spring featured video captured by participants, journalists, police body cameras, surveillance cameras and even one of the five defendants recording the Proud Boys' assault on the Capitol. The footage began with their initial group of 200 marching away from Trump's rally on the Ellipse at 10 a.m., long before Trump began speaking, followed by their confrontations with police at several barricades and finally their entry into the Capitol at 2:11 p.m. after a new member, Pezzola, used a stolen police riot shield to smash a window on the Capitol's West Terrace.
Assistant U.S. Attorney Conor Mulroe noted Tuesday that at the Peace Circle west of the Capitol, there was sparse and peaceful protest before the arrival of the Proud Boys, a "large group of men ready to fight. They had an integral role in that first breach," overwhelming and injuring Capitol Police officers before charging to the next police line, where the Proud Boys helped pull down a black fence and created the next major breach at the Capitol steps.
"The actions of that group were absolutely pivotal to what happened on January 6," Mulroe said, "and they followed the prodding and planning of Enrique Tarrio."
During the House Jan. 6 committee hearings, Capitol Police Officer Caroline Edwards testified to seeing Biggs and other Proud Boys arriving at the Peace Circle, then grabbing and hurling barricades, one of which struck her in the head and briefly knocked her out. When Edwards recovered, she darted to the next police line, where, she said, "I couldn't believe my eyes. There were officers on the ground, they were bleeding. They were throwing up. … I saw friends with blood all over their faces. I was slipping in people's blood."
At trial, prosecutors unspooled numerous internal messages among members of the group — some of whom pleaded guilty before trial and testified against Tarrio and the others — showing the men planning their trip to D.C. and detailing their often vulgar disgust at what they wrongly believed was a stolen election.
The group's membership had been boosted by a seeming endorsement from Trump during a presidential debate with Joe Biden in 2020, trial testimony showed. Prosecutors said Tarrio picked only the most trustworthy members to participate in messaging chats, to plan their moves and ultimately to march on the Capitol. Two members who were troubled by the violent nature of the planning discussions testified that they quit the Proud Boys before Jan. 6.
After a trial lasting nearly five months, Tarrio and three of his top lieutenants were convicted in May of seditious conspiracy and five other felonies, including obstruction of an official proceeding and destruction of federal property. Tarrio didn't testify in his own defense, but his lawyers argued that he hadn't planned an incursion of the Capitol.
"Being a leader in the Proud Boys organization is not the equivalent of being a leader and organizer of the events" of Jan. 6, defense attorneys Nayib Hassan and Sabino Jauregui wrote in a sentencing brief. "There is zero evidence to suggest Tarrio directed any participants to storm the U.S. Capitol building prior to or during the event. … In fact, Tarrio was not in contact with anyone during the event he is alleged to have led or organized." On Tuesday, they repeatedly emphasized Tarrio's absence from the city during the riot.
The fifth defendant, Pezzola, of Rochester, N.Y., was acquitted of seditious conspiracy but found guilty of assaulting federal officers, robbery of federal property and two counts of destroying federal property.
The Proud Boys' trial came shortly after the conviction of five Oath Keepers, members of a far-right group who were charged in a separate Jan. 6 seditious conspiracy case. U.S. District Judge Amit P. Mehta also granted the terrorism enhancement in his Oath Keepers sentencings, then also gave far shorter sentences than the government sought. Kelly said Tuesday he reviewed those cases before devising his sentences in the Proud Boys case.
Rachel Weiner contributed to this report.
This post appeared first on The Washington Post