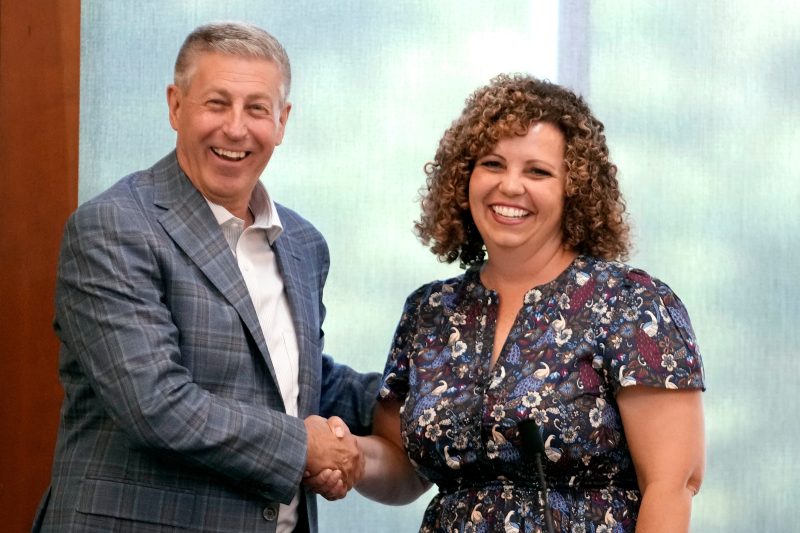 Former congressional staffer defeats Trump critic in special Utah GOP primary
Celeste Maloy, a former staffer for Rep. Chris Stewart (R-Utah) and supporter of former president Donald Trump, has narrowly won a Republican congressional primary that included a Trump critic, according to an Associated Press projection. Maloy will advance to a special general election to fill Stewart's seat, and is favored to win in the heavily Republican district.
The AP projected Wednesday evening that Maloy will defeat former Utah state representative Becky Edwards and former state party chairman Bruce Hough. With about 82 percent of the votes counted from the Tuesday special primary, Maloy received 38.3 percent of the votes to Edwards's 35.1 percent and Hough's 26.6 percent.
"As I've said throughout this race, I will represent the entire district," Maloy said in a statement after the race was called Wednesday evening. "There will not be an area, a county, or a community in this district that will have anything less than my full attention as your representative in Congress."
Edwards has been critical of Trump and admitted to voting for Democrat Joe Biden in 2020 — though in her campaign for the special primary said she has been "extremely disappointed" with the Biden administration and regretted her vote.
Edwards conceded the race Wednesday night.
"While this chapter may be ending, the unity and commitment we've witnessed will continue to shape our future," Edwards said in a social media post. "Thank you for being part of something truly special."
Utah's large 2nd Congressional District covers most of the rural southern and western parts of the state, and also includes Salt Lake City. Trump won the district in 2020 by nearly 17 points.
Maloy will face Democrat Kathleen Riebe in a Nov. 21 special general election. The winner will serve the remainder of Stewart's term.
Stewart, who was reelected to his sixth term last November, announced in June that he would be resigning his seat on Sept. 15 because of his wife's health concerns.
This post appeared first on The Washington Post