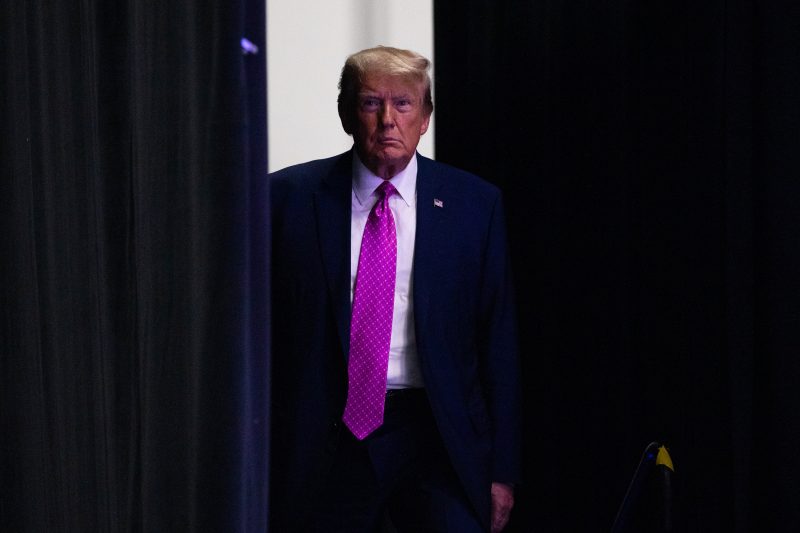 Fox News hosts are pushing Trump to join the Fox News GOP debate
Fox News personalities Steve Doocy, Brian Kilmeade, John Roberts and Piers Morgan have all come out in agreement: In their opinion, Donald Trump should absolutely participate in the first Republican presidential candidates debate of the 2024 cycle, which will be held next month in Milwaukee — and broadcast on their very own Fox News.
The former president has refused to commit to the Aug. 23 debate, and he indicated as recently as Sunday that he's leaning against it. ("When you have a big lead, you don't do it," he told interviewer Maria Bartiromo.) So in the meantime, various hosts on Fox have taken it upon themselves to use the network's airwaves to try to make the case to the man himself.
"If you're watching, Donald, come on!" Morgan, who hosts a show on the Fox Nation streaming platform, said in an appearance on Fox News last week. "Get on that stage and show us what you're made of. If you want to be president again, you've got to come out and face the debate music. … You know you want to secretly."
While Morgan and other Fox personalities have argued that Trump's participation is an essential part of the democratic process, it also seems clear that a Republican debate without Trump is much less likely to attract a significant viewing audience, given his standing in the party and massive lead in the polls.
"He's worth somewhere between 2 and 4 million viewers, so of course Fox wants him to participate," said longtime GOP pollster Frank Luntz.
Fox News management has not encouraged on-air talent to lobby Trump to appear at the debate, according to a network official familiar with the situation who was not authorized to comment.
On Monday morning, the co-hosts of "Fox & Friends" pitched Trump on the event. "It would be great to see President Trump and Ron DeSantis and Chris Christie just duke it out," Doocy said. "That's why they call it a debate. … Show up, debate, and shine. This is his big chance."
Co-host Kilmeade argued that the GOP debate would help prepare Trump for a general election debate with President Biden. "If he thinks he's going to get the nomination, the best thing to do is to go into training. … So, I would take the reps as much as possible."
But according to one Trump adviser, the former president is "highly unlikely to participate" — though he could always change his mind and continues to ask associates about the benefits and drawbacks of participating, the adviser said.
Despite the public pleadings of Fox News personalities, it's the Republican National Committee that has been most active in lobbying him to attend. Trump met on Monday at his Bedminster club with Ronna McDaniel, the Republican Party chairwoman, and David Bossie, a longtime Trump adviser who is helping lead the RNC's debate efforts. Both told Trump that he should participate in the debates, according to four people familiar with the meeting. McDaniel, in particular, has argued to Trump that the other candidates will be talking about him, so he should be there to respond. But Trump has countered that his participation would only help his competitors by bringing higher ratings to a debate that would get lower ratings without him.
Considering Trump's lead in the polls, "it doesn't make sense for us right now," a second Trump adviser said.
On Monday afternoon, Fox News anchors John Roberts and Sandra Smith vigorously agreed with each other on-air that Trump's participation in their network's debate is vital.
"It's the democratic process. You want voters to get a look at all the candidates, and if you want to prove that you are the candidate that they should vote for, well, then let's see how you react to the questions that are being asked," Roberts said.
"Certainly an important part of the process for sure," Smith added.
But Trump advisers say all the on-air lobbying could backfire because of his lingering anger toward a network he believes has been insufficiently supportive of him.
Even if Trump participates, due to a broader decline in cable television viewership, the network does not expect the staggering 24 million viewers who watched Fox's GOP debate in August 2015, when Trump tangled with co-moderator Megyn Kelly. Trump triggered tensions with the network that lingered throughout the campaign when he later characterized her tough line of questioning as "blood coming out of her wherever."
In January 2016, Trump withdrew at the last minute from a Fox-hosted debate ahead of the Iowa Caucus because Kelly was scheduled to moderate again. "Let's see how they do with the ratings," he said at the time. The debate was watched by 12.5 million people, a big drop from the first debate of the cycle.
Asked about the potential of a ratings disappointment this year, a Fox News spokesperson said the network "looks forward to hosting the first debate of the Republican presidential primary season offering viewers an unmatched opportunity to learn more about the candidates' positions on a variety of issues, which is essential to the electoral process."
Some Fox pundits have acknowledged the strategic calculus behind Trump's refusal to commit to the debate. When Morgan said that Trump was being "cowardly," former White House aide Kellyanne Conway, a Fox News contributor, pushed back.
"He's not being a coward at all — he's being a front-runner," she said.
Given his lead, former White House press secretary Sean Spicer said it would be "insane" for Trump to participate in the debate. Trump has carried a lingering grudge against Fox since election night 2020, when the network called the pivotal state of Arizona for Biden before any other network. More recently, he has accused Fox of "pushing" the rival candidacy of Florida Gov. Ron DeSantis.
"Fox can't be surprised after the way that they've handled Trump that he doesn't want to show up," Spicer said in an interview. "They've gone out of their way to snub the guy, which is their prerogative, but then you can't get mad when he doesn't want to go to your party."
Yet Trump participated in a Fox News town hall hosted by Sean Hannity on Tuesday, two days after appearing on Bartiromo's Sunday morning program on Fox.
Spicer predicted that Trump would "counterprogram" the Fox debate by appearing on another media program at the same time, with some speculating that he might opt for a guest spot on former Fox News host Tucker Carlson's Twitter-based show. Either way, "he's not going to sit home and watch it," Spicer said.
University of Maryland broadcast journalism professor Mark Feldstein said that Trump's absence "would undoubtedly mean less fireworks and fewer viewers" — but also, possibly, more substance.
"A Trump-less debate would make it easier for viewers to get a better sense of his rivals without Trump hogging all the airtime," he said, "and could help one or more shine or even break out of the pack."
Even if Trump stays home, Luntz said the debate will be highly watched and politically important. "The viewership will be less, but the impact will still be significant," he said.
This post appeared first on The Washington Post