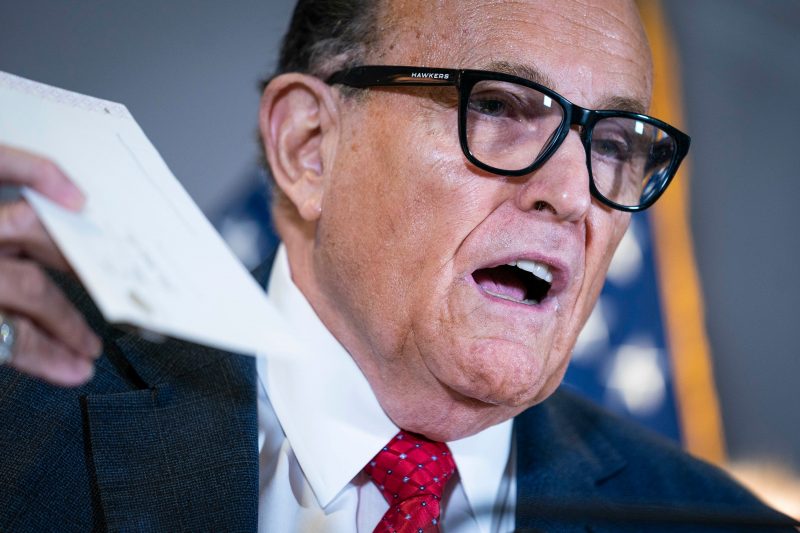 Giuliani declines to defend the indefensible. And he's got company.
Accountability has been slow in coming for the Donald Trump-aligned lawyers who spread obviously bogus voter fraud theories after the 2020 election. But it's been coming, as the legal process has applied pressure on them to defend their claims.
And now a key Trump lawyer has joined others in yet again declining to defend the indefensible.
In a court filing overnight, Rudy Giuliani conceded the legal argument that his statements about Georgia election workers Ruby Freeman and Shaye Moss were false and even defamatory.
Giuliani had repeatedly cited video of Freeman and Moss as supposed bona fide proof of rampant voter fraud. Using surveillance video that he suggested showed them planting thousands of ballots, Giuliani said in a Fox News segment that it "proves everything we've been saying, everything the president has been saying." He said the women were engaged in "surreptitious illegal activity" and were acting like drug dealers "passing out dope." At a hearing, he called them "crooks" who "obviously" stole votes.
This was baseless — debunked in real time, including by a key Republican elections official in Georgia. But the claim lived on. And Trump himself repeatedly invoked the false claim as supposedly epitomizing how the election was stolen.
The women were officially cleared of any wrongdoing last month, with Georgia authorities saying the claims were "unsubstantiated and found to have no merit." The finding was unsurprising but significant, given the women have sued Giuliani and others for defamation over the claims, which they said led to a pattern of threats. (Conservative media outlet One America News previously settled with the women and aired a segment walking back its claims against them.)
In the new filing, Giuliani says he "does not dispute for purposes of this litigation, that the statements carry meaning that is defamatory per se" and that "such actionable factual statements were false."
His team is emphasizing that this is merely a legal tactic. In another filing, his lawyer Joseph D. Sibley IV says Giuliani "does not admit to Plaintiffs' allegations" but that he is conceding the argument so the case can move forward. Giuliani's team has indicated that, rather than defending the content of the statements, it could instead argue that they were First Amendment-protected speech and/or that Freeman and Moss might not have actually suffered damages.
"Those out to smear the mayor are ignoring the fact that this stipulation is designed to get to the legal issues of the case," Giuliani aide Ted Goodman said.
But the tactic surely reflects Giuliani's legal jeopardy. Making the concession appears aimed at concluding what has been an arduous discovery process for him. Earlier this month, the judge in the case ordered him to pay $89,000 to Freeman and Moss for delays. U.S. District Judge Beryl A. Howell said Giuliani had "no one to blame but himself for ignoring plaintiffs' pending motion."
Separately, a committee of the D.C. Circuit Court of Appeals this month recommended that Giuliani be disbarred for claims that were "utterly false" and "recklessly so." (The full circuit has yet to decide on whether to do so.)
Regardless of whether this is simply strategy, it's still a major concession — granting that your statements were false and defamatory in a defamation case. Falling back on the idea that the women weren't damaged by Giuliani's comments — a requirement to prove defamation — would also seem difficult to argue, given the pattern of threats they have described.
And it reinforces just how dubious the statements were. Which has been a trend with Trump-aligned lawyers.
In her own court filing in early 2022, Sidney Powell conceded of her wild claims of rampant voter fraud in Michigan that "reasonable people would not accept such statements as fact." She claimed she was merely acting as an advocate and that critics calling her claims "wild accusations" and "outlandish" reinforced that they were not to be taken at face value.
"Millions of Americans believe the central contentions of the complaint to be true," Powell's filing said of one of her lawsuits, "and perhaps they are."
More recently, Trump legal adviser Jenna Ellis admitted to 10 specific "misrepresentations" about the 2020 election as part of a deal with the Colorado Supreme Court to censure her, while avoiding stiffer penalties. Ellis agreed that she acted "with at least a reckless state of mind" and that her public comments "undermined the American public's confidence in the presidential election, violating her duty of candor to the public."
It bears emphasizing that the Ellis case, as with both the Powell and Giuliani cases, dealt with some of the central claims in Trump's effort to overturn the 2020 election.
In effect, Trump-aligned lawyers have now conceded as false:
Their most-hyped, supposedly direct evidence of mass voter fraud (Freeman and Moss)The idea that Trump was the "proper and true victor" (as Ellis claimed)The idea that the "election was stolen, and Trump won by a landslide" (as Ellis claimed)The idea that there was "a coordinated effort in all of these states to transfer votes either from Trump to Biden, to manipulate the ballots, to count them in secret" (as Ellis claimed)
Powell has conceded that the major claims she promoted in Michigan "perhaps" weren't, in fact, true — despite her assurances that she would be able to prove them.
This comes on top of all the times Trump-aligned lawyers have been sanctioned, and conservative media outlets like Fox News, One America News and Newsmax have been forced to settle or back down in the face of legal threats over false claims.
Both Giuliani and Ellis have tried to explain away their concessions as being necessary in the face of legal jeopardy. But the best defense would be that what they said actually had some basis.
Of course, as has become exceedingly clear and was clear even at the time, that's simply not a viable defense.
This post appeared first on The Washington Post