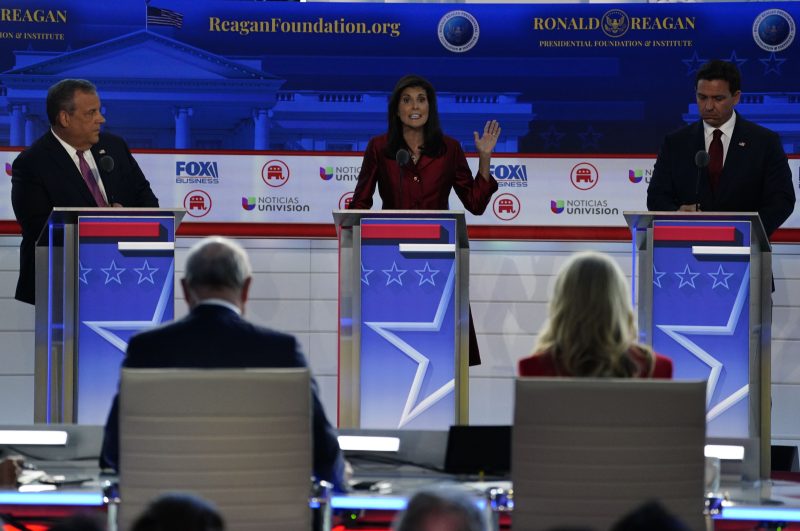 GOP hopefuls say both parties — and Trump — should be blamed if government shuts down
Republican presidential hopefuls on Wednesday took aim at both parties when asked about the prospect of a federal government shutdown, which is looking increasingly likely after House Republicans said they would not consider the a bipartisan short-term plan from the Senate to fund the government after Saturday.
At the second GOP presidential primary debate Wednesday night, former New Jersey governor Chris Christie and Florida Gov. Ron DeSantis both blamed President Biden's policies for the possibility of a shutdown — but also used the question to call out former president Donald Trump for skipping the event.
Trump, who is leading the large field of GOP presidential candidates, traveled to Michigan to speak to workers at a nonunion auto parts factory instead of participating in the debate.
Skip to end of carousel
2024 presidential election
Get live updates as presidential candidates compete in the second Republican debate. Here's what to watch for and who is participating.
End of carousel
"Donald Trump hides behind the walls of his golf clubs and won't show up here to answer questions like all the rest of us are up here to answer," Christie said. "He put $7 trillion on the debt. He should be in this room to answer those questions for the people you talk about who are suffering."
Christie said "everybody who's in Washington, D.C." should share the blame if the government shuts down for failing to curb government spending.
Shortly afterward, DeSantis also blasted "people in Washington" for "shutting down the American Dream with their reckless behavior."
"Where's Joe Biden? He's completely missing an action from leadership," DeSantis said. "And you know who else is missing in action? Donald Trump is missing in action. He should be on this stage tonight. He owes it to you to defend his record where they added $7.8 trillion to the debt that set the stage for the inflation that we have."
Former United Nations ambassador Nikki Haley later proposed that sitting lawmakers should forgo their paychecks if they cannot pass a resolution to fund the government and the government shuts down.
"Congress has only delivered a budget on time four times in 40 years," Haley said. "If they don't keep the government open, they should not get paid. No pay, no budget."
Their stances differ from Trump, who has cheered on the prospect of a government shutdown, saying that Biden would be blamed. Trump has urged GOP lawmakers to try to "get everything" they want in their budget negotiations and railed against Senate Minority Leader Mitch McConnell (R-Ky.), who has adamantly opposed shutting down the government.
The Senate is working on a bill to continue funding the government at current levels into mid-November, which would also provision some of the billions of dollars Biden seeks for U.S. aid to Ukraine and for natural disaster relief. The Senate-led bill has the support of the White House and passed a key procedural hurdle Tuesday night in a 77-19 bipartisan vote.
But House Speaker Kevin McCarthy (R-Calif.) on Wednesday told his conference in a closed-door meeting that he would not put the Senate bill on the floor in its current form. McCarthy has been trying to appease hard-right holdouts in his conference to pass a bundle of long-term appropriations bill.
Jacob Bogage and Marianna Sotomayor contributed to this report.
This post appeared first on The Washington Post