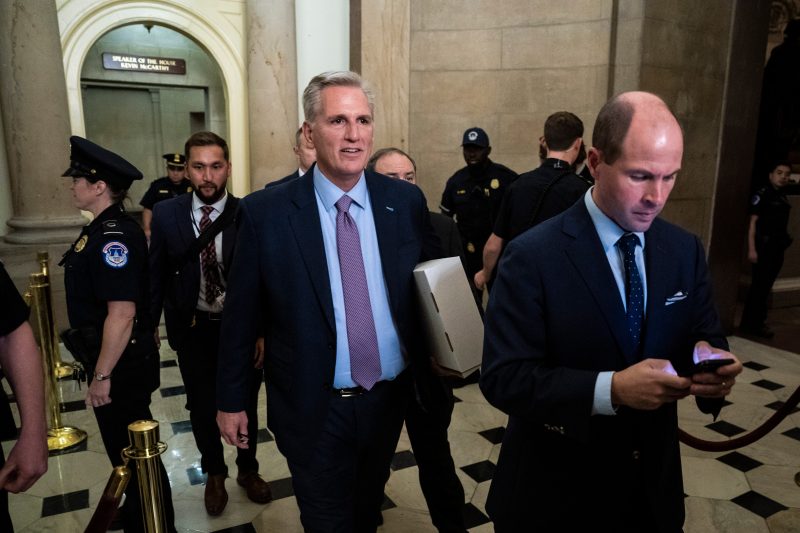 GOP infighting, a furious gavel swing: Dramatic moments from McCarthy's ouster
One of the most dramatic days in House history ended Tuesday in the ouster of Rep. Kevin McCarthy (R-Calif.), who was removed from his position as speaker after a narrow vote spearheaded by Rep. Matt Gaetz (R-Fla.) and a small group of breakaway, far-right Republicans.
McCarthy, once defiant in the face of Gaetz's challenge, became the first sitting speaker to be removed by the House after an hour of heated debate. He later announced that he would not run again. The House, which just days ago barely staved off a government shutdown, now wades into uncharted waters without a clear successor to McCarthy and a temporary speaker at the reins for the first time.
Frustrations boiled over throughout the day as the display of Republican infighting prompted heckles, jeers, bouts of stunned silence and one very vigorous swing of a gavel in the House chamber. Here are some of the most dramatic moments from the historic vote.
Gaetz led the charge to oust McCarthy against a backdrop of heckling and mockery from many of his Republican colleagues, who made no secret of their opinions of McCarthy's antagonist. Gaetz spoke from the Democratic side of the chamber because Republicans would not allow him to speak from their side, The Washington Post previously reported. Members of his party groaned in unison when Gaetz again accused McCarthy of brokering a "secret" deal with Democrats on Ukraine funding, which McCarthy has denied.
At the end of one of Gaetz's speeches, a shout of "You're no martyr! You're no martyr!" broke out from the Republican side of the aisle.
Republican Reps. Garret Graves of Louisiana, Thomas Massie of Kentucky and Jim Jordan of Ohio mounted impassioned defenses of the McCarthy and offered an ominous warning as the House veered toward an ouster.
"Speaker McCarthy has tried regular order," Massie said. "If regular order fails today, if you vacate the speaker, nobody is going to try."
House Democrats — who brought bags of popcorn as McCarthy struggled to earn the votes to become speaker in January — played a key role in his removal. They emerged from an extended closed-door caucus Tuesday morning to announce that they would not support McCarthy, with House Minority Leader Hakeem Jeffries (D-N.Y.) calling on moderate Republicans to break away from "extremists" in their party and work with Democrats.
In the early afternoon, Democrats queued in a long line that stretched to the back of the House chamber to cast votes by hand during a procedural motion. A Democratic lawmaker told The Post the unusual move was meant to buy time for Democratic members to arrive to vote against the motion to table, which would have spared McCarthy.
Former president Donald Trump weighed in from New York, where he is facing a civil trial over alleged business fraud. The front-runner for the Republican presidential nomination criticized the GOP infighting.
"Why is it that Republicans are always fighting among themselves, why aren't they fighting the Radical Left Democrats who are destroying our Country?" Trump wrote on social media.
There was no heckling or commotion when Rep. Steve Womack (R-Ark.) announced that the motion to table had failed. The House chamber descended into near silence as it moved toward a vote on removing McCarthy.
When that vote passed hours later, Womack's announcement was met with looks of disbelief. McCarthy smiled and looked straight at the speaker's perch.
he put his whole soul into that gavel pic.twitter.com/CgJaPmEcXG
— Keith Edwards (@keithedwards) October 3, 2023
Rep. Patrick T. McHenry (R-N.C.), who was named speaker pro tempore after McCarthy's ouster was confirmed, broke up the stunned silence of the House with his newly earned gavel. McHenry declared a recess with a very emphatic swing.
Members audibly gasped when McCarthy concluded the day by announcing in a news conference that he would not seek the speakership again. Republicans, including those who privately admitted they didn't get along with McCarthy, said they were impressed by his composed demeanor as he delivered the news, The Post reported. Those in the room said that many members were crying as McCarthy spoke.
McCarthy also bemoaned that the House as an institution is broken and took a last swipe at Gaetz. "I've seen the texts," he said, appearing to reference the ethics investigation Gaetz is under, adding that Gaetz's bid to remove him was "personal" and a stunt to get media attention.
"That's not becoming of a member of Congress," McCarthy said.
Asked for his advice for the next speaker, McCarthy laughed.
"Change the rules," he said.
Mariana Alfaro, Marianna Sotomayor, Dan Rosenzweig-Ziff, Paul Kane, Amy B Wang and Leigh Ann Caldwell contributed to this report.
This post appeared first on The Washington Post