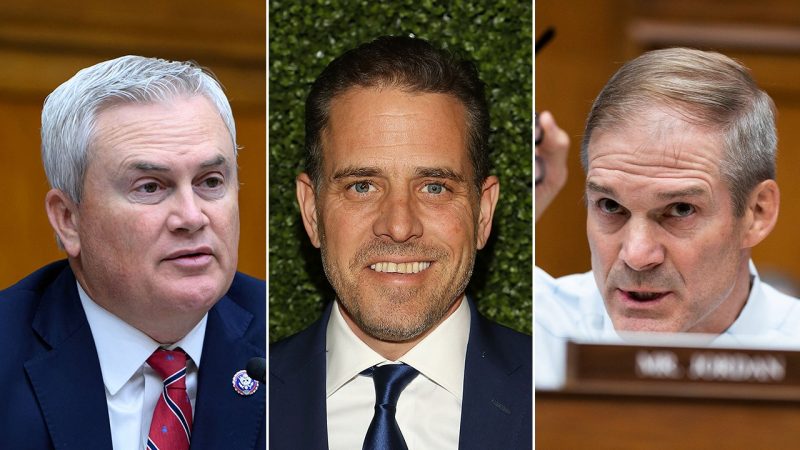 GOP investigating DOJ's 'sweetheart' plea deal with Hunter Biden after judge's rejection
House Republicans on Monday launched an investigation into the Justice Department's decision to sign off on Hunter Biden's 'sweetheart' plea deal that was rejected by a federal judge last week.
Fox News Digital obtained the letter sent Monday by House Judiciary Committee Chairman Jim Jordan, R-Ohio, House Oversight and Accountability Committee Chairman James Comer, R-Ky., and House Ways and Means Committee Chairman Jason Smith, R-Mo., to U.S. Attorney General Merrick Garland that asks for additional information on the DOJ's approval of the deal.
Judge Maryellen Noreika of the United States District Court for the District of Delaware declined to accept the plea and pretrial diversion agreements with Hunter Biden during his first court appearance on Wednesday related to federal tax and gun charges he faces. She described the DOJ's deal as 'not standard' and 'different from what I normally see.'
'Given recent unusual events relating to the Department's plea and pretrial diversion agreements with Mr. Biden, we write to better understand the Department's decision to sign off on such apparently atypical agreements,' the committee chairmen wrote.
The letter noted the multiple provisions within the agreement that were of concern to Noreika, and said they raise 'serious concerns about how the Department has handled this matter.'
It also noted the 'troubling' provision that would have prevented charges against Hunter Biden if he had violated the agreement, and accused the DOJ of potentially shielding him from congressional oversight by claiming investigations into the president's son are still ongoing.
The chairmen requested the DOJ to provide information related to other pretrial diversions it offered in other cases over the last 10 years, as well as 'a generalized description of the nature of the Department's ongoing investigation(s) concerning Hunter Biden,' and 'an explanation of why the Department originally agreed to a plea agreement if other investigation(s) concerning Hunter Biden are ongoing.'
The deadline for the DOJ to respond to the letter's demands is 'no later than 5:00 p.m. on August 14, 2023.'
The DOJ did not immediately respond to Fox News Digital's request for comment.
This post appeared first on FOX NEWS