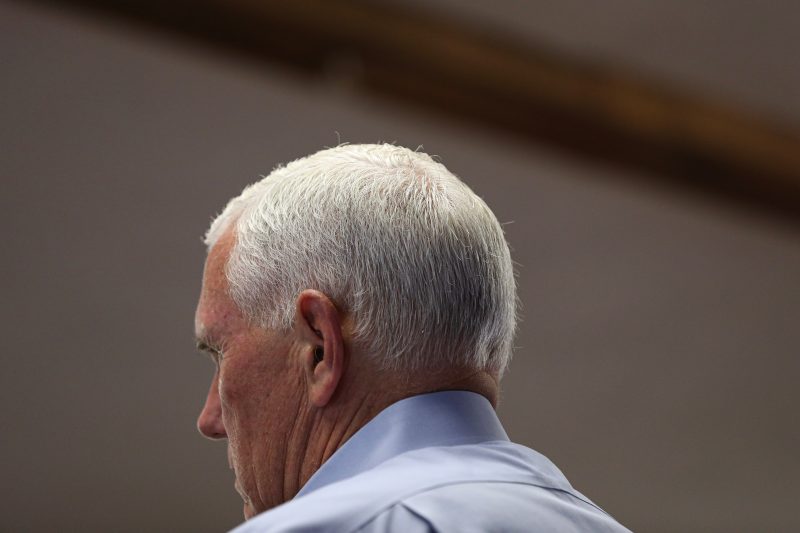 GOP sides with Pence on Jan. 6 more than you might think
It has been a long and gradual process, but former vice president Mike Pence now appears increasingly intent on making Jan. 6 a central component of his 2024 presidential campaign.
It's valid to ask whether this is a strategy of choice or necessity. With Trump now indicted over his efforts to overturn the election, Pence can't really escape talking about it as much as he used to. Pence was invoked more than 100 times in the indictment, and his testimony was obviously key. Pence has also generated so little traction in the 2024 GOP contest that it might just be throw-spaghetti-at-the-wall time.
But there is evidence that more Republicans than you might realize side with him over Trump on that day's events.
Two days after Trump's indictment, Pence has declined to echo GOP talking points about how Trump might be a victim of a two-tiered justice system. He has instead echoed his previous comments about how Trump asked him to ignore the Constitution by seeking his help to overturn the election while presiding over Congress on Jan. 6. And he has expanded upon that by repeatedly citing Trump's "crackpot lawyers."
By Thursday, Pence's campaign was selling merchandise featuring the words "Too Honest." It was a reference to a key revelation in the indictment, in which Trump allegedly responded to Pence's rejecting his entreaties by saying, "You're too honest."
That, perhaps more than anything, is the move of a man who intends to own and promote his actions that day.
On its surface, it would seem a desperate and inauspicious strategy. The vast majority of Republican-leaning voters say they think President Biden's win was illegitimate — 69 percent in a poll released Thursday — and Pence declined to take part in overturning it.
Pence's actions also clearly cost him popularity with the GOP base, with his image rating falling off a cliff among his fellow partisans right after Jan. 6. The most recent polling suggests more Republicans dislike Pence than like him.
But polls also suggest many Republicans have somewhat nuanced views of Jan. 6. Yes, they wrongly believe Trump was the rightful winner, but they don't necessarily believe it was Pence's place to overturn the result.
A February 2022 poll from Quinnipiac University asked people about Trump's claim that Pence could have done it, while noting that Pence said he had no right to do that. Asked which of those views they aligned with more, a majority of Republicans actually chose Pence over Trump, 52 percent to 36 percent.
A CNN poll from later in 2022 was less favorable to Pence. But nearly half of Republicans still sided with him over Trump — at least on this issue. It asked which of the two men was acting more "in the best interests of the country" on Jan. 6. While 52 percent of Republicans chose Trump, 46 percent chose Pence.
None of this means that focusing on Jan. 6 will make Pence a contender. It's evident that the day's events hurt Pence much more than Trump with the base. While Republicans are split on whom they sided with, the day effectively took around half of Republican voters off the table for Pence in a way it simply didn't with Trump. Many who think Pence was in the right are clearly still willing to back Trump, but not vice versa. And that would appear to foreclose much of a path to victory for Pence.
Still, Pence's going down this road could force a reckoning that Republicans have avoided. This will surely be a key subject at the first debate later this month, when you'd suspect candidates will be asked whether they side with Pence or Trump.
And maybe it at least helps Pence get the toehold that has thus far eluded him. It already appears to be helping at least on one front; Pence reportedly got 7,000 donations on Wednesday, perhaps helping him approach the 40,000 donors he needs to actually be a part of that debate.
This post appeared first on The Washington Post