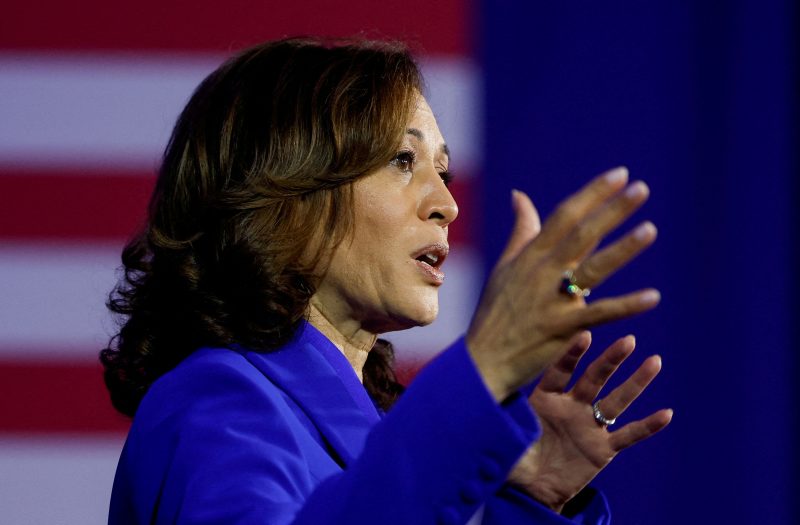 Harris, on DeSantis's turf, blasts Florida curriculum on Black history
Vice President Harris, taking aim at Gov. Ron DeSantis's "war on woke" on Friday in his home state, blasted Florida politicians for making changes to the public school curriculum that she said amounted to little more than a "purposeful and intentional policy to mislead our children," especially when it comes to slavery.
Harris never mentioned DeSantis (R) by name, referring only to "extremists" and people who "want to be talked about as American leaders." But her fiery speech in Jacksonville focused squarely on the policies of the Florida governor and presidential candidate, as well as on the state's Board of Education and its Republican-controlled legislature.
Florida's new standards on Black history lay out numerous benchmarks, but one has especially caught critics' attention — a statement that "slaves developed skills which, in some instances, could be applied for their personal benefit." Since the guidelines were approved on Wednesday, many civil rights leaders have denounced the notion that slavery benefited its victims in some ways.
"Come on — adults know what slavery really involved," Harris said. "It involved rape. It involved torture. It involved taking a baby from their mother. It involved some of the worst examples of depriving people of humanity in our world."
She added, "How is it that anyone could suggest that in the midst of these atrocities, that there was any benefit to being subjected to this level of dehumanization?"
Since DeSantis announced his bid for the presidency in May, polls have cast him as former president Donald Trump's top competition for the Republican nomination, at least for now. As DeSantis makes his pitch in early-voting primary states, he has blasted what he calls "woke indoctrination" in schools and said recent legislative changes in Florida could be a model for the rest of the nation.
Harris's trip to the governor's home state to rip into his policies could be a pivotal moment both for the Biden campaign, which has generally resisted going after the GOP presidential hopefuls, and for the vice president, who has sometimes seemed to cast about for a resonant issue.
But as the 2024 race for the White House intensifies, it also showcased Harris as something of an attack dog in Biden's reelection apparatus, as the commander in chief attempts to focus on his economic and political record and avoid wading into the cultural crossfire.
The curriculum changes Harris criticized were initiated by a 2022 law signed by DeSantis known as the "Stop Wrongs to Our Kids and Employees" or "Stop WOKE Act." DeSantis's denunciation of "woke" policies are at the heart of his presidential campaign message.
Critics take issue with several of the new guidelines, including one that cites "acts of violence perpetrated against and by African Americans" after the Civil War, arguably suggesting an equivalency despite the overwhelming prevalence of lynchings, terror and mob violence against Black Americans in those years.
The changes Wednesday are the latest controversy in an ongoing argument about how Florida public schools should teach Black history. Earlier this year, the same education board rejected a new Advanced Placement high school course on African American studies, saying it had little "educational value" and sparking protests and outrage across the country.
Detractors, including Harris, say the curriculum changes are an attempt to soften and whitewash history and to sidestep efforts to correct long-standing inequities — or even to acknowledge that they happened.
"Let's be clear — I do believe this is not only about the state of Florida. There is a national agenda afoot," Harris said Friday. "Extremist so-called leaders for months have dared to ban books — book bans in this year of our Lord 2023! Extremists here in Florida passed a law, 'Don't Say Gay,' trying to instill fear in our teachers that they should not live their full life and love who they love. And now, on top of all of that, they want to replace history with lies."
Harris was referring to the Parental Rights in Education law, called "Don't Say Gay" by its critics, which bans instruction or discussion of sexual orientation and gender identity that is not appropriate to students' age. Supporters say that is simply common sense, while opponents contend the vague language in the law is designed to intimidate teachers and chill all discussion of gender identity at any age.
The Florida legislature, meanwhile, has banned the teaching of critical race theory, an academic approach that examines the impact of systemic racism. The legislature also has forbidden teaching that makes students "feel guilt" because of actions committed by others.
It was the second time this year that Harris has traveled to DeSantis's home state to wade into cultural issues. In January, she visited Jacksonville as state lawmakers were on the verge of enacting more severe abortion restrictions. And she has decried policies that make it easier to remove books from classrooms and libraries.
DeSantis and his allies say it is liberals who have politicized public education by promoting discussions of sexuality and advancing the idea that America is a fundamentally racist nation. In a statement on Twitter Friday, DeSantis accused Harris of seeking to perpetuate an agenda that brainwashes students into accepting a liberal worldview.
"Democrats like Kamala Harris have to lie about Florida's educational standards to cover for their agenda of indoctrinating students and pushing sexual topics onto children," the statement said. "Florida stands in their way and we will continue to expose their agenda and their lies."
Harris's remarks Friday in the LaVilla community, a haven for people freed from slavery during the Civil War, also provided some insight into some of the fault lines in the 2024 presidential race.
DeSantis has centered his campaign on cultural issues in his so-called battle against wokeness, declaring that Florida "is where woke goes to die." At a recent event in Davenport, Iowa, DeSantis said, "We fight the woke in the legislature. We fight the woke in the schools. We fight the woke in the corporations. We will never ever surrender to the woke mobs."
People in DeSantis's camp say the curriculum changes are in keeping with the message the governor wants to send to voters in early primary states and in the country at large. As DeSantis has consolidated power in Florida since becoming governor in 2019, the state has passed a raft of conservative laws and taken aim at corporations that DeSantis believes hew too closely to a liberal agenda. On the stump, DeSantis suggests Florida's policies can be applied to the rest of the country if he wins the White House.
Biden, for his part, has run an almost understated campaign for reelection, as his advisers have sought to cast him as an above-the-fray commander in chief focused on delivering results to the American people. While Republican candidates like Trump and DeSantis go after each other, Biden has sought to project the image of a leader who is removed from any back-and-forth with the Republicans trying to unseat him.
Harris, however, has dived headfirst into that political and cultural fray, something of a traditional role for a running mate. She has held weekly events about abortion access, met with Black legislators in Tennessee who were expelled after protesting gun violence on the statehouse floor, and now is taking the lead in offering a counterpoint to DeSantis's cultural onslaught.
On Thursday, Biden delivered another in a series of speeches on "Bidenomics," outlining the various ways he says that his infrastructure, climate and other programs are benefiting the American people.
A day later, Harris was in Florida, assailing the curriculum changes and telling the audience of supporters that it was important for them to "commit ourselves to the coalition" opposed to such changes. "Let us not be distracted by what they're trying to do, which is create unnecessary debates, to divide our country," the vice president said. "Let's not fall in that trap."
The effort to downplay slavery's evils, Harris added, is reminiscent of previous efforts to deny the Holocaust, cover up the incarceration of Japanese Americans and whitewash the slaughter of Native Americans.
"Let us not be seduced into somehow believing that we will be better if we forget," Harris said. "We will be better if we remember."
Lori Rozsa contributed to this report.
This post appeared first on The Washington Post