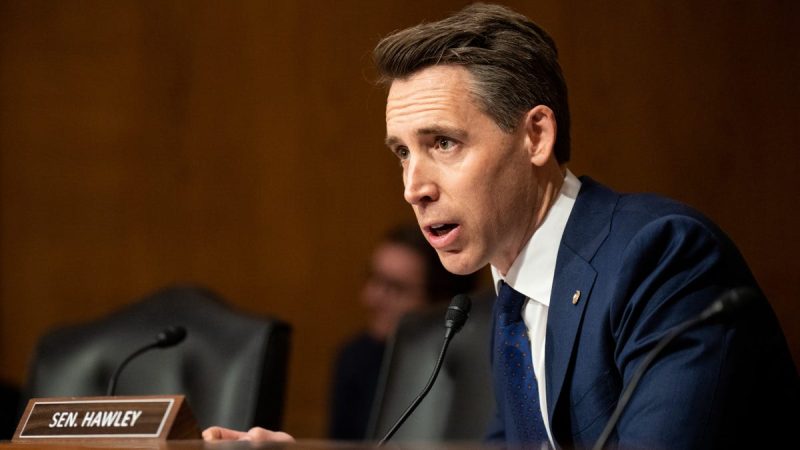 Hawley sends scathing letter to Mayorkas demanding termination of intel 'experts group'
FIRST ON FOX: Sen. Josh Hawley, R-Mo., sent a letter Thursday to Department of Homeland Security Secretary Alejandro Mayorkas demanding the termination of the newly-established 'Homeland Intelligence Experts Group," because at least three members helped suppress the Hunter Biden laptop story preceding the 2020 U.S. presidential election.
'As you know, John Brennan, James Clapper, and Paul Kolbe all signed onto the infamous October 2020 letter, which falsely declared the Hunter Biden laptop story to be 'Russian misinformation,' Hawley wrote in the letter, first obtained by Fox News Digital. 'This was a clear attempt to aid then-candidate Joe Biden. Recent investigations have revealed text messages and emails that corroborate the corrupt intent behind the letter's publication.'
He added, 'It is therefore baffling that your Department would regard these individuals as having any remaining credibility with respect to intelligence matters.'
Last week, the DHS unveiled the intel experts group in a statement claiming its membership includes 'a wide range of views and perspectives, with a membership that includes former senior intelligence officials, journalists, and prominent human rights and civil liberties advocates' to meet four times a year providing input on 'terrorism, fentanyl, transborder issues, and emerging technology.'
Former CIA Director John Brennan, former Director of National Intelligence James Clapper and former CIA senior operations officer Paul Kolbe — all part of the 17-member group — signed an open letter in October 2020 claiming the now-infamous Hunter Biden laptop story, first reported by the New York Post, 'has all the classic earmarks of a Russian information operation.' The letter was signed by 51 former intelligence officials.
The CIA also approved the publication of the Hunter Biden laptop letter, according to documents obtained by Fox News Digital in May. 
'Enlisting the support of these discredited officials as the nation prepares for the 2024 presidential election appears to signal that DHS will continue its attempts to censor speech that is inconvenient to the current Administration,' Hawley wrote. 
HAWLEY PROBES MISSOURI TRANSGENDER CENTER OVER ALLEGED 'EXPERIMENTAL TREATMENTS' ON MINORS
Hawley joins a choir of GOP lawmakers in the House who also sent a letter to Mayorkas last week. Members on the Committee on Homeland Security wrote, 'Your decision to appoint members to this group who have demonstrated political bias suggests misplaced priorities.'
By Oct. 15, Hawley — who sits on the upper chamber's Committee on Homeland Security and Governmental Affairs — wants the DHS to hand over all records related to the intel group's establishment, such as communications on its formation, meeting minutes, legal reviews of its activities' constitutionality, records of recruited individuals and any communications with the White House regarding its formation or appointment of members.
'The security of the American people depends on our capacity to collect, generate, and disseminate actionable intelligence to our federal, state, local, territorial, tribal, campus, and private sector partners,' Mayorkas said in a news release after the group was announced. 'I express my deep gratitude to these distinguished individuals for dedicating their exceptional expertise, experience, and vision to our critical mission.'
Fox News Digital has reached out to the Department of Homeland Security Secretary. 
This post appeared first on FOX NEWS