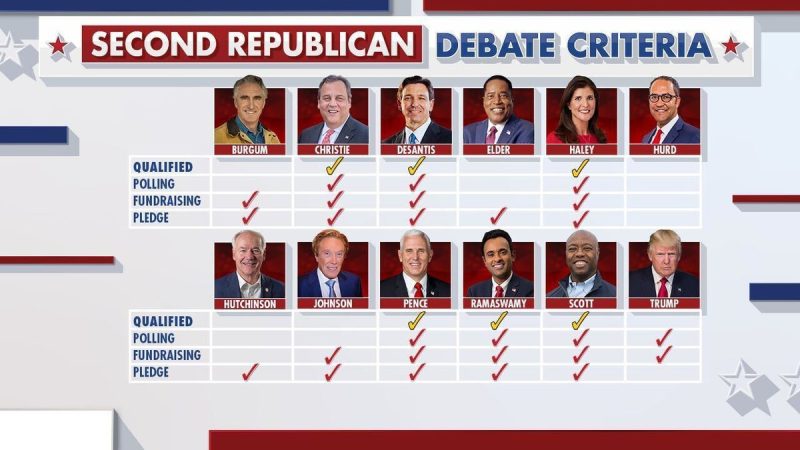 Here are the candidates who have secured a spot at second Republican presidential debate
The second Republican presidential primary debate of the 2024 election cycle is nearly two weeks away, and six candidates, as of now, have secured a spot on the stage.
The debate, which will be hosted by Fox Business and Univision, is slated to take place on Sept. 27 from 9 to 11 p.m. ET in Simi Valley, California.
Unlike the requirements outlined by the Republican National Committee (RNC) to participate in last month's debate, there are stronger thresholds in place that Republican candidates are required to meet before they can earn a spot on the stage in California.
To participate in the second debate, each candidate must have a minimum of 50,000 unique donors to their campaign or exploratory committee, including 200 donors in 20 or more states. The candidates must also reach 3% support in two national polls or reach 3% in one national poll and 3% in two polls conducted in different early nominating states like Iowa, New Hampshire, Nevada or South Carolina.
Additionally, candidates are also required to sign a pledge in which they agree to support the eventual Republican presidential nominee; agree not to participate in any non-RNC-sanctioned debates for the rest of the 2024 election cycle; and agree to data-sharing with the national party committee. The deadline to meet qualifications is 48 hours before the debate begins.
The candidates who have met all the requirements (fundraising, polling and pledge), with polling and fundraising thresholds verified by the RNC, include:
Florida Gov. Ron DeSantisEntrepreneur Vivek RamaswamyFormer South Carolina Gov. Nikki HaleyFormer Vice President Mike PenceSouth Carolina Sen. Tim ScottFormer New Jersey Gov. Chris Christie
The candidates who have met the fundraising threshold and have signed the pledge include:
North Dakota Gov. Doug BurgumMichigan businessman Perry Johnson
The candidates who have signed the pledge but have yet to meet other requirements include:
Former Arkansas Gov. Asa HutchinsonRadio host Larry Elder
The only candidate to meet the RNC's polling and fundraising requirements and not sign the pledge is former President Donald Trump, who skipped out on the Aug. 23 debate in Milwaukee.
It is unclear whether Trump, the commanding front-runner in the GOP race for president, will sign the pledge and attend the second debate in California or any RNC-sanctioned debate in the future for that matter.
FOX News Media's Stuart Varney and Dana Perino will co-moderate the second debate alongside Univision's Ilia Calderón from the Ronald Reagan Presidential Foundation and Institute.
FOX News Media was tapped to host the first two debates of the 2024 election cycle. Bret Baier and Martha MacCallum co-moderated FOX News Media's 'Democracy 24: FOX News Republican Primary Debate' last month. The debate drew a staggering 12.8 million total viewers, making it the most-watched non-sporting event cable telecast of the year so far.
This post appeared first on FOX NEWS