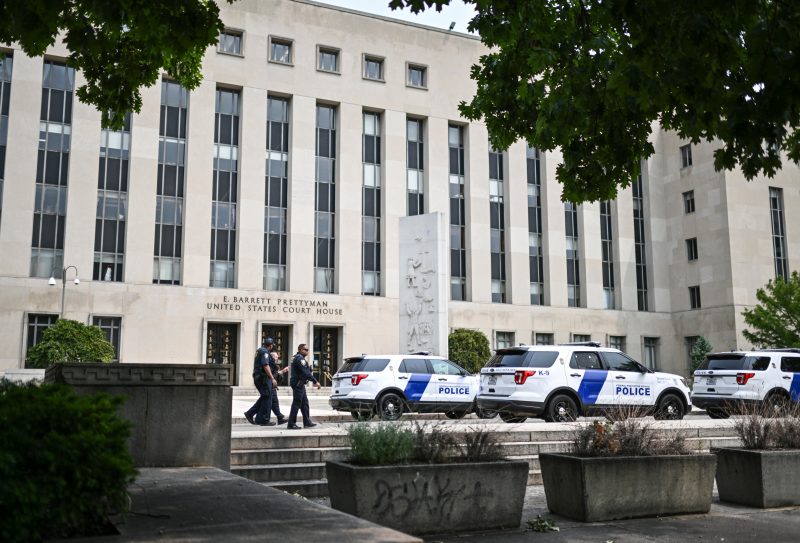 Here are the four Jan. 6 charges against Trump and what they mean
Former president Donald Trump has been charged with conspiring to defraud the United States, conspiring to obstruct an official proceeding, obstructing a congressional proceeding and conspiracy against rights in connection with what prosecutors allege was a plan to overturn the results of the 2020 presidential election. Here's what that means.
Conspiracy to defraud the U.S. government: Conspiracy is a catchall crime covering any scheme between two or more people to break federal law or defraud the U.S. government. Conspiracies don't need to be successful to be criminal, and perpetrators can be held responsible if they join the conspiracy at any stage.
In this case, prosecutors allege Trump conspired with six others to "overturn the legitimate results of the 2020 presidential election." The co-conspirators are not named — nor are they charged — but five of the six descriptions match attorneys Rudolph Giuliani, John Eastman, Sidney Powell and Kenneth Cheseboro and Justice Department official Jeffrey Clark. The sixth is described as a political consultant.
Skip to end of carousel
Trump Jan. 6 indictment
(Illustration by Anna Lefkowitz/The Washington Post; Jabin Botsford/The Washington Post; iStock)
Trump has been indicted for a raft of alleged crimes stemming from his efforts to overturn the results of the 2020 election. Follow live updates.
End of carousel
The indictment says Trump attempted to overturn the election results in myriad ways: by pushing state officials in certain swing states that broke for Biden to ignore the results and take steps to make Trump the winner; by organizing slates of "fake electors" who falsely certified that Trump had won seven states; by pushing the Justice Department to endorse the false claims of election fraud; by pressuring Vice President Mike Pence to change the election results; and by exploiting the violent riot on Jan. 6 to try to keep lawmakers from confirming of Biden's victory.
Prosecutors will have to prove deceit was used to undermine or interfere with the work of the federal government. The indictment repeatedly says that Trump knew his fraud claims were false, having been told by campaign staff, White House officials and state government representatives that there was no evidence for them. He is specifically accused of lying to the Georgia Secretary of State about supposed ballot tampering after being told by the Justice Department that it never happened. Giuliani is accused of lying to the crowd at Trump's rally on Jan. 6, falsely claiming that five state legislatures had written "begging" for a review of their election results. Giuliani is also accused of telling the Arizona House Speaker there was enough evidence of fraud to justify switching the state's votes from Biden to Trump; eight days later Giuliani allegedly admitted, "We don't have the evidence, but we have lots of theories."
Conspiracy to obstruct an official proceeding: For the same conduct used to charge him with conspiracy, Trump is charged specifically with conspiring to obstruct the congressional confirmation of Biden's victory on Jan. 6.
Obstruction of an official proceeding: Trump is also charged with a substantive obstruction count for attempting to block Congress from confirming Biden's victory on Jan. 6. The same charge is the most common felony charge used against rioters who stormed the U.S. Capitol. The U.S. Court of Appeals for the D.C. Circuit has split on how to define this crime, but a majority of judges who have weighed in agree that at least some conduct at the Capitol counts as illegal obstruction.
The dissenting judge, Gregory Katsas, argued that the crime had to include tampering with documents. Prosecutors allege Trump committed the crime in part orchestrating the creation of fake election certificates and trying to get Congress to accept them, as well as by pressuring the Justice Department to send out a letter falsely claiming there were problems with the vote in Georgia or other states.
Conspiracy against rights: This charge criminalizes any joint effort to "injure, oppress, threaten, or intimidate" people to stop them from enjoying their constitutional or federal rights. It was passed after the Civil War, when White vigilante groups such as the Ku Klux Klan were terrorizing Black southerners who sought to vote or otherwise enjoy their rights under the Thirteenth, Fourteenth and Fifteenth amendments. Its use was limited for many decades by Supreme Court decisions, but prosecutors brought the charge in the 20th century in cases involving racist attacks on civil rights activists and ballot-box stuffing. It was also used against a Nixon aide who authorized the burglary of a psychiatrist's office after the Pentagon Papers leak. Here, prosecutors argue Trump conspired to stop people from exercising "the right to vote, and to have one's vote counted." They must prove that was Trump's intent.
Conspiracy to defraud the government is punishable by up to five years in prison. Conspiracy to obstruct an official proceeding and obstructing an official proceeding are both punishable by up to 20 years in prison. The civil rights law carries a sentence of up to ten years in prison — unless a person was killed, in which case the maximum punishment is the death penalty. Prosecutors are not arguing that Trump's actions led to any of the deaths that occurred during or after the Jan. 6 attack.
Technically, each conviction could be sentenced with consecutive terms, leading to decades-long sentences; in practice, federal sentences are almost never as high as the maximum possible penalty. Defendants who plead guilty get credit for acceptance of responsibility. Judges also consider criminal history and the personal characteristics of each defendant, including age and health.
There are no mandatory minimum sentences for any of these crimes.
This post appeared first on The Washington Post