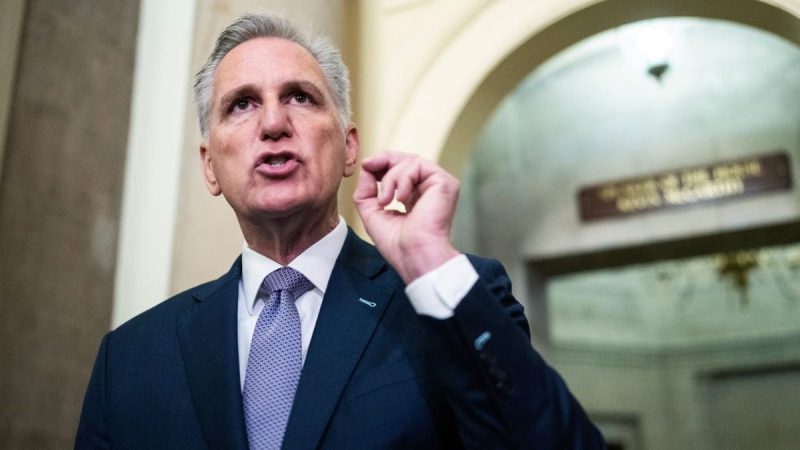 House finally passes key spending hurdle after week of GOP infighting
House Republicans passed a procedural hurdle on government funding on Tuesday night after a week of disarray that saw multiple planned votes scuttled. 
Lawmakers voted 216 to 212 late Wednesday to advance four appropriations bills, teeing them up for debate and final vote sometime this week. The only Republican to vote 'no' was Rep. Marjorie Taylor Greene, R-Ga., who protested funds going toward Ukraine in two of the bills. 
The House and Senate must come to an agreement on how to fund the government past Sept. 30, the end of fiscal year 2023, or risk a partial government shutdown.
Speaker Kevin McCarthy, R-Calif., took a victory lap on Tuesday night after the bill was passed. He also said lawmakers would likely vote on a short-term funding bill known as a continuing resolution (CR) on Friday after working to advance the four spending bills.
'We want to make sure government stays open as we do the work. We're gonna be here working late tonight. Senate has not passed anything yet,' McCarthy said. 
Asked about CR timing, McCarthy said: 'We've got these four bills coming up so it's — this'll take us to Thursday, probably on Friday.'
Congressional leaders in both parties have agreed that a CR would be necessary to give lawmakers more time to reach a deal on the next fiscal year. 
But the House GOP's current CR proposal — which would cut government spending by about 8% from this year's enacted funding levels for 30 days and includes measures from Republicans' border security bill — has been labeled a non-starter in the Democratically-held Senate
The two chambers are also still far apart on their 12 individual appropriations bills to fund the government for the next fiscal year. The Senate is working toward toplines agreed to by McCarthy and President Biden during the debt limit negotiations, while the House is working toward a lower number. 
They are also distant on a CR. As the House prepared to vote to advance their spending bills on Tuesday night, the Senate agreed to proceed with its own CR that would preserve this year's funding levels and include additional dollars for Ukraine aid and U.S. disaster relief. 
McCarthy dodged a question on the Senate CR, telling a reporter, 'Ask me when they pass it.'
In addition to battling Democrats, however, McCarthy is also dealing with members in his own conference who are opposed to any kind of CR on principle, arguing it is an endorsement of the last Congress's Democratic priorities. 
It's also not immediately clear if the four appropriations bills advanced Tuesday will pass their individual votes.
Rep. Andrew Clyde, R-Ga., a member of the conservative House Freedom Caucus, told Fox News Digital when asked whether he thinks they will have issues, that 'some of them might. I hope they don't, I mean we've got some amendments to deal with and that's a good thing. That's the way the process should work.'
McCarthy and his allies have attempted to pressure the holdouts by claiming they would give Democrats the upper hand if they did not agree to a CR with conservative priorities.
'I don't understand how a Republican is going to sit and support what is currently happening on the border and defend President Biden on keeping the border wide open. I don't understand how someone can do that,' he said. 'So I'm not quite sure how they would defend that position.'
He also said the House would vote on a CR regardless of what happens to the four appropriations bills this week.
This post appeared first on FOX NEWS