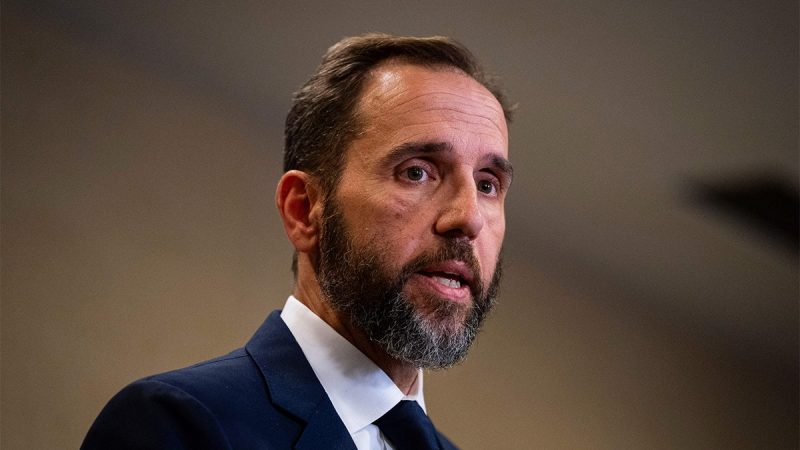 House Judiciary investigating alleged 'abusive tactics' by Special Counsel Jack Smith's team
The House Judiciary Committee is investigating alleged misconduct by a prosecutor on Special Counsel Jack Smith's team, accusing the office of engaging in 'abusive tactics.'
Committee Chairman Jim Jordan, R-Ohio, on Thursday sent a letter to Smith notifying him that the panel has launched an investigation into DOJ prosecutor Jay Bratt— a senior prosecutor in the special counsel's office.
Jordan said Bratt allegedly improperly pressured a lawyer—Stephen Woodward— representing Trump valet and aide Waltine Nauta on charges stemming from the special counsel's investigation of former President Trump's alleged improper retention of classified documents at Mar-a-Lago. Nauta pleaded not guilty to the charges.
'The Committee on the Judiciary is continuing its oversight of the Biden Justice Department's commitment to impartial justice and its handling of a special counsel investigation against President Biden's chief opponent in the upcoming presidential election,' Jordan wrote. 'Last year, Jay Bratt—one of your senior prosecutors and top aides—allegedly improperly pressured Stanley Woodward, a lawyer representing a defendant indicted by you, by implying that the Administration would look more favorably on Mr. Woodward's candidacy for a judgeship if Mr. Woodward's client cooperated with the Office of the Special Counsel.'
'This attempt to inappropriately coerce Mr. Woodward raises serious concerns about the abusive tactics of the Office of the Special Counsel and the Department's commitment to its mission to uphold the rule of law and ensure impartial justice,' Jordan added.
Jordan said that Bratt's alleged 'attempt to bully Mr. Nauta in cooperating, first by extorting his attorney and then by alleging a conflict of interest that precludes his attorney from the case, seriously calls into question your team and your ability to remain impartial and uphold the Department's mission.'
Jordan demanded Smith turn over all records of communication referring to any meetings with Woodward at the Justice Department and communications with Woodward and the Justice Department.
Jordan demanded Smith provide the requested material to the House Judiciary Committee by Sept. 21 at 5:00 p.m.
Jordan and his committee are conducting an oversight probe into Smith's office.
The Justice Department did not immediately respond to Fox News Digital's request for comment. 
Smith was appointed as special counsel in November by Attorney General Merrick Garland to investigate Trump's alleged improper handling of classified records.
Trump pleaded not guilty to all 37 felony charges out of that probe. The charges include willful retention of national defense information, conspiracy to obstruct justice and false statements.
On July 27, Trump was charged with an additional three counts as part of a superseding indictment out of Smith's investigation — an additional count of willful retention of national defense information and two additional obstruction counts.
Smith was also investigating whether Trump was involved in the Capitol riot on Jan. 6, 2021, and any alleged interference in the 2020 election result.
On Aug. 1, Trump was indicted out of Smith's Jan. 6 probe. Trump pleaded not guilty to all charges, which included conspiracy to defraud the United States, conspiracy to obstruct an official proceeding, obstruction of and attempt to obstruct an official proceeding, and conspiracy against rights.
That trial is set to begin on March 4, 2024, the day before the Super Tuesday primaries. 
This post appeared first on FOX NEWS