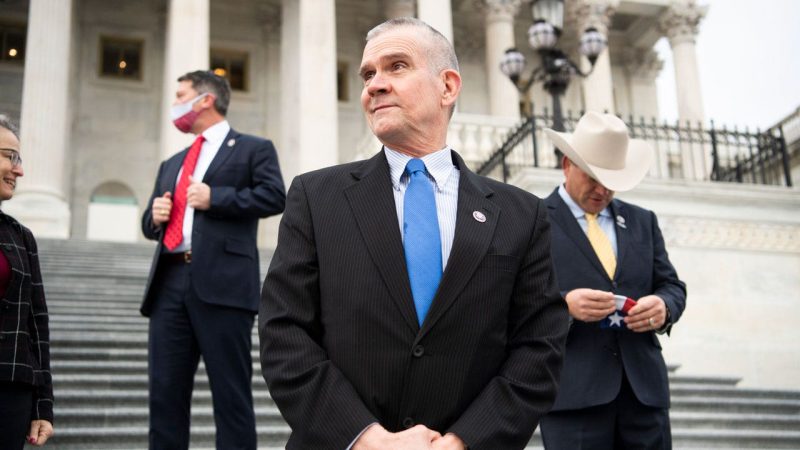 House Republican says he opposes all temporary government funding bills as shutdown looms
Conservative Republican Rep. Matt Rosendale tells Fox News he won't vote for any continuing resolution to fund the government past Sept. 30 as Congress readies for what could be a messy showdown over government spending levels and legislative priorities.
Rosendale, R-Mont., cited his distaste for current spending levels and promises from House leadership to change how Congress operates in an interview with Fox News.
'In January, we were assured that we were going to restore regular order to Congress,' Rosendale said. 'And to now wait until this time in the 118th Congress, when we knew the appropriation bills were necessary in order for us to properly fund government, and to say, 'No, we're just going to go back to the old way of doing business,' I find that unacceptable and I find it offensive.'
'If we're going to use continuing resolutions and omnibus bills to fund government, then you explain to me the difference between Speaker Nancy Pelosi and Speaker Kevin McCarthy because I don't see a difference,' the congressman added.
Rosendale's stance comes the day after the conservative House Freedom Caucus (HFC) released its position statement on a continuing resolution, and it is a slight break from the group. The HFC said it would only vote for a stopgap government funding bill that simultaneously passes House Republicans' border bill and addresses alleged weaponization of the Justice Department and 'woke' polices in the Defense Department.
Rosendale said he doesn't believe those asks are realistic.
'Why put out a statement that says you won't support a continuing resolution unless it contains the following items when you in your heart don't believe that those items will be in there anyway?' he said.
Congress will almost certainly need to pass a continuing resolution to temporarily fund the government in the coming weeks. Lawmakers are nowhere near passing all 12 of the yearly appropriations bills, and they only have until the end of September before government funding runs out. The Senate is out until Sept. 5 and the House is out until Sept. 12, leaving little time to push through all of that legislation before a possible shutdown.
Rosendale, however, said he's not concerned about a government shutdown.
'When people talk about a government shutdown, it's a little bit ridiculous because you're only talking about shutting down about 15% of it. And again, the people across Montana, unfortunately, they think most of what we're doing in Congress is bad anyway,' he said.
House Speaker Kevin McCarthy, R-Calif., said on a phone call with Republican members last week that he'd like to pass a continuing resolution that would fund the government until early December to allow time to pass the 12 appropriations bills without creating a deadline around the holidays.
But Rosendale's stance is just one more piece of the complicated equation for McCarthy to reach 218 votes to keep the government open. He could work with the HFC on its demands – likely alienating possible Democrat yes votes in the process – and still not get all of his own members to vote yes.
The alternative could be that McCarthy searches for Democrat votes to help get the bill across the finish line. A move like that, however, could anger conservatives like Rosendale who are still upset that more Democrats than Republicans voted for the debt ceiling deal this year. 
Rosendale's stance also comes as he's considering a run for U.S. Senate in Montana. Many Republicans – including National Republican Senatorial Committee Chairman Steve Daines, R-Mont. – have coalesced around former Navy SEAL Tim Sheehy for the seat. But nearly 40 Montana state lawmakers signed a letter last week to support Rosendale as 'someone unafraid to defy the Mitch McConnell establishment,' KULR reported.
'I am honored and humbled to receive this statement of support and encouragement from leaders across our state. It is evident that Montanans will not have their next senator chosen by Mitch McConnell and the DC Cartel,' Rosendale tweeted in response to that statement.
Fox News' Kelly Phares contributed to this report.
This post appeared first on FOX NEWS