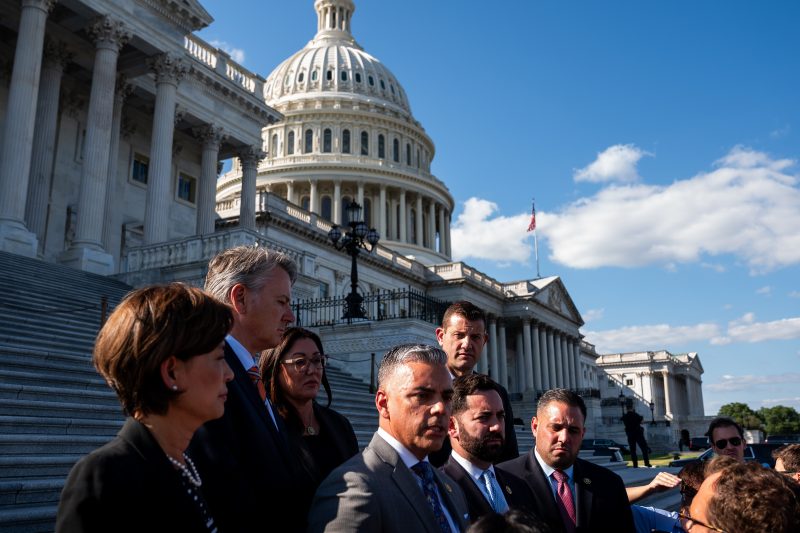 House Republicans falter on funding plans, as shutdown inches closer
House Republicans for the second week in a row failed to move forward on any legislation related to funding the government, stunning many in their ranks as a government shutdown looms next week.
The status of negotiations on both a short-term funding solution and long-term appropriations legislation declined so severely Thursday that lawmakers began to return home, with no votes scheduled for the rest of the week.
Republicans' inability to pass a single funding provision since returning to Washington last week — including twice failing to start debate on a Defense Department appropriations bill — is the latest embarrassment for the conference whose direction is being dictated not by leaders but a handful of stubborn holdouts.
Unable to overcome the opposition, House Speaker Kevin McCarthy (R-Calif.) has scrapped discussion of a stopgap funding bill to keep the government open after the fiscal year ends Sept. 30, significantly increasing the already high chances of a government shutdown.
In an attempt to appease the demands of the far-right members who vowed to oppose any stopgap measure — called a continuing resolution and colloquially referred to as a "CR" — until there is progress on long-term appropriations bills, McCarthy and his leadership team will focus on passing the 11 remaining individual bills.
"The CR is dead," said one Republican aide, who, like others spoke on the condition of anonymity to speak frankly.
If there is enough progress on the individual funding bills to satisfy the demands of the holdouts, Republicans could resume discussions on how to keep the government open in the short term.
"I came up here to be responsible. We're gonna be responsible," said Rep. Tim Burchett (R-Tenn.), who is part of a group that would block a short-term funding bill and is demanding the passage of a budget and individual funding bills. "I'm going to hold firm."
But with just 10 days until the end of the fiscal year and no votes expected in the House until Tuesday, a shutdown seems likely.
"Obviously, the timetable is very short," said Rep. Chip Roy (R-Tex.). "And you know, getting stuff out of the House and then getting agreement in the Senate and so forth doesn't seem highly likely. But there's a number of options that are out there."
The Senate has been preparing to have to move first on a short-term funding plan should the House fail to act. Senators have a continuing resolution bill written, according to two people familiar with the internal workings of the chamber, but it's not clear if or when that bill would move.
The Senate had been waiting on the House to move first to avoid any parliamentary challenges since spending bills are constitutionally required to originate in the House.
After several setbacks over the past two weeks, a majority of House Republicans believed their luck would change early Thursday after finding a solution hours earlier to end a blockade that prevented them from advancing the Defense Department appropriations bill. But in a stunning defeat that McCarthy admitted he did not foresee, two new objectors emerged and caused the typically noncontroversial procedural hurdle to fail for the second time this week.
"It's frustrating in the sense that I don't understand why anybody votes against bringing the idea and having the debate," McCarthy said leaving the House chamber after the failed vote. "This is a whole new concept of individuals that just want to burn the whole place down. That doesn't work."
Lawmakers immediately huddled in McCarthy's office to find a pathway forward that would appease numerous holdouts. Many of those holdouts said they would never vote for a short-term spending deal in protest of Republicans not passing the remaining 11 appropriations bills necessary to fund the government for a full year — which in part includes the legislation they blocked Thursday.
McCarthy may need to relent on his insistence to pass funding measures with only Republican votes, a demand made by many in the far-right House Freedom Caucus who say they will introduce a motion to remove him from the speakership if he relies on Democrats to pass legislation. With only a four-vote margin, House Republicans have been — and will continue to be — tested throughout the fiscal fight.
The failed vote Thursday came after an almost three-hour meeting Wednesday that focused both on long-term spending bills and the more immediate task of avoiding a government shutdown after Sept. 30. During the closed-door meeting, a majority of the House Republican conference found consensus around more than $1.5 trillion in discretionary spending for the upcoming fiscal year, a demand hard-liners wanted before voting on the Defense Department funding bill. And while they reported progress on a bill to keep the government open in the short term after moderate New York lawmakers insisted on such a trade-off, a plan to avoid a shutdown was not finalized because holdouts remained.
Finding consensus did sway two Republicans, Reps. Ralph Norman (S.C.) and Ken Buck (Colo.), to flip. But any good feelings out of that meeting crumbled when five Republicans — Reps. Marjorie Taylor Greene (Ga.), Dan Bishop (N.C.), Andy Biggs (Ariz.), Elijah Crane (Ariz.) and Matthew M. Rosendale (Mont.) — on Thursday voted against advancing the measure to a final vote. Rules Committee Chairman Tom Cole (R-Okla.) eventually switched his vote from a yes to no, which allows Republicans to bring up the motion again later if they have the votes.
On Tuesday, five lawmakers — including Bishop, Biggs and Rosendale — voted against the rule after leaders had already delayed consideration of it last week, prompting Republican colleagues to publicly lambaste the holdouts as grandstanding obstructionists. Greene and Crane voted yes in that vote but flipped to no on Thursday's effort.
After casting his vote Thursday, Crane said "there's nothing" that would get him to vote yes on the defense appropriation bill as a protest of the way Republican leadership has handled funding the government at the last minute.
"They just keep trickling out little bills, one at a time with no plan on how to get to the top-line number that was agreed to back in January," Crane said. Lawmakers largely did agree on a top-line number to fund the government for a full year on Wednesday.
Greene objected because she refuses to support any measure that includes funding for Ukraine.
Leaders and lawmakers across the ideological spectrum went in and out of McCarthy's speakership suite Thursday as they again scrambled to find a solution that a majority of their conference could support. In an idea to appease Greene, leaders floated adding provisions to the defense appropriation bill that made clear money would not be sent to Ukraine just hours after Ukrainian President Volodymyr Zelensky met with McCarthy and other congressional leaders.
Even if Republicans were to find a short-term funding solution deal that appeases the conference, it would be dead on arrival in the Senate, where leaders of both parties support a clean extension of current fiscal levels that includes President Biden's requests for aid to Ukraine and natural disaster relief.
Rep. Dan Crenshaw (R-Tex.), who flew back to Washington this week after missing votes following the birth of his first child, suggested that the group of far-right renegades won't explain their opposition to legislation and appear to coordinate on who will vote no to block McCarthy.
"There's varying explanations. None of them make a lot of sense," Crenshaw told reporters, adding some opposition might have been meant as a slight to Zelensky as he visited the Capitol and some could have been just to hurt McCarthy.
"It switches in both directions, so, just like, who knows. … There's probably some personal animosity there," he said.
Skip to end of carousel
The looming government shutdown: What to know
The dome of the U.S. Capitol building is seen on Aug. 31. (Kent Nishimura/For The Washington Post)
House Republicans on Thursday failed to advance a Defense Department appropriations bill, marking a stunning defeat that further complicated efforts to avert a government shutdown ahead of the Sept. 30 deadline.
Here's what we know about the possibility of a government shutdown and the longest government shutdown in U.S. history.
End of carousel
As the pathway to avert a shutdown remained too distorted to be seen, the calls among Republicans to work with Democrats strengthened. Some Republicans are considering getting behind a shell bill that could, as soon as next week, serve as the vehicle that allows moderates to supersede McCarthy's control of the House floor and force a vote to keep the government open. It would also keep the speaker's fingerprints off a compromise bill, which Republicans say could help him avoid being targeted for removal.
Lawmakers familiar with several possible pathways to avert a shutdown — including another deal that could be struck between the Republican Governance Group and New Democrat Coalition — initially said that any compromise with Democrats would be a worst-case scenario for Republicans, but that has started to change. On Wednesday, the bipartisan Problem Solvers Caucus put forth their proposal which would fund the government until January so that the House can pass appropriation bills funding the government at the level approved during the fiscal fight by McCarthy and Biden.
"With divided control of Congress, solutions to issues as critical as funding the federal government demand a two-party solution, with compromises agreed to by both sides," said Rep. Brian Fitzpatrick (R-Pa.), a moderate who chairs the bipartisan caucus. "I hope that our colleagues will consider our bipartisan framework."
Mariana Alfaro contributed to this report.
correction
A previous version of this article incorrectly identified Kevin McCarthy as House majority leader. He is speaker of the House. The article has been corrected.
This post appeared first on The Washington Post