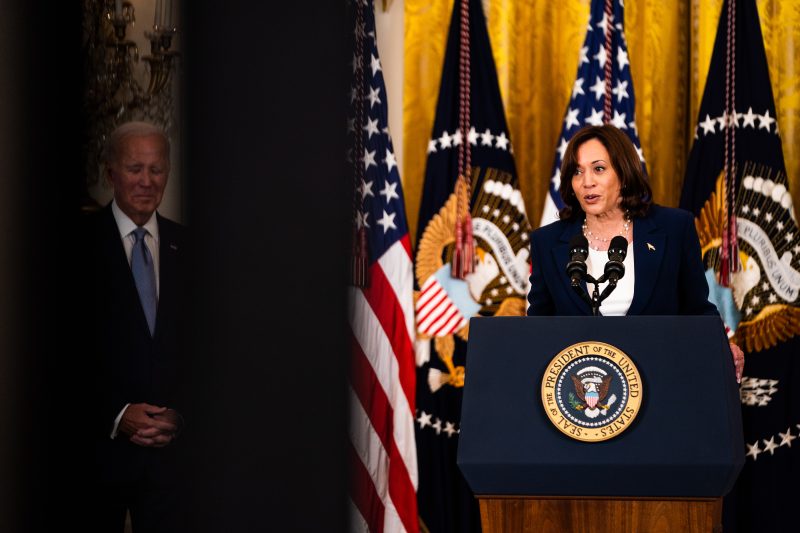 How Americans feel about Kamala Harris becoming president
This past weekend on NBC's "Meet the Press," California Gov. Gavin Newsom (D) got the inevitable question: What if President Biden — whose age and fitness for office recent polls show Americans have increasing concerns about — doesn't actually follow through with his bid for reelection?
But rather than just shrug off the hypothetical, Newsom took it in a different direction. He said that if Biden for some reason backed away, it would be Vice President Kamala Harris's turn.
"I think the vice president is naturally the one lined up," Newsom said. He added of the possibility he would challenge Harris in such a situation: "Of course not — by definition. Won't happen."
It was a significant vote of confidence in Harris as Biden's successor — at least in 2024 — from a potentially major challenger.
But how much confidence do the American people have?
Even as Newsom was making his comments, a CBS News/YouGov poll asked a number of questions about Harris. And the verdict wasn't as encouraging.
The poll showed that 42 percent of Americans said the job Harris was doing makes them think worse of the Biden administration, compared to just 18 percent who said it makes them think better.
While 76 percent of Republicans said she makes them think worse, just 41 percent of Democrats said she makes them think better. Independents leaned strongly toward "worse," 48 percent to 9 percent.
Similarly, just 30 percent of Democrats said they feel "enthusiastic" about Harris as Biden's running mate. While three-quarters of Democrats said they were at least "satisfied" with Harris on the ticket, that "enthusiastic" number is cut nearly in half from where it was shortly after Biden picked her for his 2020 ticket. At the time, 58 percent were enthusiastic.
Assuming Biden does continue to seek reelection, the more immediate question is what impact voters' feelings toward Harris might have on the Democratic ticket. Republicans and conservative media have frequently played up the prospect that Harris would be pushed into service to replace the nation's first 80-year-old president.
"We will be in a world of hurt if Kamala Harris becomes president," 2024 GOP candidate Nikki Haley said Monday.
Harris herself retorted over the weekend that the focus on her shows how Republicans are "scared." "They feel the need to attack because they're scared that we will win based on the merit of the work that Joe Biden and I and our administration has done," Harris said on CBS's "Face the Nation."
Another YouGov poll, from May, showed 48 percent of Americans said Harris was not ready to assume the presidency, while 32 percent said she was. Again, independents took a dim view, saying 57-22 that she wasn't ready.
The 32 percent overall who now say Harris is ready to assume the presidency is actually significantly less than the 44 percent who said the same of both her and then-Vice President Mike Pence in August 2020.
We can also compare her numbers to 2008 — albeit less directly.
On the eve of the 2008 election, a Fox News poll showed 74 percent of Democrats were at least "very" comfortable with then-Democratic VP nominee Biden serving as president, and 62 percent of Republicans were at least "very" comfortable with then-Republican VP nominee Sarah Palin serving as president. Today, a recent Suffolk University poll showed 57 percent of Democrats said they were "very comfortable" with Harris becoming president.
The options offered by the Fox and Suffolk polls were somewhat different, with the 2008 Fox poll also offering an "extremely comfortable" option. The fact that it made "very comfortable" the second option, rather than the first (as the Suffolk poll did), might have made that option more attractive for people who were slightly less enthusiastic.
But the idea that people are less sold on Harris in that role tracks with other polls.
Certainly, a major reason Republicans are talking so much about Harris possibly ascending to the presidency is because it casts a spotlight on Biden's age. But polling also suggests it's a prospect that Americans have real doubt about — doubt that Democrats like Newsom are apparently trying to do something about.
This post appeared first on The Washington Post