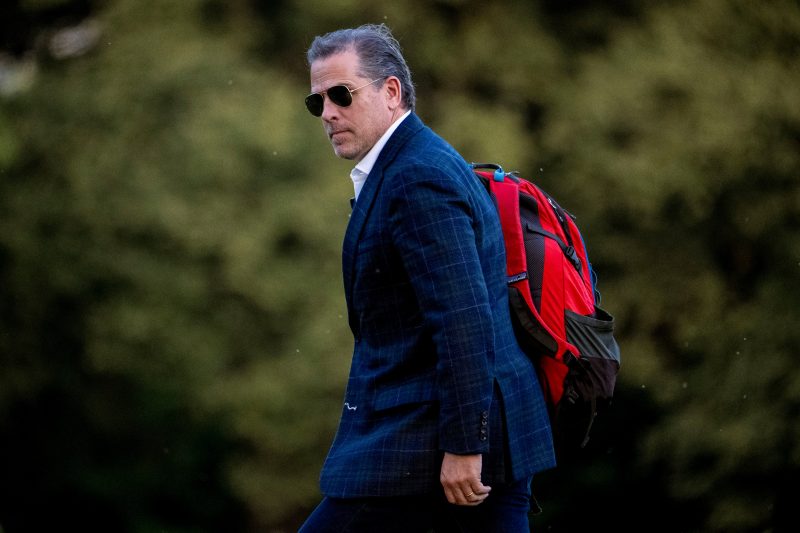 Hunter Biden expected to plead guilty to tax crimes in Delaware court
WILMINGTON, Del. — President Biden's son Hunter is expected to appear in federal court here Wednesday morning to plead guilty to two minor tax crimes and admit to the facts of a gun charge.
The younger Biden reached a plea agreement with federal prosecutors last month in a deal that would likely keep him out of jail, according to court papers and people familiar with the negotiations. That agreement must now be approved by a judge.
Hunter Biden's attorney has said that the long-running criminal investigation will be resolved once a judge signs off on the plea deal. But U.S. Attorney David Weiss — the lead prosecutor in the case and a holdover from the administration of President Donald Trump — has said that investigation is ongoing, suggesting that matters beyond the tax and gun issues are still under scrutiny.
The probe was opened in 2018, during the Trump administration, and has been a favorite talking point for Republican critics of President Biden and his family. Republican politicians have repeatedly accused Hunter Biden of broad wrongdoing in his overseas business deals and, since his father was elected, predicted that the Biden administration would be reluctant to pursue the case.
Papers filed in federal court in Wilmington when the plea agreement was reached in June indicate that Hunter Biden tentatively agreed to plead guilty to two misdemeanor tax charges of failure to pay in 2017 and 2018. A court document says that in both those years, Biden was a resident of D.C., received taxable income of more than $1.5 million and owed more than $100,000 in income tax that he did not pay on time.
Prosecutors plan to recommend a sentence of probation for those counts, according to people familiar with the negotiations who spoke on the condition of anonymity to describe elements of the case that are not yet public. Biden's representatives have previously said that he eventually paid the IRS what he owed.
The second court filing is about the gun charge. In that case, the letter says, "the defendant has agreed to enter a Pretrial Diversion Agreement with respect to the firearm Information." Handling the gun charge as a diversion case means Biden would not technically be pleading guilty to that crime.
Diversion is an option typically applied to nonviolent offenders with substance abuse problems. Hunter Biden has written and spoken openly about being addicted to cocaine during the years in which he is accused of the tax and gun crimes. People close to him, speaking on the condition of anonymity to talk candidly about a sensitive issue, said he sees the conclusion of the criminal case against him through the lens of an addict, hoping to use the guilty plea to admit to past mistakes, make amends for them and move on.
In all, prosecutors will recommend two years of probation and diversion conditions, the people familiar with the plea deal said. If Biden successfully meets the conditions of the diversion program, the gun charge will be removed from his record at the end of that period, these people said.
But even if the legal turmoil that has surrounded Hunter Biden for years is wrapped up, the political battle will continue in the form of congressional investigations, attacks via social media, and attempts to shape public opinion ahead of a presidential election year.
An IRS agent who supervised the investigation into Hunter Biden has told a congressional committee the Justice Department slowed and stymied the probe, whittling away the most serious evidence of alleged tax crimes, according to an interview transcript that lawmakers released days after the proposed plea deal became public.
The whistleblower's testimony offered a host of new allegations, including a text message that Hunter Biden allegedly sent on July 30, 2017, that invoked his father — at that time a former vice president — as the younger Biden tried to get a business partner to fulfill some expected promise.
Attorney General Merrick Garland, a Biden appointee, has said that he stayed out of the criminal investigation and that Weiss had full authority to bring any charges he felt were necessary. The whistleblower told lawmakers Weiss indicated to the investigative team that his charging options were more limited.
Officials said Monday that Weiss is willing to testify to Congress about the investigation in the fall.
Hunter Biden separately last month settled a long-standing child support dispute with an Arkansas woman who is the mother of one of his children.
The president's son and his allies recently have shown an increasing willingness to challenge his adversaries, at times against the wishes of those close to the president, according to people with knowledge of those conversations, who also spoke on the condition of anonymity to discuss them.
The younger Biden and his attorneys have filed a countersuit against the computer repair shop owner who said Biden dropped off his laptop and never claimed it. They have asked for congressional ethics actions to be taken against Rep. Marjorie Taylor Greene (R-Ga.), who last week displayed sexually explicit images of Hunter Biden during a congressional hearing.
And they have waged battles with Rep. James Comer (R-Ky.), chairman of the House Oversight Committee.
This is a developing story. It will be updated.
Barrett and Viser reported from Washington.
This post appeared first on The Washington Post