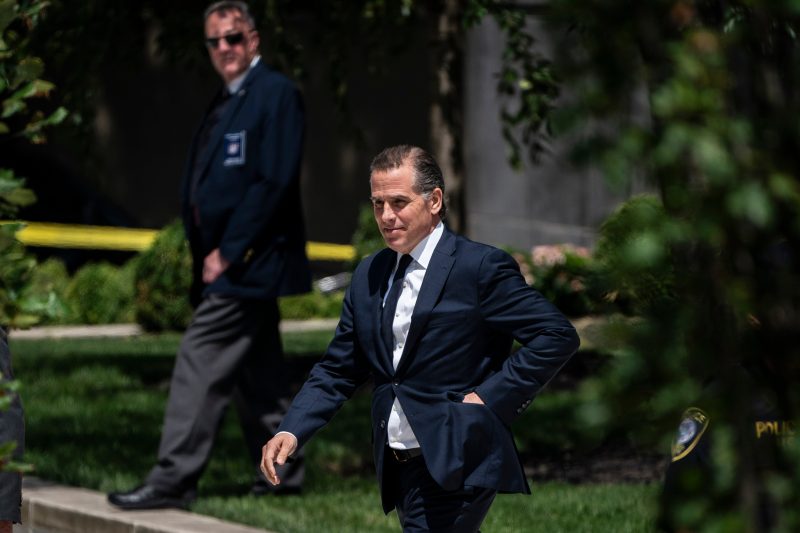 Hunter Biden pleads not guilty to gun, false statement charges
WILMINGTON, Del. — Hunter Biden pleaded not guilty to three felony charges in a federal courthouse here Tuesday, the next step in a long-running investigation that has been a focal point for Republicans and could result in a criminal trial overlapping with President Biden's 2024 campaign for a second term.
Federal prosecutors accused the younger Biden in a four-page indictment of making two false statements in 2018 when he completed paperwork to purchase a gun. Biden asserted on the form that he was not addicted to or using illegal drugs, the indictment says, "when in fact, as he knew, that statement was false and fictitious." He is also charged with unlawfully possessing the gun.
Biden spoke little at the half-hour hearing before a magistrate judge, Christopher J. Burke, where Biden's lawyer Abbe Lowell formally entered the not-guilty plea on his behalf.
Lowell said he plans to ask a court to throw out the charges, citing a deal Biden reached with prosecutors this summer in which he would have pleaded guilty to two misdemeanor tax charges and admitted the facts of the gun case without being formally charged. That deal collapsed amid a disagreement over whether it protected Biden from facing potential additional charges. Lowell has maintained the previous agreement should still stand.
"Our view is that there is an agreement in effect," Lowell told Burke.
The judge said Biden has been "responsive and fully communicative" with probation officials in his home state of California and has passed multiple drug tests since the summer, as required by the release conditions imposed in July. He was released on similar terms on Tuesday, including informing probation officials in writing if he travels internationally.
Delaware U.S. Attorney David Weiss — the prosecutor who has overseen the investigation since it started during the Trump administration — subsequently asked Attorney General Merrick Garland to make him a special counsel, a designation that gives him clearer authority to bring charges outside of Delaware.
Weiss is now weighing whether to file tax charges against Biden in California, according to people familiar with the matter who spoke on the condition of anonymity to discuss a sensitive case.
Republicans, including former president Donald Trump, have tried to link President Biden to his son's alleged wrongdoing, and make the Hunter Biden investigation a major theme of the 2024 presidential race.
Federal law makes it illegal to possess a weapon while using illegal drugs. Hunter Biden has publicly acknowledged being addicted to drugs at the time of the 2018 gun purchase. He allegedly owned the Colt revolver for 11 days.
According to federal sentencing guidelines, Biden could face up to 10 years in prison, though in reality, since he does not have a criminal record and is not accused of a violent crime, he would probably face far less time.
"Hunter Biden possessing an unloaded gun for 11 days was not a threat to public safety, but a prosecutor, with all the power imaginable, bending to political pressure, presents a grave threat to our system of justice," Lowell said last month after prosecutors charged his client.
This post appeared first on The Washington Post